Celtics
Kyrie Irving explained his postgame reaction following the Celtics' disappointing loss to the Magic
"I just want to win so bad."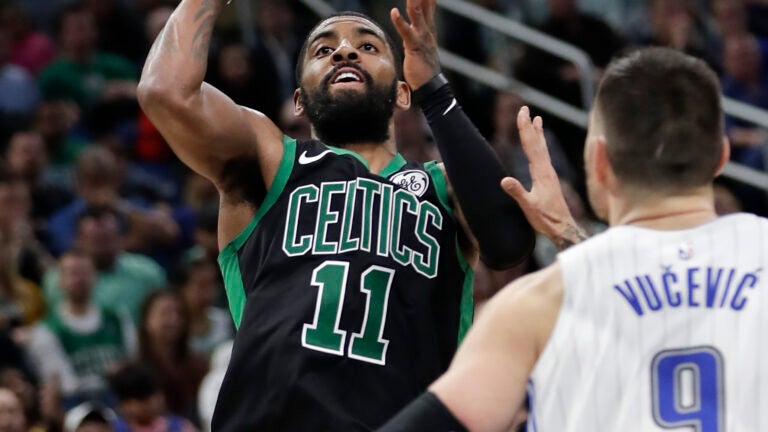 After another night in which he cited the team's lack of experience as the leading reason for its ups and downs, Celtics point guard Kyrie Irving said Monday he will no longer question his teammates publicly.
"Sometimes I may come off and say things — never to question my teammates in public like that ever again," Irving told reporters. "I just want to win so bad."
Irving had, yet again, called out the group for not living up to its full potential following Boston's 105-103 loss to the Orlando Magic on Saturday. With 2.7 seconds remaining against the Magic, forward Gordon Hayward inbounded the ball to Jayson Tatum, who hoisted a 21-footer that bounced off the rim as time expired. Visibly upset about the final sequence, Irving confronted Hayward on the floor about his decision to pass to Tatum, as opposed to Al Horford. The frustrations from the night weren't limited to the potential buzzer-beater, however, as the Celtics blew a double-digit, second-half lead to an inferior opponent.
"It doesn't matter who you're going against," Irving said after Saturday's loss. "It matters the type of preparation you have [and] what you're going out and trying to accomplish. What's the big picture? What are we doing here? These are things I don't think some of my teammates have faced every single day.
"It's not easy to be great: The things you're doing, that you've done your entire career of being able to coast by in certain situations and you've gotten away with your youth and stuff like that, being on a championship ball club, you can't get away with that," he continued. "We're better than most teams in this league. It's just going out and proving it every single night and demanding it and actually showing it."
Irving, who has harped on about the younger players' inability to grasp the bigger picture at times, attributed his remarks to pure competitiveness. During shootaround ahead of Monday's Celtics-Nets game, Irving said he never wants there to a moment where it seems like he doesn't want to win a championship. He said his critical postgame commentary stemmed from his constant desire to "taste" victory and his deep-rooted obsession with basketball.
"I believe in this organization, and I want these young guys to be successful," he said. "In order to do that, we've all got to be on the same page and have that mindset — a championship or nothing — and that can get the best of me at times."
Irving will miss Monday's game in Brooklyn due to a right quad contusion.