Celtics
Brad Stevens on frustrating loss to Nets: 'Third-quarter defense was awful'
The Celtics allowed 44 points in the third.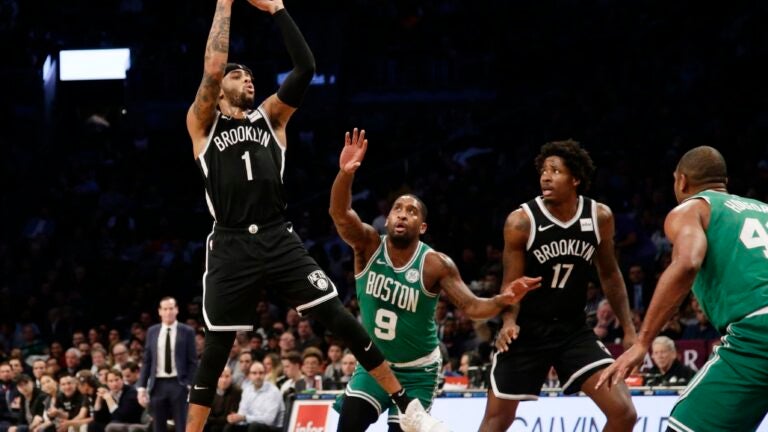 After trailing just 46-45 at halftime on Monday night, the Celtics suddenly disappeared.
In the blink of an eye, the Brooklyn Nets blew the game out of the water with a 15-0 run to start the third quarter, totaling 44 points in the period — 18 from point guard D'Angelo Russell — on a Boston defense that was nowhere to be found.
"We were guarding for three quarters tonight," said Celtics coach Brad Stevens. "We chose one of the middle ones to take off. Third-quarter defense was awful. Obviously, they scored 44 and D'Angelo got going. We didn't get a stop or a rebound there for the first four minutes of the quarter. You're not going to win games when you start the quarter like that."
Gordon Hayward, Al Horford, and Terry Rozier each sat out the fourth quarter, as Stevens opted to ride with a bench-heavy rotation featuring Daniel Theis, Guerschon Yabusele, and Brad Wanamaker in the game's closing minutes. As a result, the Celtics outscored the Nets, 36-19, in the final period but fell just short, 109-102.
Although the Celtics weren't able to pull off the win, Stevens was clearly pleased with the effort of the supporting cast down the stretch.
"I just told the team I really appreciate the way those guys played in the fourth," he said. "I thought it started with Brad Wanamaker's pressure. I just thought it was really, really tough. I don't want to take away from what Brooklyn did. The story shouldn't be the comeback. The story should be how well they played."
An inspired burst of energy on defense in the fourth quarter almost brought the Celtics all the way back.  The Nets didn't have a field goal for the final 8:55. Jaylen Brown and Jayson Tatum, who scored a career-high 34 points, were the only starters to play in the fourth.
"I'm just trying to play hard," said Brown. "I'm trying to be aggressive. I'm trying to be there for my teammates, continue to stay positive, despite what everybody else is saying. For me, it was fun. Just coming out and playing hard. The group that we had, we really felt like we were like balls to the walls."