Celtics
Marcus Morris on the Celtics' struggles: 'I can't really put my finger on it'
The Celtics return to Boston winless after a three-game road trip.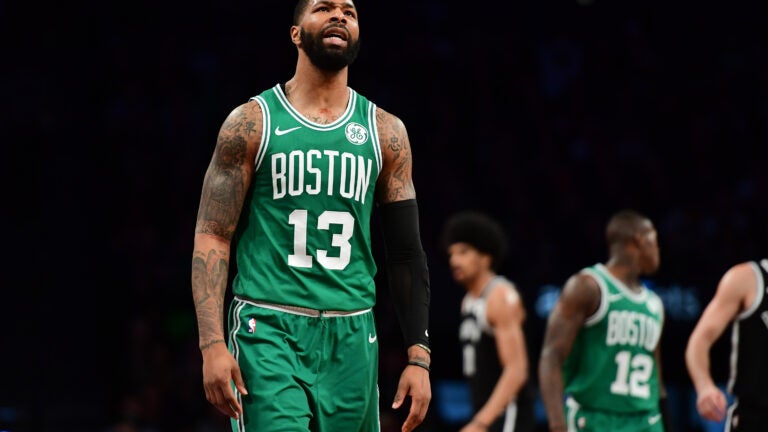 After the Celtics won four straight games to kick off 2019, it seemed like the underperforming team had turned a corner.
But inconsistencies have only continued to plague the C's, who — with a 109-102 loss to the Brooklyn Nets Monday night — return home having dropped three straight on their most recent road trip. Just past the midpoint of the season, the 25-18 group sits uncomfortably as the East's fifth seed.
"It's tough to win four straight and lose three straight," forward Marcus Morris told reporters in Brooklyn Monday. "I would be lying if I said we knew our identity because the identity of a good team don't do that."
Morris, arguably the second-most reliable member of the team behind point guard Kyrie Irving, posted eight points on 3-for-11 shooting in the losing effort. Though he recognized every matchup is a "challenging" one in the NBA, Morris also acknowledged he's "kind of surprised" at the abrupt decline in the team's level of play. After averaging 34.5 assists during their four-game win streak, the Celtics dished out just 20 assists per game during their three-game slump.  
The dip in assists isn't as much of a concern for Morris as "how things change."
"We can't go from being very consistent to not being consistent at all," he said. "That's not a trait of a good team."
As for what is the root of the struggles?
"I can't really put my finger on it," Morris said. "I thought we were moving in a good direction. … [With] the caliber of team we have, I didn't see us losing three straight after winning four straight."
Up next for the Celtics are the conference's top-seeded Toronto Raptors Wednesday night at TD Garden. Forward Jaylen Brown called the game the "perfect opportunity" to right the ship. Morris, too, tabbed the contest as a chance to turn things around against one of the league's more formidable opponents.
"I mean, s***, we lost this one, so it's the only thing we can look forward to," Morris said. "They've been playing really well. That's a veteran team coming in Wednesday. I guess we'll see where we're at."