Celtics
Kyrie Irving says he called LeBron James after the Celtics' loss to the Magic
"I felt the best person to call was him because he's been in this situation."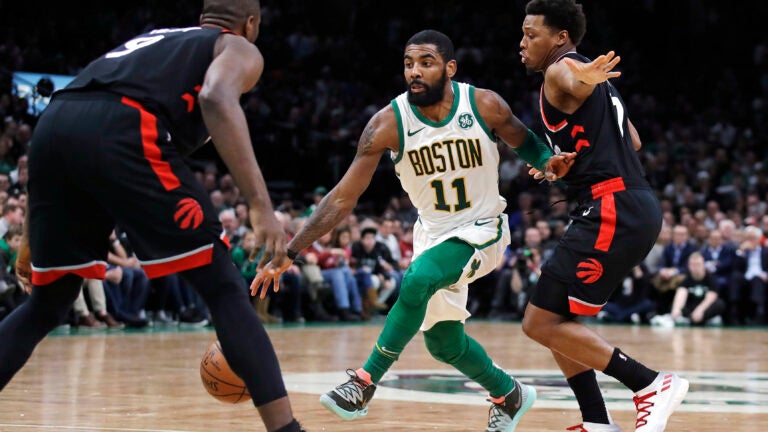 Celtics point guard Kyrie Irving says he's trying.
Trying to lead a team — once considered to be the East's frontrunner in challenging the defending champion Golden State Warriors — to the promised land. Trying to impart upon a group of younger players the importance of the little things and the bigger picture. Trying to package his back-to-back-to-back trips to the NBA Finals into digestible lessons. Really, Irving's trying to do one thing: Win.
But the task has proven to be quite difficult.
So, when the Celtics blew a double-digit, second-half lead against the Orlando Magic Saturday, cementing yet another loss to an inferior opponent, Irving picked up the phone and called former teammate LeBron James.
"I felt the best person to call was him because he's been in this situation," Irving told reporters after Boston's statement 117-108 win over the Toronto Raptors Wednesday. "He's been there with me, where I've been the young guy of being the 22-year-old kid wanting everything, wanting everything right now."
The challenges Irving believes he is now facing as a leader essentially mirror the ones that he created for James during their three seasons together in Cleveland. He remembers feeling oh so confident coming off his second All-Star season and being irritated with James, who was returning to the Cavaliers after winning two titles with the Miami Heat, for preaching his championship ways — so much so it was rumored to be part of the reason why he requested a trade in August 2017.
Now with the Celtics, Irving wants to be that guy who empowers his teammates and helps them realize "what it takes to win a championship." Having gained an appreciation for that kind of leadership, Irving said he apologized to James for "being that young player that wanted everything at his fingertips." 
"It takes a real man to go back and call somebody and be like, 'Hey man, I was young. I made some mistakes. I wasn't seeing the big picture like you were. I didn't have the end of season in mind. I just wanted to get my stats and make All-Star Games,'" Irving said. "In his career, it means like this much to him at that point."
Irving said it felt "good" to reach out and ask for help and called the series of events "a learning experience," as he navigates how to best lead this team.
"Bron was one of those guys that came to Cleveland, and tried to really show us what it's like to win a championship," he said. "It was hard for him. Sometimes getting the most out of the group isn't the easiest thing in the world. Only few are meant for it or chosen for it."
The Celtics' seemingly never-ending ups and downs have been hard on Irving, who has cited lack of experience as the leading reason for their inconsistencies. Irving has been vocal about some of his frustrations with the younger players throughout the season, but he recently vowed to never question his teammates publicly again. Though Irving noted his critical commentary came from a good place, he recognized he can't point fingers at individuals — even when the team is struggling.
"I did a poor job of setting an example for these young guys of what it's like getting something out of your teammates," he said. "You go and you say something publicly and it ends up being received so many different ways. You never know how fragile or what guys are going through when you say things like that. You're expecting results, but at the same time, I should have kept it in house."
As one of two players on the team with an NBA title, Irving said he still wants to "test these young guys" and "get the best out of them."
He knows it won't be easy but insisted he's more than up for the challenge.
"I asked for this," Irving said. "I want this. I want the responsibility."