Celtics
Kyrie Irving registered a career-high 8 steals against the Miami Heat
Monday's outburst is an outlier, but it illuminates a much larger trend.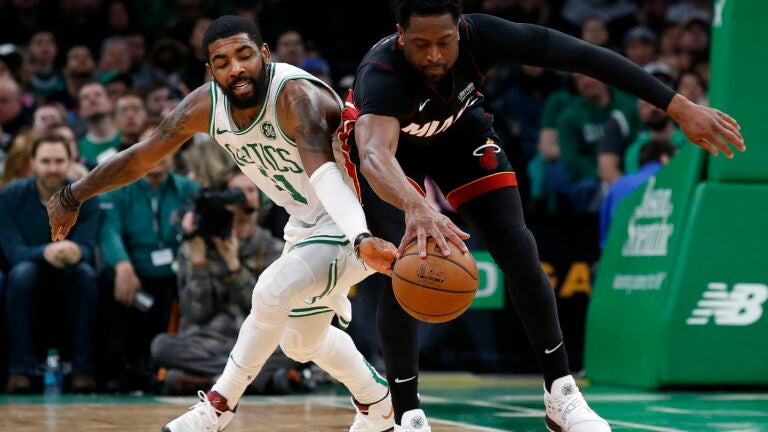 Kyrie Irving is known in most circles as an offensive virtuoso, but his teammates and coaches believe his defense has also helped the Celtics win games this season.
"All year, he's been more committed to being better on the defensive end," Celtics big man Al Horford told reporters Monday.
Irving, who fueled the Celtics to a 107-99 win over the Miami Heat at TD Garden, racked up a career-high eight steals. He tied Marcus Smart and Rajon Rondo for the most steals by a Celtics player since 1999 when Paul Pierce had nine.
Monday's outburst is an outlier, but it illuminates a much larger trend. Irving is averaging a career high in steals (1.7), and head coach Brad Stevens believes much of his point guard's defensive success stems from putting himself in an ideal position to capitalize.
"He had a couple where he saw an opportunity and gambled a little bit, but I thought the rest of them were really good positioning, and those are really good," Stevens told reporters. "Those are exciting, because when you get those, you're not only making them take a tough shot. You're in there to take the ball, and he was active with his hands."
Steals are beneficial as is, but they're even more productive when they lead to instant offense.
Late in the second quarter, Irving picked James Johnson's pocket and fired an outlet pass to Smart for a 3-pointer. Early in the third, he scooped up a loose ball, motored the other way, and went through his legs to hit Smart for another wide-open shot.
Kyrie strip, Smart splash ? pic.twitter.com/03URh4Ypzn

— Boston Celtics (@celtics) January 21, 2019
In that same quarter, Irving crept up behind Bam Adebayo and poked the ball away. Al Horford corralled the loose ball and tossed it back to Irving, who zoomed downcourt and delivered a behind-the-back pass to Marcus Morris for one more uncontested trey.
Irving's takeaways came at key moments, and he became the first Celtic since Larry Bird in 1985 to register at least 26 points, 10 assists, and eight steals in a game.
"I feel pretty good," Irving told reporters. "I got lucky on a few of them, so that helps the stat sheet."