Celtics
Jeanie Buss recalls the infamous Kurt Rambis clothesline: 'Everybody wanted to go fight Kevin McHale after that'
"You don't do that to another player."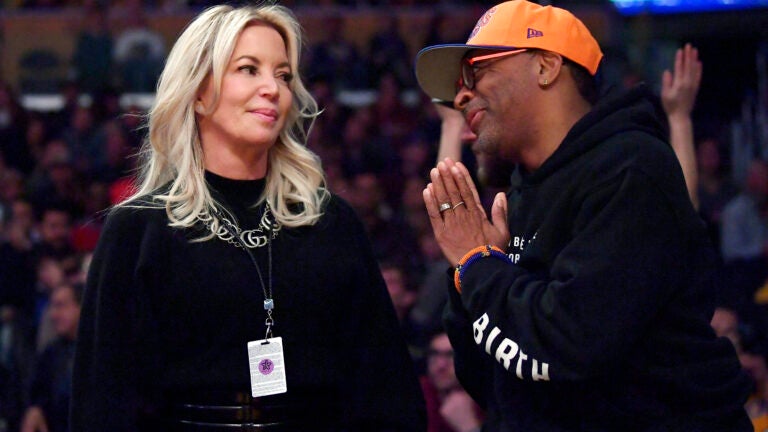 Kevin McHale's infamous clothesline foul on Lakers forward Kurt Rambis during Game 4 of the 1984 NBA Finals may have been a rallying moment for Celtics players and fans.
Jeanie Buss, the president and controlling owner of the Lakers, who was in The Forum for the pivotal June 6 game, remembers the incident quite differently.
"I was there," Buss told ESPN's Zach Lowe in a wide-ranging podcast interview Tuesday.
"People flew out of their seats," she said. "Everybody wanted to go fight Kevin McHale after that."
Buss, whose late father Dr. Jerry Buss bought the Lakers in 1979, has remained close with Rambis, who now works in the Lakers front office, and his wife, Linda. The fact that Rambis immediately got up after the hard foul and tried to go back at McHale spoke to his character and "resilience," she said.
"It was really one of those dangerous plays, and thank goodness that Kurt got right back up, because it could have been a very serious injury," Buss said.
"[Rambis] was going to defend himself against what was wrong, you know, in terms of — you don't do that to another player," she added.
While the Celtics capitalized on the heated moment and came back to win Game 4 (and, eventually, the 1984 series), Buss said it served as a rallying moment for Lakers teammates.
"It was Kurt that got clotheslined, but it was all of them that got clotheslined," she said.
Rambis would go on to win three more NBA Finals with the Lakers — in 1985, 1987, and 1988.
Earlier in the podcast, Buss said the Celtics' early dominance was part of the reason that her father, who died in 2013, originally bought the Lakers.
"I respect the Celtics' legacy," she said. "What Dr. Jerry Buss built with the Lakers was really to balance the Celtics dynasty."
In 1979, the Celtics had already won 13 of their record 17 championships. Buss said her father's goal at the time was to make Los Angeles "proud of their NBA team" and to provide a check on what he saw as an East Coast media bias.
"The media covered the Knicks and the 76ers and the Celtics, and the Lakers and the West Coast teams didn't get the respect they deserved," she said. "And so really, what would the Lakers be without the Celtics."
Under the Buss family's ownership, the Laker have won 10 championships (to the Celtics' four titles during that same time period).