Celtics
Watch Robert Williams reach 12 feet in the air to block a shot
The Time Lord's likely headed back to the Red Claws, but what a way to go.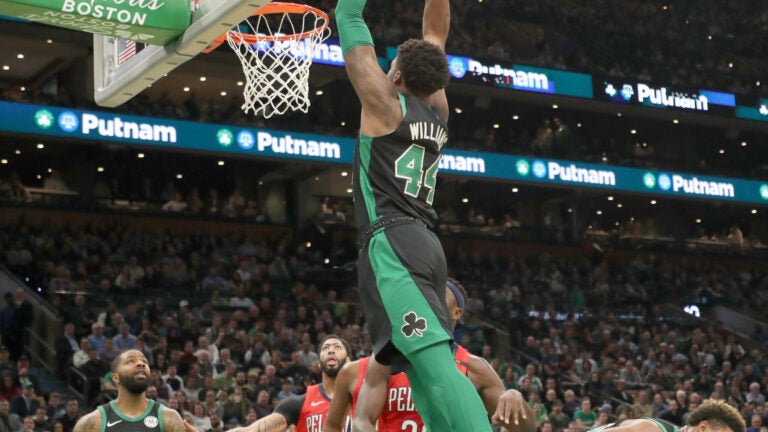 Robert Williams has a 40-inch vertical leap. Even written without context, without a visual, that comes across as impressive. The Patriots going for it on 4th-and-40 inches would make you sweat. A runner out at the plate by 40 inches is really out. A 40-inch snowstorm would make the Blizzard of '78 look like a squall.
Even saying that Shawn Kemp, he of the countless YouTube highlight reels, also had a 40-inch vertical leap doesn't quite paint the picture. Because while Kemp may have an inch on the debatably 6-foot-10 Williams, he didn't have close to the 7-foot-5.5-inch wingspan the Time Lord brought with him from Texas A&M.
A wingspan that, in concert with everything else, can do things like this block from Wednesday's Celtics rout of the Cavaliers at TD Garden.
Been a while since we had one of these ? pic.twitter.com/XAXzLK5Tnq

— Boston Celtics (@celtics) January 24, 2019
Back on the court for the first time since the Jan. 14 loss at Brooklyn, Williams blocked three shots in 13 minutes off the bench, adding 4 points (naturally, on a pair of dunks) and 4 fouls in what's likely his final game before a fourth return to the Maine Red Claws. His block above was the last, and it would quite the visual to go back to Portland on.
Robert Williams jumps so absurdly high off the ground. pic.twitter.com/C3w23GvNUK

— Tom Westerholm (@Tom_NBA) January 24, 2019
Given the inner square on the backboard is 18 inches tall, Williams' hand is extending more than 12 feet in the air. His block essentially served as a tip pass all the way out to Cleveland's Collin Sexton at the 3-point line. Consider also that Guerschon Yabusele, the player whose head isn't even at Williams's waistband in that photo, is listed at 6-foot-8.
In 198 minutes across 22 games this season, Williams has 32 blocks, good for a per-play average three times higher than anyone on the Celtics. (Al Horford and Jayson Tatum have more blocks total, but each are also regulars.) Williams's 7.7 blocks per 48 minutes would not simply lead the NBA, but would double all but league leader Myles Turner of Indiana (4.8).
His game certainly isn't complete, but as it stands midway through his rookie year, he's the best reason going not to turn off a Celtics blowout.