Celtics
Celtics power rankings: The team's back to normal, and so are the individual rankings
Boston is back on a 50-win pace.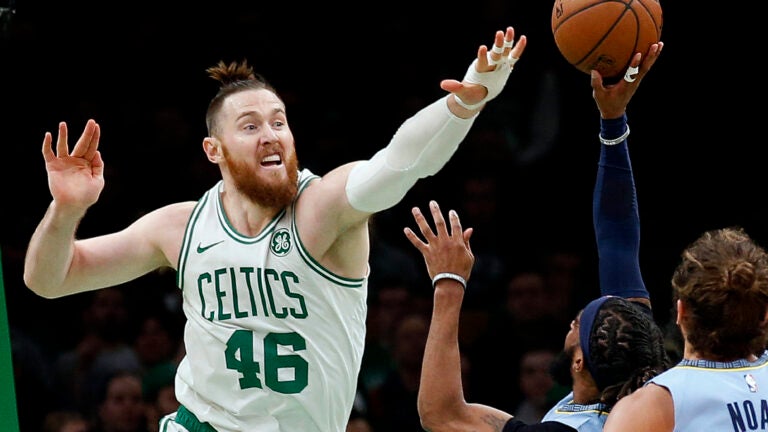 The Warriors' arrival at TD Garden on Saturday night is being portrayed by some as a measuring stick — the reigning champs at full strength as they come to face a team that has at times been considered a contender. The schedule says it comes at a good time for the Celtics, too, given three off days to prepare for Golden State, and riding the wave of a five-game winning streak.
But the reality is that it'll be difficult to put too much stock into any of it.
The Celtics, for whatever reason, have played well against this iteration of the Warriors over the past few years. On top of that, they've played well at home this season (19-5, including 10 straight wins in the Garden), but have struggled enough on the road (11-13) that fans can't ignore the flaws. And this year's Warriors, while not lately, have been more prone to off nights than Dubs squads of recent vintage.
So, shy of a blowout either way, Saturday night may not tell us much about the Celtics — or at least not as much as the past three weeks have shown. The C's are 9-3 in the New Year as they've taken advantage of a January full of home cooking, and while there are still some issues swirling, such as the unexplained road struggles and inconsistency from a few players who need to be counted upon, the team is back on a 50-win pace. Individually some numbers are starting to normalize, too. Here's a look at how the Celtics stack up among themselves in our latest power rankings.
14. Guerschon Yabusele (last ranking, 11): Only once in the past three weeks has he played more than six minutes, and he's been a healthy observer four times in the Celtics' past seven games. Two of his four most recent appearances have come in closing out the final garbage-time minutes of a game decided by at least 16 points. He doesn't appear to have much of a role, even in blowouts.
13. Robert Williams (10): The athleticism was in full display late in Wednesday's win over the Cavs, when the Time Lord nearly made contact with the time clock in climbing to block a shot well above the rim. His subsequent return to Portland and the G-League reminded everyone of how incomplete his game is at the moment, but if there's a postseason matchup that calls for a rim protector the Celtics shouldn't dismiss the idea of their rookie as a playoff contributor.
Rook got ? pic.twitter.com/kwhW6eohwM

— Boston Celtics (@celtics) January 24, 2019
12. Brad Wanamaker (not ranked): The well-traveled 29-year-old is only really called upon when Kyrie Irving or Terry Rozier is unavailable, but he deserves enough credit to crack this list for the first time. In the three NBA games he's played at least 20 minutes (all this month), he's a combined plus-46, is averaging 10.7 points per game, and has 11 assists and five steals to just five turnovers. He belongs.
11. Semi Ojeleye (13): His contributions remain inconsistent at the back end of Boston's rotation, but he could be in for some opportunity Saturday night. In the Celtics' win over the Warriors last year, Ojeleye played 16 minutes without making a field goal, so this could make for another matchup where Stevens uses the second-year wing to use his physicality as a defender.
10. Daniel Theis (10): Theis played at least 13 minutes in 19 of 20 games — then Aron Baynes returned from injury, and in the five subsequent tilts Theis had two DNPs and two games where he played 5:35 or less. That's OK, though. He showed last season that he can be a contributor in short bursts.
9. Terry Rozier (7): Nights like Wednesday typify the frustrating parts of Rozier's season. He was virtually perfect in the first half, and as Irving's fill-in he finished with 26 points, eight rebounds, and six assists in 29 minutes. He was outstanding. However, over the six games before that one he'd been averaging more than 21 minutes a night, yet scored just 5.7 points while shooting less than 28 percent. He's a very good player with a high skill level — but his ability to be more consistent in his role could be a difference maker for a team trying to rise to another level.
Terry Rozier's season-high effort of 26 points sparked us to a 123-103 victory over the Cavs. pic.twitter.com/blObsHjoPq

— Boston Celtics (@celtics) January 24, 2019
8. Aron Baynes (9): The big man's return coincides with the Celtics' five-game winning streak, and in 18 minutes a night he's collecting six rebounds. Statistically, Baynes doesn't stand out in any way, even with some of the value- and efficiency-based metrics. But the C's are 19-11 with him available, compared to 11-7 when he's out.
7. Jaylen Brown (8): Since being held to four points on Christmas night, Brown is averaging 14 a game, and has gone for 18 or more six times in 15 tilts. Over that period his major offensive numbers are right in line with last season's production, and he's also had some excellent defensive efforts in that span. It appears he is adjusting, and in the process he is reemerging as a major factor in what the Celtics can do.
6. Gordon Hayward (5): He finally scored in double-figures in more than two consecutive games when he hit for 12 or more in four consecutive contests earlier this month. That included his 35-point explosion against the Timberwolves. But that hasn't been the turning point Boston might've been hoping for. He's twice hit for 18 points since, but in five other games he's been limited to eight points or less. He hasn't been aggressive, and his rebounding has slid a bit in recent weeks, too. Could it be time to consider giving his repaired ankle some additional time off, with the late spring in mind?
Hayward hits the Cavs with a little Euro step finish for two! pic.twitter.com/7GiPxIWBqn

— Boston Celtics (@celtics) January 24, 2019
5. Al Horford (6): He won't return to the All-Star game, but he's shooting the ball better, and more, than he did last season — with rebounding and assist numbers that are roughly in line with that season, as well. As a team, the Celtics' ball movement is better on the floor, and the NBA's advanced stats suggest that's not a coincidence. Not only is Horford among the centers who pass the ball the most, but 10.6 percent of his passes wind up as assists.
4. Marcus Smart (4): A few days after Stevens joked about Smart's growth being evident when he took on the peacemaker's role during the mid-timeout altercation between Brown and Marcus Morris, the feisty guard was back at full combustibility in trying to turn the Celtics' game with the Hawks into a full-on brawl. In a way, Smart's over-the-top tenacity may have been a reassuring sight for those Boston fans who wish this team had a bit more grit to balance out its ball skills, and understand why his value over replacement-player ranks third on the team, according to Basketball-Reference.
3. Marcus Morris (2): After carrying the Celtics on some nights before the new year, Morris's play has slipped some in January. He's down six points from his December per-game average, and at 12.5 he's the C's fifth-leading scorer in January. That drop can be linked to his shooting struggles, as he's under 42 percent for the month, whereas he was hitting slightly better than 50 percent of his shots through the end of December. The time to move him back to the bench, where he can provide instant offense in shorter spurts, could be nigh.
2. Jayson Tatum (3): A year ago, the then-rookie hit a wall in January, and he saw his scoring abilities take a two-month tumble. The latter part of December raised questions about whether Tatum might experience a similar drop in his second season, but he's actually been good this month. An 0-for-6, two-point performance was an outlier, enough that when it's removed he's otherwise averaging 19 points over his past 10 games, and according to the Game Score metric, two of his best six games this season have come among Boston's last six. No surprise, the Celtics have won five of those.
1. Kyrie Irving (1): When the All-Star guard revealed that he called LeBron James for a conversation centered around leading a group of young players, Irving took a significant risk. In some ways, there was no coming back from that. If the team continued to underachieve, questions about the team's culture, and Irving's role in creating it, would be a daily criticism. But since then, Irving has taken it upon himself to make sure those comments weren't immediately followed by further disappointment. That night he scored 27 points and added 18 assists to beat the Raptors. Over the next three games, all wins, he's averaged 32 points with almost nine assists while shooting 61 percent from the floor. So far, it's been exactly the response fans wanted to see — and the one Irving needed.
https://embed.sendtonews.com/oembed/?SC=Xw4u5VQOrW-490431-8402&autoplay=off&sound=off&V=2&format=json