Celtics
Tommy Heinsohn eyes return to Celtics broadcast team
"I had some flu and I had 50 years of smoking starting to catch up on me."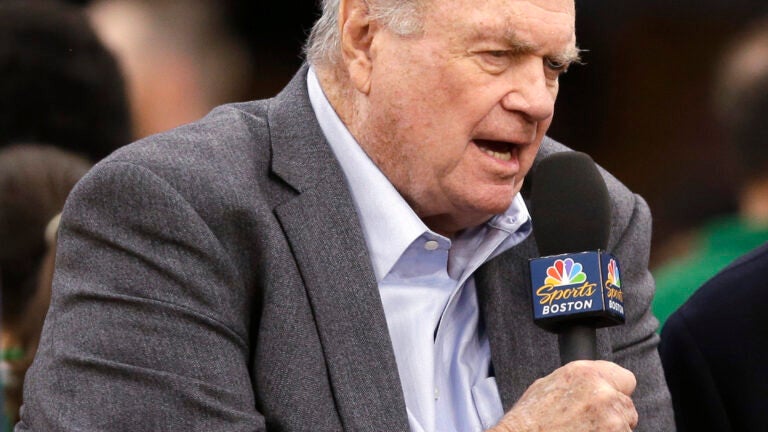 Celtics legend Tommy Heinsohn said he will undergo further testing Tuesday related to what appears to be a mild case of sleep apnea, and he is hopeful that he will be able to return to the broadcast booth soon. Heinsohn said he will be fitted with a new oxygen mask that will be adjusted to the appropriate pressure to help treat his condition. The belief is that better nights of sleep with the mask will reduce the fatigue he has been experiencing.
"Hopefully, that will allow me to feel refreshed in the morning and not feel my 84 years,'' Heinsohn said by phone this weekend. "I don't know, I mean, it got to the point where I would get fatigued walking from the elevator to the [TD Garden] press room. One night [broadcast partner Mike Gorman] and I came up the elevator together, and halfway through I had to go sit down.''
Heinsohn, who has been calling Celtics games with Gorman for 38 years, has been absent from NBC Sports Boston's broadcasts since late November. He said he'd hoped to return earlier this month, but then his progress was stalled by an illness.
"I'm getting there,'' he said. "I had some flu and I had 50 years of smoking starting to catch up on me. At 84, not hydrating properly, and sleep apnea, it all came together. So I've got to be able to not be fatigued, and so I think we're getting there. I'm getting out and moving around and going to dinner.''
Heinsohn said he has been touched and motivated by the support he has received from fans and members of the Celtics organization during his absence. He is looking forward to rejoining them.
"Obviously, it's nice,'' he said. "I've been going to [Celtics home games] since 1956, so I've met a lot of people in that place. My wife knew every usher, and the electricians. It's been like a family to me, and the people I've been involved with. The fans have been great to me. I used to get booed out of buildings when I was a player. So, yeah, I really, truly appreciate that support now.''
Although Heinsohn has been unable to see the Celtics play in person, he is still tracking the team as closely as ever. Instead of sitting courtside with Gorman, he settles into the large black lounge chair in his home.
"Yeah, I mean, I've got a television set,'' he said with a chuckle. "I watch all of them.''
Heinsohn said it was "such a pleasure'' to watch last season's undermanned Celtics team push to the brink of the NBA Finals. He said that during the run, he told Jaylen Brown that every Celtic he had ever known would have loved to suit up for that Boston team.
"They were selfless, and they were very competitive,'' Heinsohn said. "They fought down to the bitter end, and it was a pleasure to watch them fight every night.''
He said it is clear that this team is still working to regain that magic. But he has been in awe watching Kyrie Irving do his part.
"Kyrie is one of the most amazing Celtics I've ever seen,'' Heinsohn said. "He's something else and a half, that guy. All the years I've seen Celtics players, this guy is the most definitive of being a take-charge guy. He can do it in an instant, and he can get and do what he wants to do whenever he wants to do it.
"It's like Bob Cousy when I was playing. He'd read the game, and the other team would be working their butts off trying to stay with us. They'd work the ball around for 22 of 24 seconds and finally score against Bill Russell, and our next possession Cousy would come up and shoot a 22-foot running one-hander off the wrong foot and have it go through, and they'd throw up their hands and say, 'We're never going to beat these guys.' Kyrie reads the game like that, the psychology of the game and winning. He's really good at it.''