Celtics
Brad Stevens on Marcus Smart and Aron Baynes: 'Those are our splash brothers'
The two combined for six 3-pointers Monday night.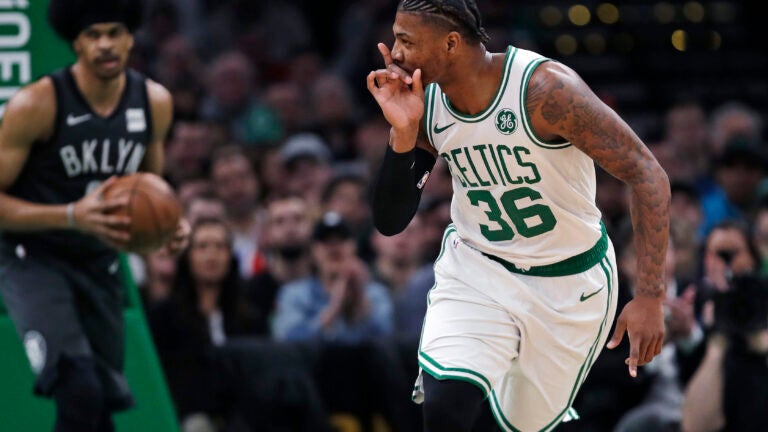 Watch out, Steph and Klay.
On Monday night, Marcus Smart and Aron Baynes connected on four and two 3-pointers, respectively, to help propel the Celtics over the Brooklyn Nets, 112-104, at TD Garden. The two have each put forth career-best percentages from beyond the arc, providing Boston with additional methods of attack on the offensive end.
Postgame, head coach Brad Stevens spoke of their improvement shooting the ball, noting that the two have put an emphasis on that aspect of the game during practice.
"Those are our splash brothers," Stevens said. "Baynes probably puts up as many attempts in practice as anybody on our team so it's good to see those go down. Marcus has been shooting great all year. Every time Marcus lets it go you feel good about it."
Already a season quarter high 11 PTS (3 3PM) in the 1st for Marcus Smart!#CUsRise 23#WeGoHard 15

??: https://t.co/Bq24jKOTFm pic.twitter.com/ul6ogBew0W

— NBA (@NBA) January 29, 2019
Baynes, especially, has made a major leap from downtown. In 32 games of action, the big man has doubled the number of 3-point shots he's taken. He took 21 last season and is already up to 46.
"It is something I have always worked on," Baynes said. "I do not think it is the main thing but I definitely have the confidence here. It is good when everybody has the confidence in you to go and knock that shot starting from the coaches and every player as well. It is a good thing I think any time any player takes a shot we are pretty confident that they are going to knock it down because we see everyone take the same type of shots in practice every day."
https://embed.sendtonews.com/oembed/?SC=NUziLg5siA-492024-8402&autoplay=off&sound=off&V=2&format=json