Celtics
Report: Kyrie Irving 'genuinely interested' in LeBron reunion
Bleacher Report's Ric Bucher cites a Celtics source.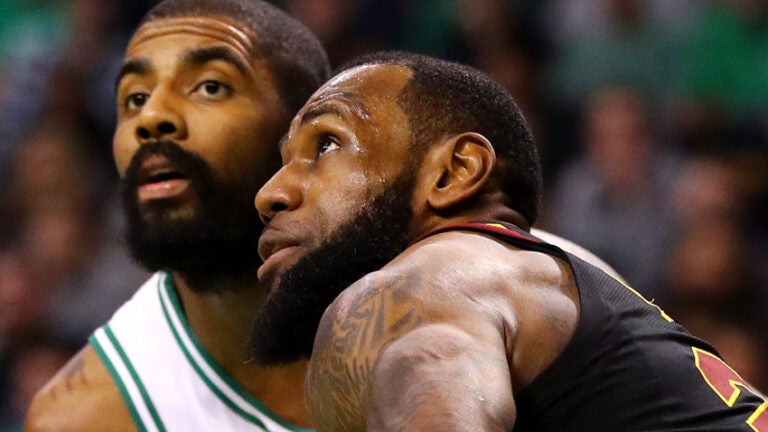 Baseball's biggest free agents won't come off the market when they're supposed to. Basketball, meanwhile, is wheeling and dealing on the rumor mill.
In the midst of a piece dealing with the fallout from Anthony Davis' declaration that he won't sign an extension with the New Orleans Pelicans and that he wants a trade to a contender, Bleacher Report's Ric Bucher on Tuesday fed the doubters who think Kyrie Irving won't necessarily be with the Celtics long-term.
"While the news since last summer has been largely about stars not interested in being LeBron [James]'s sidekick — [Paul] George's decision to re-sign with the Thunder, Jimmy Butler not having the Lakers on his reported preferred list and Kawhi Leonard reportedly favoring the Clippers — a source close to the Celtics confirmed that Kyrie Irving is genuinely interested in reuniting with his former Cavaliers teammate," wrote Bucher, quoting his source as stressing Irving's interest is "for real."
A recap is in order. It was Irving who started all of this, declaring in July 2017 that he no longer wanted to play alongside James in Cleveland, with whom he'd won a championship barely a year earlier. The trade to the Celtics came in August, with championship dreams immediately taking root given Gordon Hayward was already on board.
Alas, neither Hayward nor Irving were on court when the Celtics took LeBron's Cavaliers to Game 7 of the Eastern Conference Finals, but their return for this season had the Celtics the betting favorites to reach the Finals given James' jump to the Los Angeles Lakers.
They entered Tuesday night sitting fifth in the East at 31-19, moving in the right direction after a 10-10 start but still not good enough to even host a first-round playoff series. The team's been inconsistent, with Hayward still recovering from his gruesome injury, young stars Jaylen Brown and Jayson Tatum struggling to adapt to the new mix, and presumed team leader Irving at times publicly bristling at the lack of consistency.
After a Jan. 12 loss in Orlando, Irving blistered teammates for a lack of preparation, noting "It's not easy to be great: The things you're doing, that you've done your entire career of being able to coast by in certain situations and you've gotten away with your youth and stuff like that, being on a championship ball club, you can't get away with that." He apologized two days later for the public criticism, which had been something of a theme to that point in the year, then got reflective when the Celtics beat East-leading Toronto later that week, admitting he'd called James to apologize for his behavior as the young player years prior.
Kyrie says he called LeBron to apologize. pic.twitter.com/JGM3zdR1RG

— SportsCenter (@SportsCenter) January 17, 2019
James was privately "very appreciative" of the mea culpa, then showed that publicly with a little Instagram Stories serenade.
LeBron's message to Kyrie

"I know you're with him now but soon you will be mine, If I could bring it back, I'll probably press rewind" pic.twitter.com/kmI0efMJLt

— ? LALeBron ? (@LALeBron23) January 25, 2019
All this has increased murmurs that Irving, who declared to Celtics season-ticket holders in October that he planned to re-sign with Boston after he opts out of his contract this summer, won't. Nets fans in Brooklyn let it ring out the other night. Yahoo's Chris Haynes said there's a "growing belief of uncertainty" that Irving will stay.
Not everyone is convinced. Longtime NBA reporter and Globe alumna Jackie MacMullan dismissed the rumors during a stint on ESPN's 'Around the Horn' on Tuesday, pointing to Davis' (and LeBron's) agent Rich Paul as the source and noting "it's January. He hasn't made any kind of seismic decision like that. And let's say even if he is a little unhappy and a little unsure, don't you think bringing Anthony Davis aboard may quell all of those fears or concerns?"
It's all, however, a question that can't be formally answered until July 1, when Irving can opt out. Let the speculation continue.