Celtics
Danny Ainge said he's spoken to Jaylen Brown, Jayson Tatum about the trade rumors
"They listened to what I had to say, and I think they get it."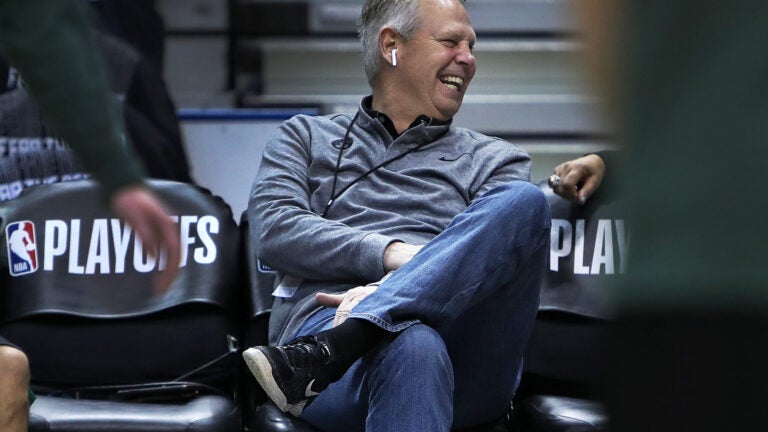 Celtics president of basketball operations Danny Ainge revealed Thursday morning that he has spoken to young wings Jayson Tatum and Jaylen Brown about the recent trade rumors following New Orleans Pelicans center Anthony Davis's public request to move on from his current team.
"They listened to what I had to say, and I think they get it," Ainge told 98.5 The Sports Hub's "Toucher and Rich" during his weekly radio appearance. "They understand it. Part of it, I feel obligated to help educate these guys on the world that we live in and basketball — the business side of basketball, the media side, and all the reports that come out — and try to prevent them from being distracted."
Boston is expected to be a fierce contender in the Davis sweepstakes, assembling a package that will likely include some combination of Brown, Tatum, and draft picks. The Celtics cannot trade for Davis before the Feb. 7 trade deadline due to a league limitation known as the "Rose Rule," so their roster will presumably stay intact for the rest of the season. But should Davis be available following the deadline, expect the scuttlebutt to be rampant until at least July 1.
"I feel like, in the NBA, it seems like it's more about the drama off the court that is being talked about and discussed and people get excited about than the play," Ainge said. "I understand it. I'm not mad about it. It's just reality. It's more interesting to talk about all these Kardashian-like episodes that are going on."
Along those lines, Ainge said he doesn't care about the video LeBron James recently posted on his Instagram that was set to the tune of Fetty Wap's "Rewind" and tagged former teammate Kyrie Irving. Amid the Davis rumors — and following Irving's recent phone call to James — additional speculation about Irving's uncertain future in Boston has seemed to pick up steam. Though Irving announced his intention to re-sign with the Celtics before the season started, some haven't ruled out a reunion with James in Los Angeles or a super team with Davis and Golden State Warriors forward Kevin Durant in New York.
But Ainge isn't bothered by the buzz. He reiterated the Celtics "want to keep Kyrie."
"I talk to Kyrie on a daily basis and see him all the time," Ainge said. "None of that stuff that is out in the media this week that people have brought to my attention really matters to me."
If Irving does in fact stay, his presence is expected to be a selling point for Davis — given the pair's bond through their involvement with USA basketball. Even if the Celtics do land Davis this summer, however, the conversation then shifts to whether Davis will stay beyond that season.
So, would Ainge trade for a player just for a year to try and win a title?
"Yes," he said. "But it depends on the situation. It depends on the player and the circumstances and the package. We've had a chance and done it and had a chance and not done it."