Celtics
Marcus Morris on the Celtics: 'It hasn't been fun for a long time'
"When I look at us, I just see a bunch of individuals."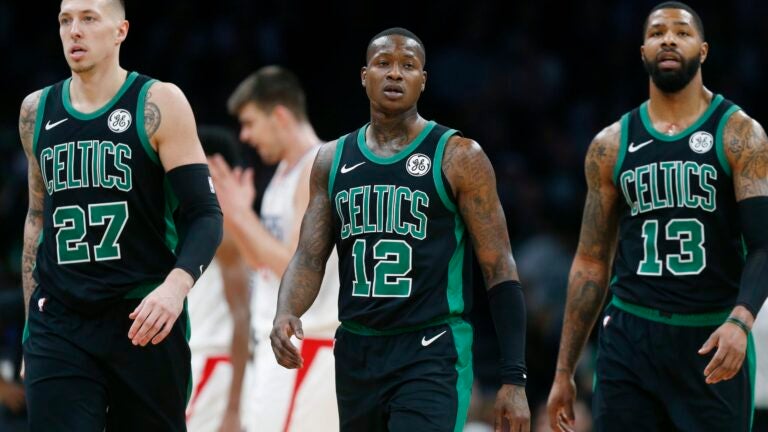 The Celtics let an 18-point lead evaporate in a loss to the Lakers on Thursday, then allowed the Clippers to erase a 28-point deficit en route to a 123-112 win over Boston on Saturday.
After the second straight frustrating defeat, Celtics forward Marcus Morris called out his teammates for their attitude, contrasting their down-in-the-dumps posture with the positivity he sees across the league.
"For me, it's not really about the loss, it's about the attitude that we're playing with," Morris told reporters in the locker room. "Guys are hanging their heads. It's not fun. We're not competing at a high level. Even though we're winning, it's still not fun. I don't see the joy in the game.
"I watch all these other teams around the league and guys are up on the bench — they're jumping on the court, they're enjoying their teammates' success. They're enjoying everything, they're playing together, and they're playing to win. And when I look at us, I just see a bunch of individuals."
Asked what needs to change, Morris said the team needs to start with a simple aim.
"The goal has to be to win. Bottom line," Morris said. "We gotta play to win. That's sacrificing playing hard, that's sacrificing being a better teammate, that's sacrificing whatever it is. We have to put it to the side. No one's getting traded; trade deadline is over.
"We're competing for a championship and that's how we have to approach these games. Win, lose, or draw. We're going to lose games, but we don't have no attitude, we don't have no toughness, we ain't having fun. It's gonna be a long season."
Morris was in the starting lineup against Los Angeles and finished with 15 points and six rebounds. Looking forward, he offered that he's willing to come off the bench if coach Brad Stevens decides the team needs a change.
"For us to be a championship team, man, this s*** has to change," Morris said. "We have to genuinely want to win. That has to be the first goal. Whatever that takes, I'm with it. If they want to take me out of the starting lineup, get some juice in there, I'm with it. I'm trying to win."
So, does the forward have faith that the Celtics' attitude can change?
"Yeah, I mean, I really do. I think it can," Morris said. "But you have to start somewhere."