Celtics
What Boston sports radio is saying about the Celtics
Marcus Morris' post-game comments after the C's loss to the Clippers Saturday raised concerns.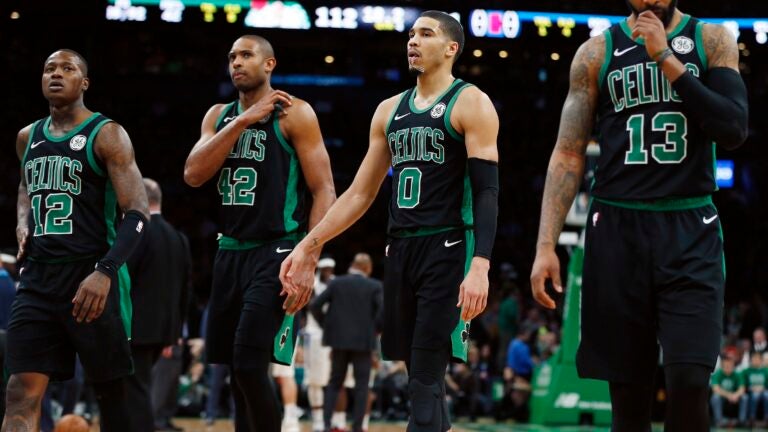 After the Celtics' striking loss to the Los Angeles Clippers on Saturday, Marcus Morris told reporters that he sees the Celtics as a "bunch of individuals" despite holding fifth place in the Eastern Conference.
Here's how Boston sports radio hosts reacted to Morris' comments:
Toucher and Rich, 98.5 The Sports Hub: Fred Toettcher and Rich Shertenlieb said it is worrying that discontent appears present in the Celtics locker room in spite of the team's overall success this season.
"Usually when you have discontent in the clubhouse and in the locker room and on the court, it has a lot to do with the team losing," Toettcher said. "I don't think there is any argument that this team is incredibly talented. They have a lot of talented players and you take a look at it on paper, this should be one of the best two teams, best three teams at worst, in the Eastern Conference."
Signs of frustration crept up earlier this season. Morris pushed Jaylen Brown during a timeout on Jan. 10 in Miami, and just days later, Kyrie Irving called LeBron James for advice on how to lead a roster full of young players. But the Celtics won 10 of 11 before blowing large leads and losing to both Los Angeles teams at home. Between Morris' comments and subsequent comments by reporters, it appears those winning weeks have not encouraged chemistry.
The #Celtics locker room issues aren't that big of a surprise to some NBA folks I talked to today. The consensus is that the players aren't necessarily beefing but they aren't that close. It's like they are trying to coexist politely, and it's not working.

— gary washburn (@GwashburnGlobe) February 10, 2019
Toucher and Rich referenced the Globe's Adam Himmelsbach's analysis of the Celtics' defensive groupings, highlighting that pairings of Al Horford, Gordon Hayward, and Morris himself tend to yield poor defensive ratings. Horford has battled injury this season and Hayward is still in the process of reclaiming the athleticism he lost in last year's leg injury, but Shertenlieb criticized Morris' defensive play in particular against the Clippers. He noted a play in which Morris lingered too long after letting loose a failed three-point ball, allowing his man to sprint down the court, collect a pass, and make an easy layup.
"Marcus Morris is just having a hard time getting back on defense, so he can point and point fingers at a bunch of people, but defensively, he's part of the problem," Shertenlieb said.
Brian Robb from Boston Sports Journal joined Toucher and Rich to discuss Morris' comments, and he noted that while Morris declined to name anyone, he likely griped especially about the Celtics' young players.
"I could easily see how the young guys could be like, 'You're having the same problems, why are you calling us out?' " Robb said.
Mut and Callahan, WEEI: Jermaine Wiggins and Mike Mutnansky clashed over where to place blame for the Celtics' troubles.
Wiggins said the Celtics should consider firing coach Brad Stevens if the team's problems carry through the regular season and cost them a deep playoff run.
"This team can't get it done, and they have talent. That clearly comes down on the coaching," Wiggins said. "We've just seen this with one coach with the Patriots [team that] might not have had as much talent, but was able to win a Super Bowl. When you're talking about the Boston Celtics, that has been as talented as they are and you can't get these guys to get on the same page, that's the coach. It's time to move on from Brad, especially when you're talking about next year. If you try to get Anthony Davis, if you try to keep Kyrie, I don't know if this is the coach for this team."
Mutnastky suggested Danny Ainge's wheeling-and-dealing reputation could be creating some of the Celtics' woes, citing trade rumors that have placed a number of the team's younger players, including Jayson Tatum, as possible centerpieces of deals that would bring Davis to Boston this summer.
"Danny Ainge has built a team that is on two different pages here. The players have not bought into their roles this year," Mutnastky said. "When you build a team that is going in multiple directions, veteran guys trying to win now and young guys who already think they're going to get traded for Anthony Davis, then that is partially on the guy who built the team."
Mutnansky said when the Celtics last won a championship in 2008, there was no question about who might get traded at the deadline or who may get traded after that season. This year, Mutnansky said it's clear from Morris' comments that the team's young players, who were so good in the 2018 playoff run, have taken issue with reduced minutes due to Hayward's return.
"Jaylen Brown doesn't believe he should be in this reserve role. Jaylen Brown starred last year with Jayson Tatum and he thinks he should have the same sort of role this year," Mutnansky said. "That's on him not accepting it. That's on Jaylen Brown, not on the coach. So what can the coach say to him to make him accept the role he doesn't want to accept?"
Zolak and Bertrand, 98.5 The Sports Hub: Scott Zolak and Marc Bertrand appeared baffled that the Celtics, carrying largely the same roster as the team did last season, could be so out of sync. Zolak said it seems that Hayward's reintroduction to the rotation this season ruffled too many feathers.
"How are they in February and these are their issues? They don't like each other, they don't have fun together?" Bertrand said. "What is it? What is the issue with this group? This goes right back to the start of the year. We said right out of the gate something is wrong with this group. Something is wrong."
Bertrand questioned whether the team's issues stem from not having a true leader in the locker room, despite Kyrie Irving's best efforts to become one. To Bertrand, it seemed apparent that if the locker room is as dysfunctional as it appears, the Celtics will encounter problems beyond this season.
"Forget this season in and of itself. That's small potatoes right now. That's not the big deal here," Bertrand said. "The big deal is that if this is all true and that's how they all feel, then Kyrie is going to walk out the door come July 1."
Dale and Keefe, WEEI: Dale Arnold and Rich Keefe pointed their fingers toward Stevens on WEEI's afternoon show.
"He has been handed the most talented roster Danny [Ainge] has ever handed him, and he's coughing up a furball with it," Arnold said.
Keefe said that expectations this season have been higher than the 42-year-old coach has ever faced in his career.
"He does a great job with little talent," Keefe said. "You give him a ton of talent — they've played 56 games, that's a pretty good sample size — he's not getting the most out of this talent. There's clearly a divide with Kyrie Irving [and] Marcus Morris, and Jaylen Brown, Terry Rozier, and Jayson Tatum."
Arnold and Keefe were joined by Sports Illustrated's Chris Mannix, who echoed Keefe's notion of a divide. Mannix said the Celtics' troubles often feel like a battle between the team's veterans and young players.
"They just had better chemistry last year," Mannix said. "Everybody kind of knew their roles and embraced their roles. I do think having lower-than-normal expectations going into the postseason, even as a high seed, benefited them. They still were kind of this upstart team led by a whole bunch of young players with their two superstars on the sideline. They played together."
Felger and Mazz, 98.5 The Sports Hub: "There's only one solution to this: Take playing time away from people who don't deserve it," Tony Massarotti said on 98.5's afternoon program. "It's the only way it's going to work. This team has a leadership problem. They've had a leadership problem all year. They have a young guy problem because the worst thing that happened to this team, in retrospect, was these young guys getting to the conference finals last year and actually thinking it was because of them."
Massarotti clarified he doesn't think the Celtics' season is over, but that the team has deep-rooted problems that may require a roster shakeup in the summer. The show's hosts pointed to Brown as a possible root of the team's locker room issues. Mike Felger, Massarotti, and Jim Murray posited that in similar situations across other sports, an underachieving team with championship potential would have fired the head coach by now.
"Ultimately, I think it runs deeper than that, but I would say that's the simple, easy fix right now," Massarotti said.  "If you were to say, 'Do it right now, what do you do?' you fire the coach. But they're not going to do that."