Celtics
'These referees f****** suck': Joel Embiid calls out officiating after loss to Celtics
He was not very happy.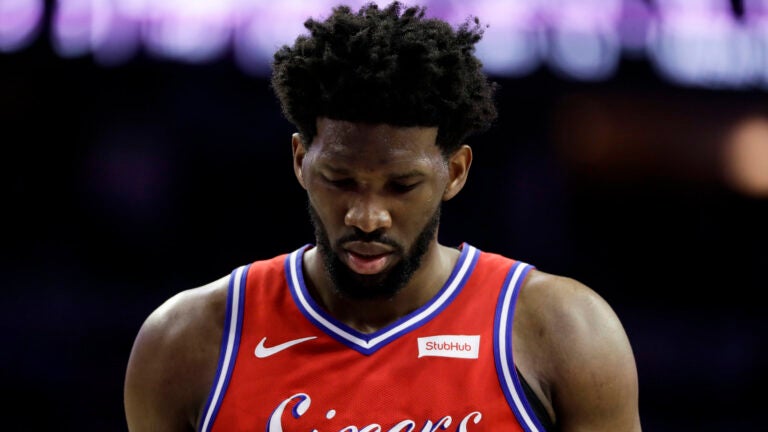 Philadelphia 76ers center Joel Embiid was none too pleased with the officiating Tuesday evening at the Wells Fargo Center.
After fielding questions from reporters following yet another loss to the Celtics, Embiid had one final thing to say. He leaned in, grabbed the microphone, and didn't mince his words: "The referees f****** suck." With that, the 7-footer got up from his chair and left the room — off to process a 112-109 defeat to a familiar foe.
Joel Embiid sure knows how to end a post-game presser ? pic.twitter.com/k7o3Evq2Ea

— ESPN (@espn) February 13, 2019
Embiid, who most definitely will be hit with a fine from the league office sometime Wednesday, was likely referencing a play in the final minute of the game. Trailing by two, the 76ers had the opportunity to tie or take the lead with about 35 seconds remaining. New Sixers forward Tobias Harris fed Embiid the ball in the post, but as Embiid went up for his shot, he was stripped by Celtics forward Al Horford. No foul was whistled, prompting the big man to throw his arms up in disbelief.
The NBA's "Last Two Minute Report" will detail whether the referees got it right, but, even if they missed the call, there's no denying Horford has continued to present a problem for Embiid defensively. According to the NBA's tracking data, Embiid shot 6-for-17 (35.3 percent) against Horford and 3-for-5 (60 percent) against all other defenders Tuesday night.
"Embiid's a monster, so for Al to play like that is really encouraging," forward Gordon Hayward said. "We've seen him do it in the past, too, so it was a good job by Al."
Embiid, however, downplayed Horford's impact.
"He's not doing anything," he said. "I was sleep-walking for three quarters, and that's on me. Like I said, that's on me. It had nothing to do with anybody."
The Sixers are now 2-10 against the Celtics since the start of last season. Despite the heated battles between the two teams, Embiid has said on multiple occasions that he doesn't view the matchup as a rivalry due to the lopsided record.
Their final meeting of the regular season will be March 20 back in Philadelphia. As they both jockey for position in the Eastern Conference standings, a first-round playoff series is not out of the question. If they do face off in the postseason, coach Brett Brown said he's "not even close" to worried about his team's repeated losses.
"I don't even think about that at all," he said. "I'm excited to play these guys."