Celtics
Anthony Davis says the Celtics are on his list, but…
So are 28 other teams.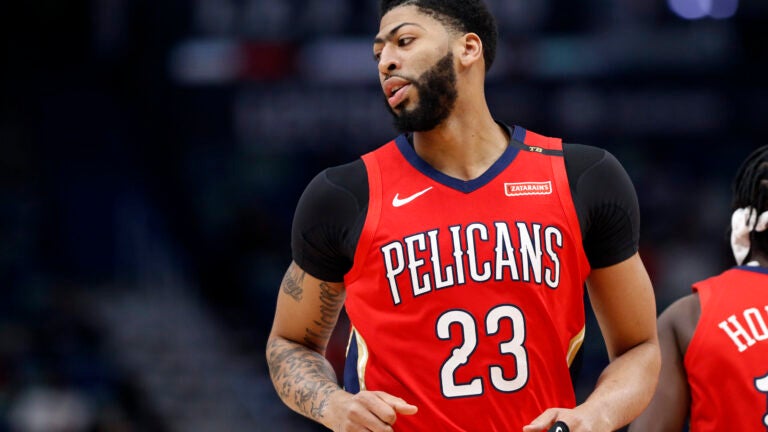 The Celtics are indeed on a list of preferred trade destinations for Anthony Davis, the New Orleans Pelicans power forward confirmed Saturday afternoon.
"They are on my list," Davis said while speaking to reporters in Charlotte for NBA All-Star Weekend. "I never said Boston wasn't on my list."
The answer sparked a couple of follow-up questions, given that Boston had been noticeably absent from the reported list of cities where Davis would be interested in inking a long-term deal. According to ESPN's Adrian Wojnarowski, the group of desirable locales for the 6-foot-10 big man includes the New York Knicks, the Los Angeles Clippers, the Los Angeles Lakers, and the Milwaukee Bucks.
Davis initially affirmed "whatever list that came out" was "true," but he then proceeded to open the door for more possibilities.
"I never said [the Celtics were] not on my list," he repeated twice more on Saturday.
In regard to how he selected the cities on his "list," the 25-year-old was not particularly enlightening about the process.
"I looked at them and then I chose them," he said.
Ultimately, Davis indicated he does not have a preferred destination in mind and reiterated his deep interest in competing for a championship. He said he's focused on finding the "best situation" and "best fit" for him.
"Market doesn't matter to me," he said. "I just want to win. Big market, small market, it doesn't matter. My focus is on winning at this point in my career — wherever that may be. It could be a big market or a small market, I just want to win."
After his media availability, Davis further clarified — or blurred — the status of his "list" on NBA TV.
"All 29 other teams are on my list," he said.
https://twitter.com/NBATV/status/1096810453437538305