Celtics
Kyrie Irving was mic'd up while coaching the Rising Stars Challenge
Irving was on the coaching staff for two games as part of All-Star Weekend festivities.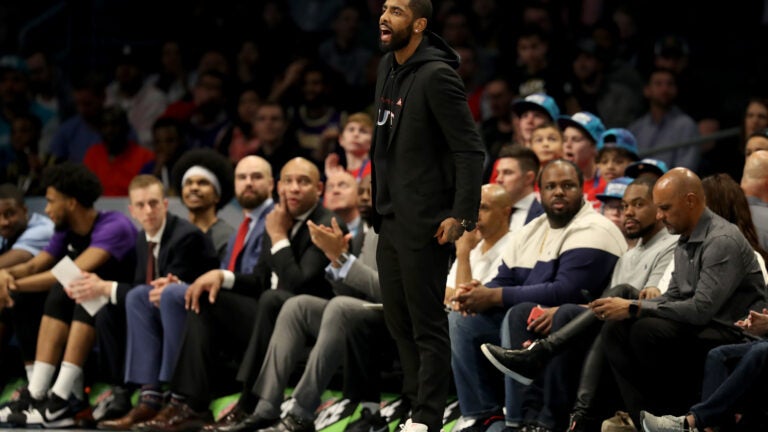 There was a new Coach K in North Carolina Friday evening.
About 150 miles away from where he played college basketball for Duke's Mike Krzyzewski, Celtics point guard Kyrie Irving paced the sidelines as an honorary coach of Team U.S. in the Rising Stars Challenge at Charlotte's Spectrum Center.
Joined by the squad's head coach, Darvin Ham of the Milwaukee Bucks, Irving helped guide the group to a 161-144 win over Team World. Donning a black blazer over a black hoodie, Irving seemed to be enjoying himself despite openly admitting the execution of his calls was anything but successful.
"Not one play, not one play has worked," he said, with a smile, in a mic'd up segment on TNT. "It's just been lazy switches."
Honorary Coach Kyrie Irving shares his experience with the USA Team. ? #MTNDEWICERisingStars pic.twitter.com/jygDLh0o9B

— 2019 NBA All-Star (@NBAAllStar) February 16, 2019
During his pre-game speech, Irving told his team "it's OK to compete" and continued to push a defensive mindset throughout the game.
"At least once or twice in this game, please get in a stance," he said. "Just once or twice, please. Just once! Please. Just for my sake, it's a more enjoyable game when you see these guys out here going at one another."
While proper defensive stances were few and far between, Irving still actively cheered his team on, clapping and shouting various messages of encouragement, including "Stay hot!" and "Push!" He was perhaps a bit more aggressive when motivating one particular player: teammate Jayson Tatum.
"Hey JT, would you get up the court? Get up the court!" he yelled, playfully. "I got to talk to JT like that to try and get him going."
So what did Tatum think of Irving's tactics?
"First coaching gig, he got a win," said Tatum, who tallied 30 points and nine rebounds. "Not too bad."
Asked what the best piece of advice Irving gave him Friday night, the sophomore gave an answer that likely brought a smile to his coach's face.
"Get back on defense," Tatum said. "That's about it."
Prior to coaching in the Rising Stars Challenge, Irving was also one of the coaches in the annual Special Olympics Unified Basketball Game.
"The game can be understood by a lot of different people," Irving said Saturday. "To see those gracious, great individuals be able to understand the game of basketball and really go out and play their hearts out, it was nothing short of amazing. Basketball has a way of speaking a language to everybody."
https://twitter.com/celtics/status/1096573304335405056