Celtics
Jayson Tatum: 'I love being on the Celtics. I want to play there my whole career.'
Tatum said he's "scratching and itching" to get back to the playoffs.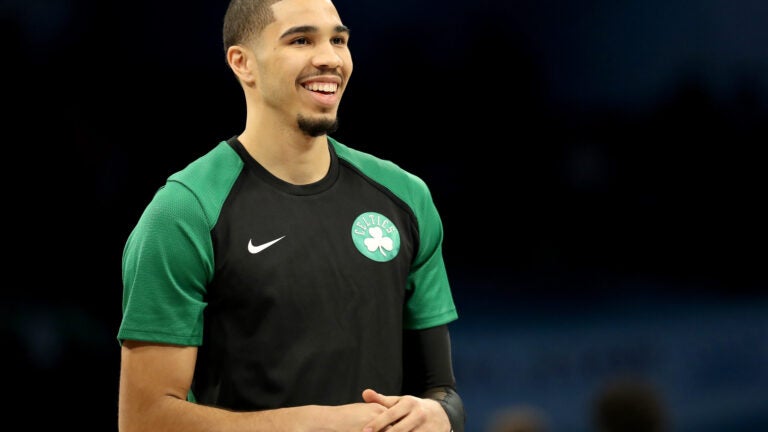 As the NBA trade deadline approached, the players in the Boston Celtics locker room were no different than the rest of the basketball world: tense and tuned in to the hectic transactions.
Jayson Tatum, no stranger to trade rumors this season, told ESPN that you could "feel the tension in the air" as the Feb. 5 clock counted down.
"Everybody's looking at their phone," Tatum recalled. "There's a lot of media talk, rumors and things like that. It's kinda hard to know what to believe. I try to block out outside noise as much as possible."
The Celtics second-year star has been linked to a blockbuster deal for New Orleans Pelicans center Anthony Davis. Danny Ainge couldn't deal for Davis before the deadline because of the "Rose Rule," but now that the Lakers failed to persuade the Pelicans to part with their franchise cornerstone, Boston is free to pursue him this summer.
The Celtics general manager isn't taking anyone off the table. That means Tatum, winner of Saturday night's Skills contest at All-Star weekend, has heard his name bandied about in trade rumors. However, the 20-year-old forward maintains he's happy in Boston.
"You start to understand that this is a business," Tatum said. "I play basketball and I just got to control what I can control. I love being on the Celtics. I want to be there my whole career."
Tatum helped lead a Kyrie Irving-less Celtics team to the verge of the NBA Finals as a rookie last season. He noted the Game 7 defeat to the Cleveland Cavaliers "really stung" and said he spent the entire summer thinking about how close they came to a championship.
"This season, you're scratching and itching to get back to that moment because you don't want to have the same feeling we had last year," he added.
He took things one step further after winning the Skills Challenge Saturday night of All-Star Weekend, proclaiming the Celtics will "win the NBA Finals this year."
Asked what aspect of his game improved the most from year one to two, Tatum pointed to his pace. Now that he's battle-tested and knows how to face adversity, his expectations for himself are sky high. The Celtics will need him to meet those lofty goals if they are to overcome a less-than-stellar first half of the season and chase an 18th championship.
"It's just a long season. Every year isn't perfect," Tatum said. "You go through ups and downs. We've been playing really well lately. We finished out strong going into the break. We won our last two. So I'm just excited to get back and get ready for the playoffs."