Celtics
LeBron James opened up about the apologetic phone call he received from Kyrie Irving
"It takes a real man and a real person to understand who they are."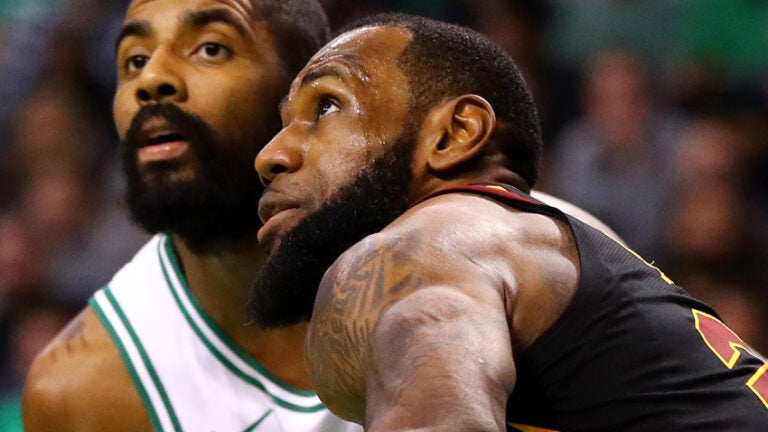 After the Celtics blew a double-digit lead en route to another frustrating loss in January, Kyrie Irving called LeBron James to apologize for once "being that young player that wanted everything at his fingertips."
The intervening years since Irving and James partnered for a championship with the Cleveland Cavaliers in 2016 have given the point guard a new appreciation for veteran leadership. Irving told reporters after the conversation that it takes "a real man" to call somebody and acknowledge prior mistakes.
James used the same phrase to describe his former teammate during All-Star Weekend.
"I've always loved Kyrie, from before I met him, [until] when I became his teammate, to even now," James said Saturday. "I've always thought he was special. I mean there's a reason why there's only 24 of us here this weekend. He's here for a reason. The phone call, more than for me, I think just to see his growth. It takes a real man and a real person to understand who they are."
As captain of Team LeBron in Charlotte, the Los Angeles Lakers star nabbed Irving with his second pick in the All-Star draft. James applauded him for picking up the phone.
"To be able to call, or to do anything and see their wrongdoings, or believe they had some wrongdoings and then be able to come to grips with that and either apologize or say that, 'At that point in time I thought I was ready for something but I really wasn't.' I'm not here to — I really don't want to talk about it too much because it's not for everybody," James said.
He noted the situation was not meant for the media to turn into a story, as they tend to do.
"I love Kyrie. I love everything about Kyrie," James said. "I love his family. I definitely love his shoes and his game. My kids love his shoes and his game, too. So it's all good."