Celtics
'It's been a trying year for us': Kyrie Irving talks Celtics' struggles, free agency buzz in ESPN interview
"I'm 26 years old heading into my prime. Why do I have to wait for anybody?"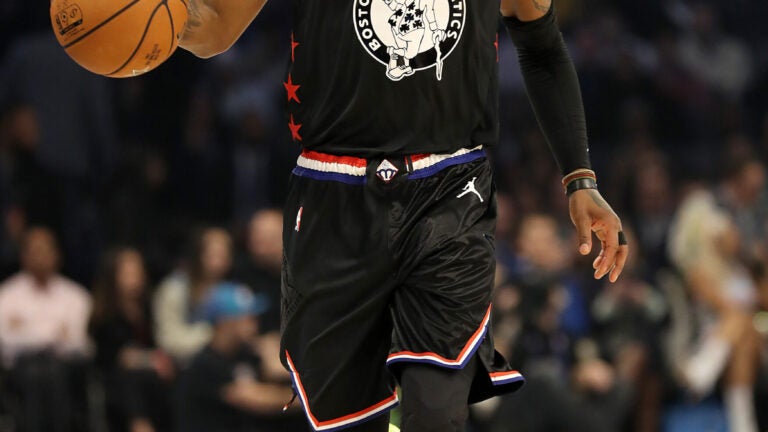 During the NBA All-Star break, Celtics point guard Kyrie Irving openly acknowledged the current season has been "a trying year" for the team.
"We basically have a bunch of young men in our locker room that feel like they're capable of doing a lot more than they're doing," Irving told ESPN's Rachel Nichols. "That's OK, but there's a maturity you have to have, there's a professionalism you have to really showcase every single day. That's what the great ones do."
Initially projected as a team that could potentially win over 60 games, the 37-21 Celtics have fallen short of the hype that surrounded them in the preseason. Public displays of internal strife, multiple losses to inferior teams, and difficulty coping with modified roles have plagued the group in its championship quest.
While the focus often shifts to how the younger players — namely Jaylen Brown and Terry Rozier — are adapting to decreased playing time, Irving freely admits he, too, hasn't logged as many minutes as he would have liked this season. As he put it: "I'm 26 years old heading into my prime. Why do I have to wait for anybody?"
Irving also recognized that the situation can create tension between him and Rozier, who stepped up as starting point guard throughout Boston's playoff run when Irving was sidelined due to a season-ending knee injury. Rozier has said all the right things since getting relegated to a backup, but Irving hinted that the adjustment might not be that easy.
"Terry Rozier, he played in the playoffs, he did extremely well," Irving said. "Coming back, that's a natural competition that me and him have. It is what it is. No one wants to say it, but I will. It's part of their growth. When you have winning in mind, then you got to do what it takes, but you got to understand your teammates."
Irving touched on a couple of other topics, including his evolving approach to leadership, his phone call with former teammate LeBron James, and the league's upcoming free agency period. Though Irving announced before the start of the season that he intends on re-signing with the Celtics once he can in July, there are rumblings he may elect to play elsewhere — with the New York Knicks as the frontrunner of possible destinations.
Over All-Star Weekend, Irving's chumminess with superstar Kevin Durant, who may leave the Golden State Warriors as a free agent this summer, only added fuel to the fire, as some floated the idea that Irving and Durant could team up in New York. Irving didn't address any specific rumors, though he expressed gratitude for being included in the discussion.
"Talk follows the great players in the league," he said. "I'm appreciative and grateful to be one of those great players in our league now. I've worked my way to get here."
He was quick, however, to dub the chatter "a distraction."
"A lot of people don't realize from the outside that a lot of things that are said get into locker rooms," Irving said. "A lot of things that are put in headlines get into locker rooms. Media has broken up locker rooms. It's been done before. You say something and it's misinterpreted and instead of addressing it with the person or individual, like human interaction, you read it on your phone."
https://www.youtube.com/watch?v=ir7AT-BFcSI&feature=youtu.be