Celtics
Every retired number for the Celtics and who wore it
The Celtics have retired 23 numbers in the team's 73-season history.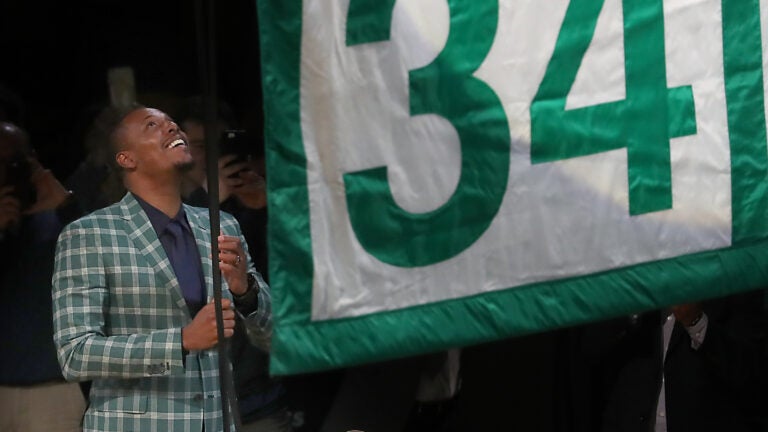 The Celtics are one of the NBA's original franchises. They have won more championships than any other NBA franchise and, befitting the collection of legends who helped them win those 17 titles, the team has an NBA-leading 23 retired jersey numbers.
Here is every jersey number the Celtics have retired, who wore it, and when it went to the rafters:
Ed Macauley, No. 22, and Bob Cousy, No. 14 — October 26, 1963
Macauley and Cousy were the first Celtics to have their numbers retired, both on the same night in 1963. (The team lists the retirement as happening on Oct. 16, the first night of the 1963-64 season and the first game after Cousy's retirement, but the actual ceremony was held 10 days later.)
Macauley played for the Celtics from 1950-1956, an NBA All-Star in each of those seasons, and averaged nearly 19 points and 8 rebounds per game in Boston. Macauley, along with Reggie Lewis, is one of only two Celtics players whose jersey numbers are retired who did not win a championship with the team; his St. Louis Hawks, whom he joined in 1956-57, lost a seven-game Finals to the Celtics that year for Boston's first championship.
Cousy played 13 seasons for the Celtics, an All-Star in each, and won league MVP honors in 1956-1957 on his way to the Hall of Fame. He averaged 7.6 assists per game and recorded the most assists in the NBA eight times.
Walter Brown, No. 1 — October 17, 1964
Walter Brown created the team in 1946 and remained its owner until his death on Sept. 7, 1964. Brown was the president of the original Boston Garden, the team president of the Boston Bruins in the 1950s, and played an instrumental role in creating the NBA and the league's All-Star Game. He was inducted into both the Hockey (1962) and Basketball (1965) Halls of Fame.
Tom Heinsohn, No. 15, and Bill Sharman, No. 21 — October 15, 1966
On the night the Celtics raised an eighth consecutive championship banner, they also saluted two more stars, one who remains a fixture to this day.
Heinsohn played his entire nine-season career with the Celtics and won the NBA's championship in all but his first. He averaged 18.6 points per game and 8.8 rebounds as a power forward. Heinsohn retired in 1965, but returned as Celtics coach from 1969-1978, winning two more NBA championships in the 1973-1974 and 1975-1976 seasons. (He amassed a 427-263 record as the Celtics' coach, the second-most wins in team history.) Heinsohn has worked calling games, both nationally on CBS and Celtics radio and television, since he retired and, after a battle with sleep apnea, the 84-year-old returned to the broadcasts earlier this month.
Sharman played for the Celtics in 10 of his eleven NBA seasons. He scored just over 18 points per game as a shooting guard and was an eight-time All-Star, seven-time All-NBA player. His career free-throw percentage stands at .883 percent.
K.C. Jones, No. 25 — October 23, 1968
The team cites Feb. 12, 1967, as the date of Jones' number retirement. However, Jones played 30 more games after that date, as it was in the middle of his final season. (Philadelphia ended the team's run of eight straight titles in the Eastern Division finals on April 11.) The ceremony honoring him was held before the third game of the 1968-69 season.
Jones played point guard for the Celtics for the entirety of the team's eight championships in a row, and his 2,908 assists are ninth all-time among Celtics players. Jones returned to the Celtics as an assistant coach in 1977 and took the reins as head coach for five seasons in the 1980s, winning NBA championships twice. His 308 wins are fourth-most in franchise history.
Sam Jones, No. 24 — March 9, 1969
Jones played for the Celtics from 1957-1969 and, after announcing in the summer that 1968-69 would be his final season, had his number retired during it.
He won 10 NBA championships, made the All-Star team five times, and averaged almost 18 points per game during his career. Jones played three different positions during his Celtics tenure — shooting guard, point guard, and small forward — and was second only to Bob Cousy in points scored for the franchise when he retired. (He's seventh currently.)
Bill Russell, No. 6 — March 12, 1972
Russell was one of a kind, and his number retirement was no different. According to the Globe, Russell avoided the honor for three years, then insisted his number be raised to the rafters "with no crowd present. And so it was … five minutes before the Garden opened the doors for the crowd" attending that day's game against the Knicks.
No. 6 ranks high among basketball's all-time greats. Playing from 1956-1957 to 1968-1969, Russell won the NBA's Most Valuable Player award five times and won 11 championships in his 13 seasons, the final two coming during his career-capping three seasons as player/coach. Russell is not only the Celtics franchise leader in total rebounds with 21,620, he is more than 10,500 rebounds ahead of No. 2 on the list, Robert Parish. He is second in rebounds in NBA history only to Wilt Chamberlain.
Tom 'Satch' Sanders, No. 16 — January 20, 1973
Sanders had not announced his retirement on Jan. 20, when the team held "Tom Sanders Night" during a game against Seattle, but he did hang it up at season's end and was promptly named head coach of the Harvard basketball team.
Sanders played 13 seasons for the Celtics at small forward through the team's championship runs in the 1960s. One of the longest-serving Celtics, his 916 career games played are seventh-most in franchise history. Sanders is most remembered for his defensive ability, named to the NBA All-Defensive Second Team for the 1968-1969 seasons. Sanders was the team's head coach for parts of the 1977-1978 and 1978-1979 seasons.
Don Nelson, No. 19 — Dec. 15, 1976
The Celtics cite Nelson's number being retired in "1978," but it was actually retired well before, when his Milwaukee Bucks lost a game at Boston Garden during his first month as an NBA coach. "I'll be the biggest trivia question at the Garden in about four years," he said, according to the Globe. "They'll look up and say, 'Hey, who's No. 19?'"
Nelson didn't arrive in Boston until the 1965-1966 season, his fourth in the NBA, but once he did, he remained for 11 seasons. Nelson was a member of five different championship teams, averaging 10 points and nearly five rebounds per game during his career. His 872 games played with the franchise rank eighth.
Nelson's coaching career lasted 31 seasons, spanning the Bucks, two stints with the Warriors, the Knicks, and the Mavericks. He was inducted to the Hall of Fame as a coach in 2012.
Jim Loscutoff, LOSCY — April 8, 1977
Loscutoff played for the Celtics for the duration of his nine-year NBA career from 1955-1964. He played on six championship Celtics teams and averaged over five rebounds per game in his career. Loscutoff was known as "Loscy" and "Jungle Gym" in his playing days for his intimidating presence on the court.
According to the Celtics, Loscutoff asked the team not to retire his No. 18 jersey so another player could wear it in the future. They did, giving it to a pair of future Hall of Famers: John Thompson, who played a season-plus with the Celtics and would make his name as a legendary coach and mentor at Georgetown, and Dave Cowens. Cowens was still wearing it when "Loscy," 13 years after he retired, went to the rafters.
John Havlicek, No. 17 — October 13, 1978
Havlicek is the longest-serving Celtics player of all time, racking up 1,270 games in a 16-season career all in green. Playing both small forward and shooting guard, he was the NBA's leading scorer over the course of his career (1962-78) by more than 4,200 points, and remains the franchise's leader in field goals made and attempted, second in assists, and points. He scored just over 20 points per game.
Dave Cowens, No. 18 — February 8, 1981
Cowens played center and power forward for the Celtics from his rookie season in 1970-1971 through 1979-1980, and was an NBA All-Star for all but two of those seasons. Cowens scored just over 18 points per game during those years, one of the key scoring threats alongside John Havlicek and JoJo White. The Globe's Dan Shaughnessy once declared he "brought the Celtics back from oblivion after they hit rock bottom in the wake of Russell's retirement."
Cowens won two NBA championships with the Celtics in 1974 and 1976. He was the 1970-1971 rookie of the year, 1972-1973 NBA Most Valuable Player, and ranks third all-time among Celtics players in total rebounds.
JoJo White, No. 10 — April 9, 1982
JoJo White played 10 seasons with the Celtics, first joining the team in 1969 and starring at point guard throughout the 1970s. He was a member of Celtics championship teams in 1974 and 1976, scored over 18 points per game, and was named the NBA Finals MVP in 1976. White was a seven-time NBA All-Star, and is seventh in assists and 10th in points among Celtics players.
Arnold 'Red' Auerbach, No. 2 — January 4, 1985
Like Walter Brown, Auerbach never played for the Celtics, but his dedication of a near-lifetime to the organization earned the retirement of No. 2 in his honor.
Auerbach coached the Celtics for 16 seasons (1950-1966) and won 795 games, more than any other Celtics coach. His teams won nine championships in 10 seasons while also integrating basketball; Auerbach made Chuck Cooper the first black player drafted in the NBA, played the first all-black starting five in the league, and made Bill Russell the NBA's first black head coach when Auerbach tabbed him as his replacement. After retiring from coaching, Auerbach continued on as an executive for the Celtics until his death in 2006, serving as general manager, team president, and vice-chairman of the franchise at different times.
Dennis Johnson, No. 3 — December 13, 1991
Johnson is a rarity among Celtics retirees in that his time with the team was the latter half of his career.
The guard joined the Celtics for the 1983-1984 season at age 29 after splitting the first half of his career between the SuperSonics and Suns franchises. He scored fewer points here, dropping to 12 per game from more than 15 with his earlier teams, but his assist totals doubled and he was a key part of championship squads in 1984 and 1986. Johnson would return to the Celtics as an assistant coach from 1993-1997.
Larry Bird, No. 33 — February 4, 1993
Bird played forward for the Celtics for his entire 12-year career and the centerpiece of the Celtics' championship-winning teams in the 1980s. He averaged 24 points, over six assists, and almost two steals per game over the course of his career. Bird was the 1979-1980 rookie of the year, an All-Star in every season he played but one (he was injured in 1988-1989 and only played six games), won the league's most valuable player award three times, and won the NBA Finals MVP award two of the three times he won the championship as a player. According to Basketball-Reference, Bird has recorded the third most points of any Celtics player, second-most points per game, and second-most steals per game.
Kevin McHale, No. 32 — January 30, 1994
McHale was a staple of the Celtics in the 1980s, both offensively and defensively. Here from 1980-1993, the power forward was named to the league's All-Defensive team six times, a seven-time All-Star, and won the Sixth Man award twice. Fifth in points, his 1.7 blocks per game remain the most of any Celtics player ever.
Reggie Lewis, No. 35 — March 22, 1995
Cardiac arrest ended Lewis' life tragically on July 27, 1993. He was just 27 and six seasons into a promising career. The all-time leading scorer at Northeastern, where his number is also retired, was an All-Star in 1991-92 and averaged more than 20 points per game in his final two years, the latter of which the team made him captain.
Robert Parish, No. 00 — January 18, 1998
Parish spent 14 of his NBA-record 21 NBA seasons with the Celtics, but his brightest seasons came playing center for the team from 1980-1994 as part of the "Big Three" with McHale and Bird. Parish is second all-time in games played for the Celtics, second in total rebounds, fourth in all-time points, and leads the team in all-time blocks. "The Chief" averaged 16.5 points and 1.5 blocks per game with the Celtics and was an All-Star nine times here. Parish's ceremony was the first to be held in the Fleet Center, now known as TD Garden.
Cedric Maxwell, No. 31 — December 15, 2003
Maxwell played the first eight of his 12-season NBA career with the Celtics from 1977-1985 at small forward. During his time with the Celtics, Maxwell led the team in offensive rebounds and field goal percentage. (He remains at second all-time in team history for the latter.) Maxwell was the 1981 NBA Finals MVP, scoring 16 points per game and tallying over seven rebounds per game during that championship run, and has served as a Celtics color analyst on radio since 1995.
Paul Pierce, No. 34: February 11, 2018
"The Truth" played thirteen seasons with the Celtics, from 2000-2013, and sits only behind Parish and Havlicek in total games played with the franchise. Pierce is second all-time in points scored, the team's all-time leader in three-point shots made and attempted, steals, and free throws made and attempted.
Pierce averaged more than 20 points, 1.4 steals, 6 rebounds, and 4 assists per game during his career with the Celtics. He was an NBA All-Star 10 times and was the 2008 NBA Finals MVP, helping end the team's two-decade championship drought.