Celtics
Kyrie Irving says the Celtics will be fine 'because I'm here'
"I still don't see anybody beating us in seven games."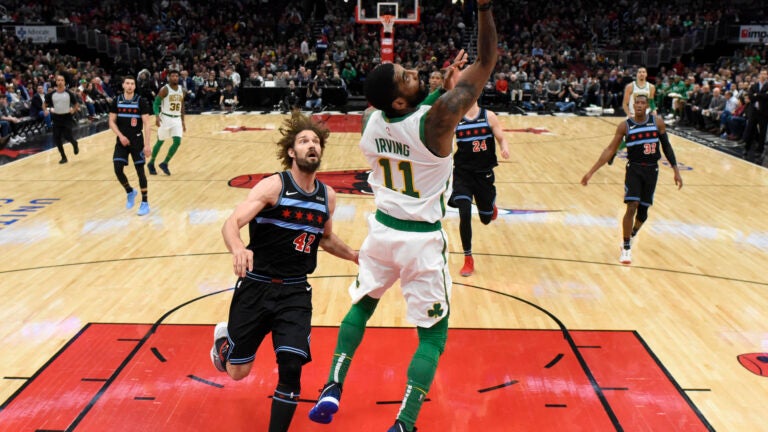 After the Chicago Bulls beat the Boston Celtics 126-116 Saturday t0 pick up their 16th win in 60 games, Kyrie Irving was asked whether he thought the Celtics' regular-season struggles will leak into the playoffs.
"No, we'll be fine," the star point guard told reporters.
Why do you think that?
"Because I'm here," Irving replied.
Irving led Boston with 37 points and 10 assists but could not prevent the Celtics' fourth defeat in six games. Zach Levine scored a career-high 42 points as the Bulls earned a measure of payback for the team's December meeting when Boston won by 56 points in Chicago.
In his postgame remarks, Irving told reporters he's putting this game behind him as the Celtics focus on reaching the playoffs — "where the fun begins." He remains optimistic about their chances once Brad Stevens and Co. can prepare for one team over the course of a series.
"You just gotta be able to adapt," Irving said. "In this league, the teams that adapt the quickest, or they adapt at the right time, are successful in the playoffs. We're still waiting for that thing to click. We've gone on eight games, six games, four games winning streaks and then we'll hit a lull of three games and we're back answering questions like this, so, it is what it is.
"Like I said, I don't get frustrated about this stuff anymore. It's just part of the regular season. In the playoffs, when we can plan for a team, prepare for a team, I still don't see anybody beating us in seven games."
Irving reminded his audience that the Celtics have beaten tough teams in the NBA and have proven they're capable of playing well against them. Boston beat both Milwaukee and Toronto — the two top teams in the Eastern Conference — earlier this season. However, they fell to the Bucks on Thursday and will face a Raptors team on a seven-game winning streak Tuesday.