Celtics
Morning sports update: Marcus Smart said the Celtics 'aren't together' after the team's loss to the Raptors
Also: Chris Sale and Nathan Eovaldi visit a children's hospital, the "bunch of jerks" Carolina Hurricanes continue stirring the pot, and the 100-year anniversary of a Red Sox legend's birth.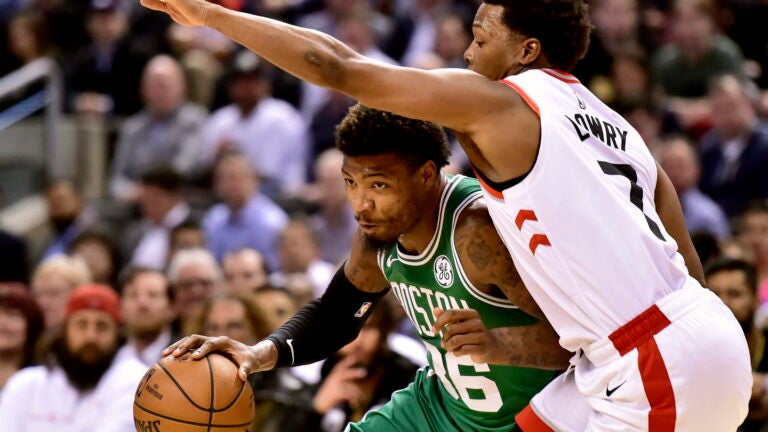 The Red Sox play two games against the Rays and Orioles Wednesday, both at 1:05 p.m. The Celtics play the Trail Blazers 8 p.m. Wednesday at TD Garden. The Bruins are back in action against the Lightning at 7:30 p.m. Thursday.
Marcus Smart said the Celtics "aren't together" after the team's 118-95 loss to the Raptors:
"We're going to get there," Smart said. "It's just taking time."
Kyrie Irving and Marcus Morris, who have both spoken out about the team's play at different times this season, didn't offer much insight into the breakdown against Kawhi Leanord and Toronto.
When Irving was asked about Smart's comments, he simply stated: "That's Marcus's opinion."
Both declined to comment on coach Brad Stevens's criticism of the team's defense.
A tough one for us here in Toronto but now it's onto the next one. pic.twitter.com/6I1Yg2lK0x

— Boston Celtics (@celtics) February 27, 2019
"For whatever reason we're not fighting, continuing to fight at that level like we've done in the past,"  Al Horford said to The Boston Globe's Gary Washburn. "We started the third with good energy but it got away from us. I gotta give them credit. They were playing with much more energy than we were. Some of the things that we talked about, transition defense, getting back, unacceptable passes over the top, them getting dunks. It's that sense of urgency that we're lacking at times, those lapses."
"I can't really put my finger on it," Morris said. "We just need to play harder. We got too much talent on this team to not be able to respond when we get down like that. We've still got a long season to go, it's not the playoffs yet."
More from Boston.com:
Chris Sale and Nathan Eovaldi visited a children's hospital in Fort Myers while the team's spring training game against the Blue Jays was rained out: The Sox pitchers offered advice to a young boy on how to handle criticism.
"You get back out there and you kick that ball, round the bases, and then you tell everyone that they stink," Sale said.
Chris Sale and Nathan Eovaldi know how to give a pep talk. pic.twitter.com/nqA4cvNV3n

— Boston Red Sox (@RedSox) February 27, 2019
The Patriots profiled the organization's longest-tenured employee: Nancy Meier, the director of scouting administration:
At the center of the #Patriots #NFLCombine planning is Nancy Meier.

Do Your Job presented by @Bose featuring the team's Director of Scouting Administration. pic.twitter.com/BxuTMUyl2t

— New England Patriots (@Patriots) February 27, 2019
The Carolina Hurricanes continue to embrace the "bunch of jerks" moniker Don Cherry gave them: Following the team's 6-1 win over the Kings, team mascot Stormy led the arena's fans in celebration before the players returned to the ice to throw T-shirts into the crowd. The Hurricanes even projected the phrase "bunch of jerks" on to the rink's surface.
In case you forgot… pic.twitter.com/BKFH3kXj7Y

— Carolina Hurricanes (@NHLCanes) February 27, 2019
NHL commissioner Gary Bettman was at the game and said he sees no reason to complain about the team's Storm Surge celebrations, which have helped to unite the fanbase behind a team in contention to make the Stanley Cup Playoffs for the first time since the 2008-2009 season.
Gary Bettman was asked about the #Canes Storm Surge postgame celebrations earlier this evening. He had this to say. pic.twitter.com/f6G0L7W7Ab

— Michael Smith (@MSmithCanes) February 27, 2019
On this day: Red Sox legend Johnny Pesky was born on Feb. 27, 1919. Pesky played eight seasons at shortstop and sustained a .313 batting average and .401 on-base percentage. He was an All-Star in 1946 after missing the previous three MLB seasons while serving in World War II. After retiring, Pesky served as manager of the Red Sox for the 1963 and 1964 seasons and was a longtime coach with the team until 1985.
While Pesky was not an official Red Sox coach from 1985 onward, he continued on as a special instructor with the club, attending spring training each year and often sitting in the team's dugout during games.
Fenway Park's short right field foul pole is affectionately nicknamed "Pesky's Pole" due to a myth that Pesky hit home runs that wrapped around the pole. Pesky hit 17 home runs in his MLB career, and only six of them were hit at Fenway.
Pesky's No. 6 is retired by the Red Sox.
He died on August 13, 2012, at 93.