Celtics
Celtics ban fan 2 years for 'abusive' language toward Warriors bench
Golden State center DeMarcus Cousins had told the team a fan used "racially offensive language" toward him during a January game in Boston.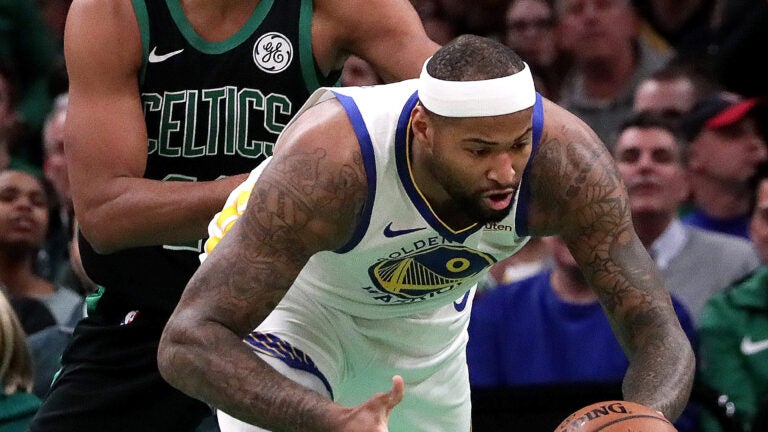 The Celtics have issued a two-year ban to a fan who they say was "verbally abusive" toward the Golden State Warriors bench during a game at TD Garden on Jan. 26.
In a statement released Friday afternoon, the Celtics said Warriors center DeMarcus Cousins alerted the team during the game that a fan had directed "racially offensive language" at him. The fan, a minor, was promptly ejected, the team said.
"The following day, per our policy regarding any reported fan behavior complaint, the team initiated an exhaustive investigation of the incident that included reviewing video from multiple angles and identifying and interviewing numerous fans, security personnel, and police in the immediate vicinity," the statement said.
Following the investigation, the Celtics said they were unable to corroborate Cousins's claim that the fan had used "racially offensive language." As a result of its findings, the team elected to issue a two-year ban from all Celtics games as well as a lifetime probation. Had the investigation confirmed use of racist language, the punishment would have been a lifetime ban.
"The punishment for any corroborated discriminatory language used towards any player, employee, or fan at a Celtics home game is a lifetime ban," the team's statement said.
The Celtics said they were in contact with the Warriors throughout the process, and the Warriors confirmed Friday morning they had been informed about the situation.
Chris Haynes of Yahoo Sports first reported the news Thursday night, saying the fan had called Cousins "n*****." Cousins appeared to allude to the incident — but did not reference the specific game or location — during a recent episode of Haynes's "Posted Up" podcast. The pair was discussing the fallout from a similar incident involving Oklahoma City Thunder point guard Russell Westbrook and a Utah Jazz fan.
"Bro, I've been called n*****," Cousins told Haynes in the episode that dropped Tuesday. "It's happened to me on a few occasions. I reported to the league. I may have said whatever I said back, and I'm still punished for it."
Cousins echoed the sentiment many players, including Celtics point guard Kyrie Irving, had expressed in response to the Westbrook-Jazz fan incident.
"Of course, we want the fan experience to be as amazing as possible," Cousins said. "We want them to enjoy NBA games and feel like they can interact with us and all that, but there's a line that shouldn't be crossed. And it gets crossed often."
Neither Cousins nor the Warriors offered a statement on the matter Friday.
"We express the deepest regrets that this incident happened to DeMarcus, as such behavior violates everything the Boston Celtics have always stood for," the Celtics' statement concluded.