Celtics
Assistant coach Micah Shrewsberry will remain with Celtics
Last season, assistant Walter McCarty left to coach Evansville, but otherwise Brad Stevens's staff has mostly stayed intact.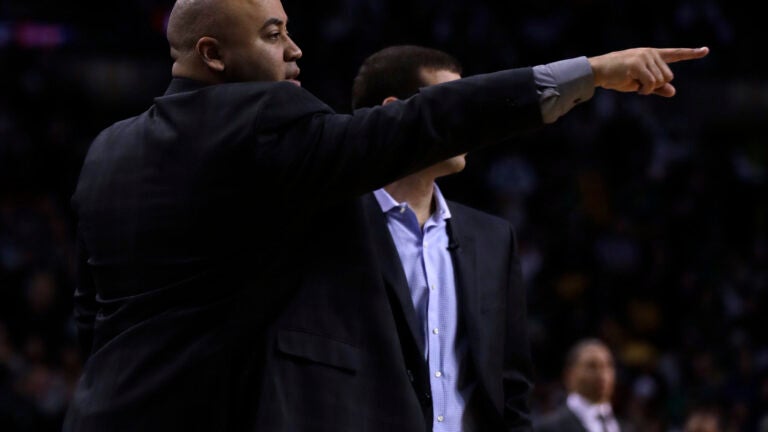 MIAMI — Assistant coach Micah Shrewsberry told the Globe on Wednesday that he declined an invitation to interview for Georgia State's head coaching position and will remain with the Celtics.
The Bulldogs' opening was created when longtime coach Ron Hunter, the father of R.J. Hunter, who is on a two-way contract with the Celtics, left the school recently over a contract dispute and was named head coach at Tulane.
Shrewsberry, who has been one of Brad Stevens's top lieutenants in Boston since Stevens was hired in 2013, has interest in becoming a Division 1 head coach. He was a finalist for the UMass opening last year, but that job ultimately went to former Chattanooga coach Matt McCall. Shrewsberry also interviewed for the opening at Saint Joseph's last month, but that job went to 76ers assistant Billy Lange, who had deep roots in Philadelphia after serving as an assistant at La Salle and Villanova.
Despite Stevens's success over his six years in Boston, his coaching tree has yet to fully sprout. Last season, assistant Walter McCarty left to coach Evansville, but otherwise the staff has mostly stayed intact.
Shrewsberry was the head coach at Indiana University South Bend before joining Stevens at Butler in 2008. Shrewsberry was hired as an assistant at Purdue in 2011 and rejoined Stevens two years later.
Thin at forward
Celtics forwards Marcus Morris and Jaylen Brown are expected to miss Wednesday's game against the Heat.
Brown sat out against Miami in Boston on Monday because of back spasms and did not attend the team's morning shootaround on Wednesday. Stevens said Brown felt a bit better Monday night but that his back stiffened up on Tuesday.
Morris said he has been battling some knee soreness "on and off,'' and said he planned to sit against the Heat for precautionary reasons.
Monroe let go
The Celtics did not re-sign center Greg Monroe after his 10-day contract expired on Tuesday. Monroe was signed in part because of the injuries and aches of big men Al Horford, Aron Baynes, and Robert Williams, but all three are mostly healthy now.
"It turned out both [Baynes and Horford] were able to play a little sooner, which really made us probably a little overly deep at the 5-spot,'' Stevens said. "It makes sense to keep playing with the guys we have, and also if we do have minutes, to be able to distribute those to Robert and Guerschon [Yabusele] here toward the end of the season.''
Monroe appeared in just two games, tallying 6 points and three rebounds over five total minutes.
The Celtics could still fill their last roster spot prior to the end of the regular season. If they sign a player who was waived by another team prior to March 1, that player would still be eligible for the postseason.