Celtics
Celtics rumor roundup: The latest on the team's plans for the NBA Draft
Boston has four picks this year.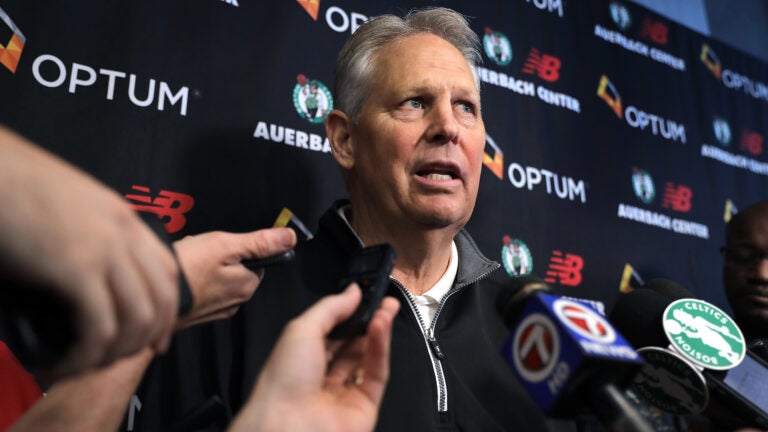 The Celtics hold the 14th, 20th, 22nd, and 51st overall picks in this year's NBA Draft.
Here's the latest on what the team might do with them:
Multiple teams are reportedly interested in picks in the No. 20-23 range, which includes two of Boston's selections: According to Jake Fischer of Sports Illustrated, the Golden State Warriors, Brooklyn Nets, Sacramento Kings, Dallas Mavericks, and San Antonio Spurs have all expressed interest in moving up to the 20-23 window. The other picks in that range belong to the Oklahoma City Thunder (21) and Memphis Grizzlies (23).
The Celtics are reportedly shopping Aron Baynes in order to create more cap space: Baynes recently opted into the second year of his two-year contract.
Boston has offered center Aron Baynes — $5.4M expiring contract — into salary cap space elsewhere, league sources tell ESPN. Without Kyrie Irving and Al Horford on the books, moving Baynes without taking back salary could get the Celtics to $23M in space.

— Adrian Wojnarowski (@wojespn) June 20, 2019
Depending on what the Celtics do with their picks, they can create cap space to pursue a max-level free agent: If point guard Kyrie Irving and forward Al Horford both depart in free agency, Boston can generate $32.7 million by stashing or trading their three first-round picks.
Read more on the Celtics' options.
The Celtics are reportedly one of the teams interested in trading up to No. 4:  The New Orleans Pelicans currently hold the fourth overall pick, after receiving it as part of their haul from the Los Angeles Lakers in exchange for center Anthony Davis.
Darius Garland will conduct a last-minute workout in Tarrytown with the New York Knicks tomorrow, a source told ESPN. Garland is in serious consideration for the No. 3 pick. Minnesota, Boston, Chicago are teams looking at potentially trading up to No. 4 with Garland in mind.

— Jonathan Givony (@DraftExpress) June 18, 2019
The Celtics reportedly do not want three rookies on the team next season: ESPN's Adrian Wojnarowski said on SportsCenter Monday that Boston has been "really aggressive" in shopping its assets. "You can expect, in one way or another, at least one, maybe two, of those picks end up somewhere else," Wojnarowski said.