Celtics
Celtics select Grant Williams with 22nd pick in 2019 NBA Draft
Williams is a two-time SEC Player of the Year.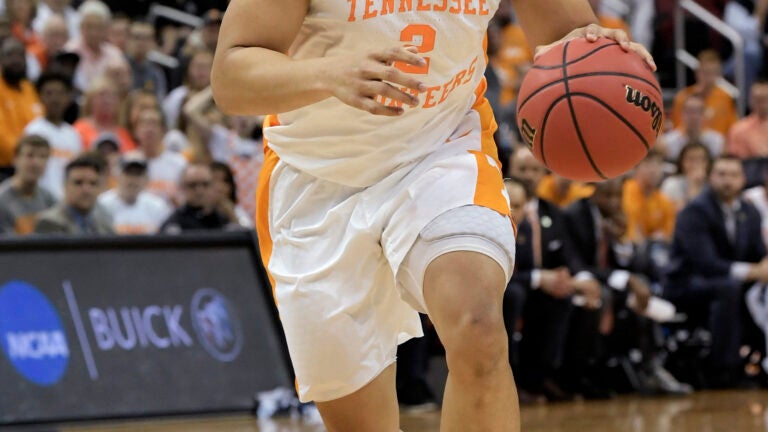 With the 22nd overall pick in the 2019 NBA Draft, the Celtics selected Tennessee Volunteers forward Grant Williams.
"Honestly, I was drafted by the best franchise possible," Williams said in a conference call Thursday night. "It's the most historic franchise in the league. It's a franchise that my grandfather actually talks about every single day because it's his favorite team."
Williams said he grew up watching the Celtics, while his brother was a fan of the Los Angeles Lakers. He went on to play high school basketball at Providence Day School in North Carolina and college ball at Tennessee.
At Tennessee, Williams averaged 15.7 points, 6.5 rebounds, and 2.1 assists per game over the course of three seasons. The 20-year-old was part of the 2019 NCAA Tournament squad that advanced to the Sweet Sixteen before falling in overtime to Purdue. Williams finished with 21 points on 56.3 percent shooting, seven rebounds, and four assists in the losing effort.
During his three-year tenure as a Vol, Williams earned both SEC Player of the Year honors and first-team all-conference honors twice.
"You couldn't be more impressed with a kid when you sit down with him," coach Brad Stevens said at the Auerbach Center Thursday night.
Williams tapped his basketball IQ as his biggest strength but was quick to say that there's still plenty of room for growth. He said he's excited to learn from the "basketball minds" in Boston, naming president of basketball operations Danny Ainge and Stevens as two prime candidates.
On the floor, Williams called himself a two-way player that can guard multiple positions as well as be a flexible option on the other end.
"I'm a guy who, on the offensive end, can initiate the offense, but also be a guy who's screening, moving the ball efficiently, and knocking down open shots," he said. "I feel like I will fit really well because of the versatility I bring."
"He's a guy that I kind of look at as a guy with a point guard's mind," added Stevens. "You can run offense through him at the elbows, on the block, [and] at the top of the key. He just thinks the game. He's a tough, tough guy, and he's a versatile player who can shoot the ball."
Williams said he's excited to join forwards Jaylen Brown and Jayson Tatum.
"I'm glad that Boston wants to have me be a part of the future," he said.
https://www.youtube.com/watch?v=c7rYdTLxXTA