Celtics
'He had to fight his battle': Bob Cousy discussed politics, race, and Bill Russell in NBA.com Q&A
The Celtics legend will be honored with the Presidential Medal of Freedom on Thursday.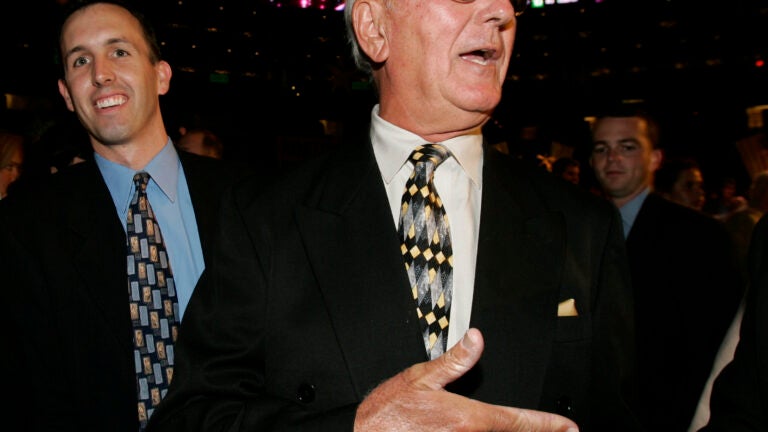 Celtics legend Bob Cousy will receive the Presidential Medal of Freedom on Thursday.  The award is given to someone who has made "exceptional contributions to the security or national interests of America, to world peace, or to cultural or other significant public or private endeavors." Cousy will be the 33rd recipient of the award.
The Hall of Famer won six NBA championships with the Celtics from 1957-62, but his achievements extended beyond the basketball court. He played an integral part in the creation of the NBA Players Association, and has voiced his stance against racism.
In a Q&A with NBA.com, Cousy was asked if it gets "boring" being honored at the White House throughout his career. He said he's been "spoiled" so far:
"I've been spoiled…I've been invited [to the White House] six times. I went first in '54 when President [Dwight] Eisenhower. Then President [John] Kennedy in '63. Then I got the Big Brother of the Year award that was presented by President [Lyndon] Johnson in '65. It was nice because he had received it in '64. I was heavily involved and still am in Big Brothers. And I went back the next year when they gave the same award to Billy Graham. That was nice, I brought my daughters."
When asked about the current administration, Cousy was honest about his political views and said he'll be voting for Donald Trump in the next election.
"As I told you, my wife and I were registered independents," he said. "To be honest, I didn't vote for the President. I also didn't vote for Hillary [Clinton]. I voted for the guy who didn't know where Aleppo was. [Libertarian POTUS candidate Gary Johnson, in a November 2016 TV interview, couldn't answer a question about the city at the center of Syrian's civil war.]
"Given this situation, this President will definitely have my vote in 2020. I simply feel, without getting into the politics of it at all, like many Americans — I agree with some of the things he's done and disagree with others."
Cousy went on to elaborate on how he views race relations in the United States today:
"I was saying to someone recently, despite the frenetic and passionate rhetoric on both sides — and I feel that it is divisive — I am pleased that we're having this discussion. Because whether we want to admit it or not — it's not that we're a racist country, I don't think we are — but racism exists. We've let it sit there. I don't think we've addressed it, certainly not as effectively as we could have. This narrative we're having now, I see it as perhaps as helping to focus attention on it. For a lot of moderates like myself and those in a position to be helpful, this is helping us to pay attention to it. And maybe something productive and good will come out of that. That's my hope."
While playing with Bill Russell in the 1950-60s, Cousy saw his former teammate, and others, endure serious racial discrimination. Russell called Boston a "flea market of racism" in his 1979 memoir, Second Wind, and was an outspoken activist. Though Cousy does not necessarily agree with his approach, he did admit that he should have done more to help Russell during that time. He understands that Russell was just trying to "fight the good fight":
"Russell's a very sensitive black man who resented any type of racism he endured," he said. "He decided to fight the battle in his way. I would not judge. You know, athletes are competitive, and it's very hard for us to turn the other cheek. And he never did. He made outrageous statements when he had a podium. 'Boston is the most racist city in the world,' and things like that. He was trying to get the attention of the majority. That, in his judgment, was his way to fight the good fight. Whether I agreed with that or not."
Cousy also applauded the activism of tennis-champion Arthur Ashe, who he feels did things with "love":
"I will tell you I had great respect for Arthur Ashe. I remember dropping him a note or two, in terms of how he fought it. He fought it in a different way, without becoming an "Uncle Tom" but also without pissing off the moderates. He reached out and tried to do it, I guess, the way Dr. [Martin Luther] King did it: With love. As opposed to Russ' approach."
"You've got to follow your instincts in something like that. I had great respect for Arthur Ashe in how he fought the battle. But I would never criticize Russ for how his instincts told him he had to fight his battle."
Read the entire Q&A with Bob Cousy on NBA.com.