Celtics
Here's what Bob Cousy had to say after Donald Trump gave him the Presidential Medal of Freedom
"It's special because it's being presented by the most extraordinary president in my lifetime."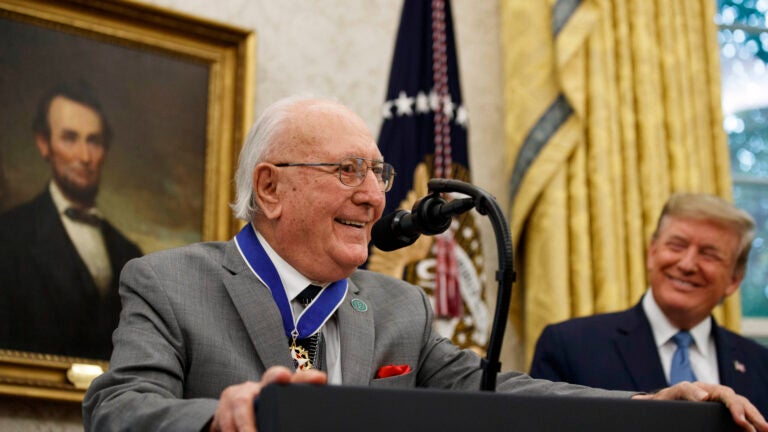 President Donald Trump honored Celtics legend Bob Cousy with the nation's highest civilian award Thursday afternoon at the White House: the Presidential Medal of Freedom.
And the 91-year-old former basketball player, coach, and broadcaster paid Trump back with some high compliments as well.
"Mr. President, I know in your world you're well on your way to making America great again," Cousy said in his acceptance speech. "In my world it's been great for 91 years."
The six-time NBA champion, who played point guard for the Celtics from 1950 to 1963, used his speech to thank his family and friends, and expressed gratitude for the "good fortune" to make a career out of a "child's game."
Cousy called the occasion special for two reasons. First, that it signified "one of the most exclusive clubs on our planet." Cousy is the fourth NBA player to receive the Presidential Medal of Freedom. The first was his former teammate Bill Russell in 2010. Michael Jordan and Kareem Abdul-Jabar also received the award in 2016.
"Secondly Mr President, it's special because it's being presented by the most extraordinary president in my lifetime," Cousy said.
That's a significant amount of time; as Cousy noted, he was born before President Franklin D. Roosevelt even took office.
"That's so nice, thank you," Trump replied.
In an interview with NBA.com earlier this week, Cousy said he planned to vote for Trump in next year's election, after voting for Libertarian candidate Gary Johnson in 2016.
"This President will definitely have my vote in 2020," Cousy said. "I simply feel, without getting into the politics of it at all, like many Americans — I agree with some of the things he's done and disagree with others."
While he developed a reputation for supporting black teammates and has said he regrets not doing more for Russell in the face of overt racism during their time in Boston, Cousy said he thinks the renewed attention to race relations in the United States is "helpful." However, he lamented the degree to which the country had become polarized.
"I've never seen in my 90 years this type of polarization and this vitriolic language that's being used to oppose anybody," Cousy told NBA.com. "Doesn't matter whether it's Donald Trump or anyone, I'm just amazed it's become so passionate and it's dividing us as a country. I'm upset about that. I've never seen it this bad."
However, the Celtics great had no intention of making Thursday's event political.
Cousy said he tried his best to follow the advice he received at the College of the Holy Cross — to maximize your God-given skills in the areas of your choice, then reach out in your communities and help those who are less fortunate in any way you can.
"To the best of my ability, I've tried to do that," he said.
"This acknowledgment allows me to complete my life circle," Cousy said. "I can stop chasing the bouncing ball. The Presidential Medal of Freedom allows me to reach a level of acceptance in society that I never once ever dreamed of."
He also broke up his speech with humor at times, even during its more emotional points.
"If I'd known I was going to be eulogized, I'd have probably done the only decent thing and died for you," he joked. "At 91, I've got to stop using that line. I think the good Lord has heard it once too often and he's ready to tell one of his aides…yank him up."
After tearing up while recalling his late wife, Missie, Cousy apologized to the Oval Office audience.
"That's why you shouldn't invite old men to the White House," he said to laughs. "We get emotional."
https://www.youtube.com/watch?v=3QN5YEwS-1M