Celtics
Despite Jayson Tatum's injury scare, Brad Stevens views Team USA as a positive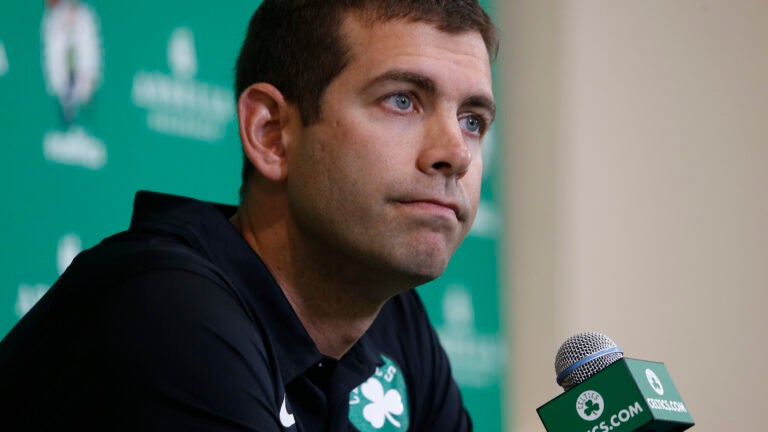 When Celtics coach Brad Stevens watches Team USA compete in the FIBA World Cup, the risk of injury isn't at the top of mind.
"I don't really think about it," Stevens said Tuesday at Boston Children's Hospital, where team president Rich Gotham and owner Wyc Grousbeck were also on hand for the unveiling of the Fazzalari Sky Bridge. "At the end of the day, they're going to be playing 5-on-5 other places. I don't think you can get any better prep than doing what those guys are doing."
Stevens was awaiting further updates about forward Jayson Tatum, who had to be helped off the floor after suffering a sprained ankle in the final seconds of Team USA's overtime win over Turkey. The initial prognosis seemed promising: Tatum walked out of the Shanghai Oriental Sports Center without a boot or crutches and was to be re-evaluated Wednesday.
"It doesn't sound like it's too bad, which is good," Stevens said. "We're hopeful it's nothing major."
Tatum is one of six Celtics participating in this year's FIBA World Cup, four of which are representing Team USA. Despite the injury scare, Stevens maintained that the experience is "way more of a positive than a negative," citing the high level of competition and occasional negative crowd reception. As Turkey stuck around — and nearly notched an upset — on Tuesday, audible booing broke out against the US.
"You're more ready for the season," Stevens said. "I always say the first road game of the year hits you like a ton of bricks. These guys are doing it in late August [and] early September."
The US will play its final group-stage game Thursday against Japan, before advancing to the second round. The Celtics will push back their starting date to Oct. 1, allowing for two weeks of rest if Team USA advances to the gold-medal game.
In the meantime, Stevens said he's enjoyed starting his mornings with international basketball, and will keep in touch with all six of his players abroad throughout the tournament. He saw Tatum, Jaylen Brown, Marcus Smart, and Kemba Walker out in Las Vegas during Team USA's training camp earlier this summer, but the visit, in his words, was "nothing special."
"I think my role as a coach is to be a cheerleader from afar," Stevens said.