Celtics
In Boston, Enes Kanter wraps up his tour of free basketball camps
"I wanted to give back to not just the city I play for, I wanted to give back to all of America."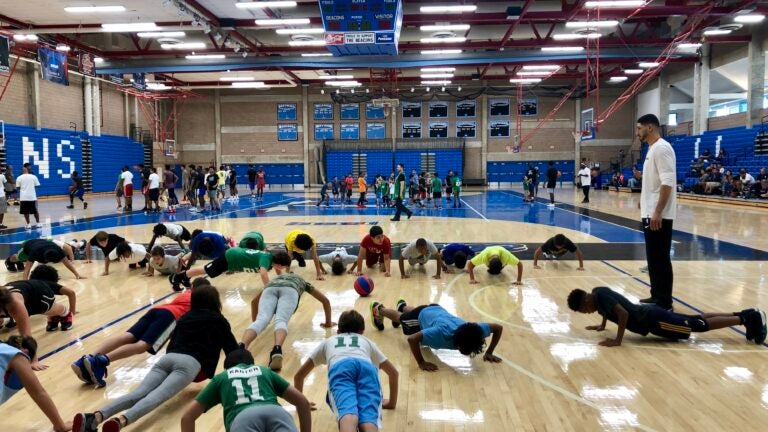 At UMass Boston's Clark Athletic Center Saturday afternoon, Celtics center Enes Kanter hosted his 50th and final free basketball camp of the offseason. 
Nearly 100 kids, ages 8-18, attended the three-hour camp, which featured shooting drills, five-on-five competition, and a question-and-answer session with Kanter. There was even a surprise visitor, Tacko Fall, who laced up his sneakers and joined the campers on the court. 
At one point, Kanter attempted to defend a dunk from Fall only to quickly duck out of the way. 
Tacko Fall just dunked all over Enes Kanter. pic.twitter.com/rVOoQEchXv

— Nicole Yang (@nicolecyang) September 28, 2019
Kanter, who signed a two-year contract with the Celtics in July, stayed engaged with the campers, extending words of encouragement and playfully swatting their shot attempts. He later signed autographs and posed for photos. 
Massachusetts is just one of the 25 states where Kanter organized a camp this offseason. Once his season with the Portland Trail Blazers ended in May, he and his manager Hank Fetic made it their mission to offer a record-setting 50 free basketball camps across the country. Kanter stressed he wanted to visit more than just Los Angeles, New York, Miami, and other popular metropolitan areas, so he and Fetic included places like Evergreen, Alabama; Anchorage, Alaska; Nampa, Idaho; and Fargo, North Dakota on the list. 
"We wanted to go to places the NBA has never stepped on before," he said. "America gave me so much. America gave me a home. I wanted to give back to not just the city I play for, I wanted to give back to all of America." 
Wherever they are, Kanter said it's important to him that the camps are gratuitous and emphasize fun.
"I don't want and I don't need their money," he said. "I just want them to come and have fun. To put a smile on their faces, that's what we try to do."