Celtics
Jim Calhoun checked out Kemba Walker at Celtics practice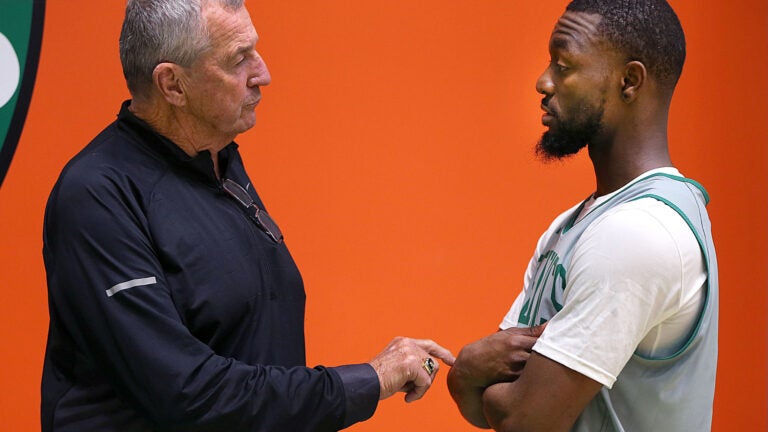 A special guest attended the second day of Celtics training camp Wednesday afternoon.
St. Joseph men's basketball coach Jim Calhoun strolled onto the court at the Auerbach Center, ready to greet Kemba Walker — one of his favorite players from his 26-year coaching tenure at UConn. Walker played three seasons of college ball for Calhoun, leading the Huskies to a national championship in 2011. The pair shared a brief embrace Wednesday before catching up on the sidelines.
Calhoun expressed nothing but excitement about Walker, Boston's biggest acquisition this offseason. As Walker was making his decision during free agency, Calhoun said it was clear the three-time All-Star had no interest in returning to Charlotte.
"I guarantee you," Calhoun said. "I don't care what anybody could have offered him. He wasn't going back to where he was."
During Walker's time with the Hornets, which began with a rookie season in which the team won only seven games, he finished with a 263-377 overall record. At age 29, he has reached the postseason just twice in his eight-year career — only to experience first-round exits both times.
That's about to change, both Calhoun and Walker hope.
"He wants to win," Calhoun said. "Talking to him at the end of last season, I was like, 'What's going to make your mind up? Because it's your decision. It's not anybody else's.' He says, 'Winning. I want to win. I'm at that point in my career — God's been good and I've made money — but I want to win.'
"That's his whole goal: to win. Even when he came back from China, he was sneaking over here more than a lot of guys would have. After a whole NBA season [and] a month and a half of playing for Team USA, he was over there trying to play the best he can."
Calhoun raved about Walker's leadership abilities, as well as his confidence and humility. He had high praise for the group around him, too, specifically mentioning Gordon Hayward, Jaylen Brown, and Jayson Tatum.
"You got four guys who, in my opinion, could be potential All-Stars," Calhoun said.
Even before Walker signed with the Celtics, Calhoun said he made a point to visit practices to chat with coach Brad Stevens and president of basketball operations Danny Ainge. Now that Walker is in the mix, the trip makes even more sense for the 77-year-old Braintree native.
"I've always wanted the Celtics to be good," Calhoun said. "I'm a Bostonian. I still love the Celtics and want them to do well. It's a nice bonus to have the team I grew up with and loved to have certainly one of the best players — and one of the best people — I've ever coached."