Celtics
Enes Kanter says he was harassed, threatened outside of Cambridge mosque
"It's a mosque. It's a house of God. This shouldn't happen."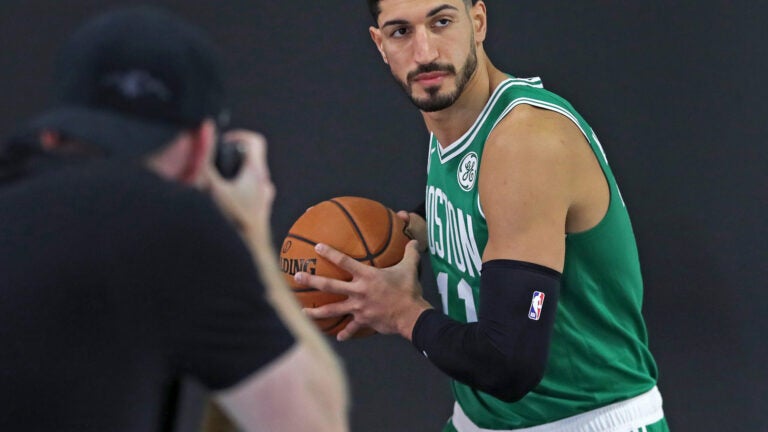 Celtics center Enes Kanter said he was harassed outside of a Cambridge mosque Friday afternoon because of his political opposition to Turkey's president.
Kanter, 27, posted a video to Twitter that shows him and teammate Tacko Fall outside of the Islamic Society of Boston on Prospect Street, which is located a short walk away from Inman Square. In the video, at least two men can be seen addressing Kanter, with one holding up a cell phone.
[fragment number=0]
Kanter is a vocal critic of Turkey's leader, Recep Tayyip Erdoğan, previously referring to him as "the Hitler of our century.'' Erdoğan, serving as president since 2014, has been accused of increasingly authoritarian tendencies. In the Friday video, Kanter indicates the two men harassing him are fellow countrymen who support Erdoğan.
"They're actually starting a fight outside of a mosque, pro-Erdogan people,'' Kanter said in the video.
Later, in a phone interview, Kanter said he had never seen the two men before and that they cursed at him, called him a "traitor,'' indicated he should not be here, and flipped him the bird. He said when he and Fall left Friday's prayer service, known as Jumu'ah, the two men were waiting for him outside. There, the men caused a scene, yelling and screaming at him.
"I told you America, this is crazy,'' Kanter said in the video.
Kanter told the Globe he has tried to stand up "for human rights, democracy, and freedom,'' as well as bring awareness to "what's really going on in Turkey.''
"I'm not going to back down,'' he said.
He called the harassment unacceptable and said he was shocked by the incident.
"It's a mosque, it's a house of God, this shouldn't happen,'' he said.
Kanter said he spoke with Celtics security after the incident. A Cambridge police spokesman said the department had received no formal reports regarding the incident as of 6:15 p.m. Friday.
"I shouldn't be feeling uncomfortable or insecure while critiquing anyone, but unfortunately even in America they make me feel this insecurity — can you even imagine how people in Turkey feel?'' Kanter said in a statement texted to the Globe. "That's what I'm fighting for, freedom of speech and democracy in my homeland Turkey."