Celtics
Tacko Fall remains a fan favorite in preseason debut
"He works extremely hard, so he deserves that ovation," said teammate Kemba Walker.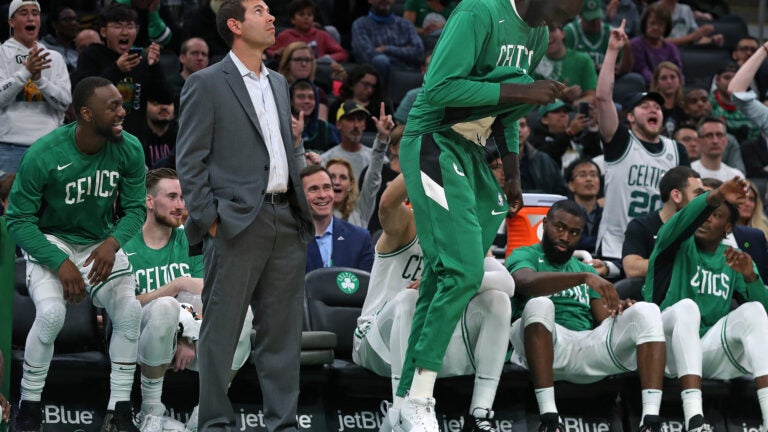 Tacko Fall knew they were bound to happen. 
The chants, begging for coach Brad Stevens to sub Fall into the game, started in the second quarter, picked up in the third, and persisted into the fourth. "We want Tacko," fans shouted, with the 7-foot-5 rookie stationed on the bench for the first 39 minutes of action Sunday. 
Then, early in the final quarter, the crowd erupted: Fall had checked into the game, making his TD Garden debut in Boston's preseason opener against the Charlotte Hornets. On the sidelines, teammates Marcus Smart and Jayson Tatum gestured for the applause to get louder.
"As soon as Coach Stevens called him, the ovation he got was just unreal," said point guard Kemba Walker. "We all went along with it as well on the bench. We were so happy for him."
Less than a minute later, the thunderous cheers returned when Fall put back a missed shot for a two-handed slam. The fans proceeded to ride with the amiable big man, rejoicing after every basket or block. They even booed when he was called for an offensive foul and defensive three seconds. 
"I told coach I saw it coming," said a smiling Fall after Boston's 107-106 comeback win. "But I was just trying to stay locked in in the game." 
The clamoring for Fall began as soon as he signed an Exhibit 10 contract with the Celtics in June. It was on full display at Summer League, when the 23-year-old Senegal native experienced similar treatment, and doesn't appear to be losing steam any time soon. As he fights for the team's 15th and final roster spot, Fall called the support a "blessing." 
Given the fervent interest, does he feel any added pressure to perform? 
"Pressure?" replied Fall. "I feel like I'm in a dream. I'm in the Garden, playing for the Celtics with all these great players. There's no pressure. I'm just going out there and having fun." 
Against the Hornets, Fall finished with five points on 2-for-3 shooting, three rebounds, and two blocks. He said he didn't know if he would get a chance to play, so he tried to stay ready while on the bench. Once on the court, he focused on staying patient and executing whatever was asked. 
"I was just trying to go out there and not try to do too much," Fall said. "I know with adrenaline pumping, sometimes you tend to try, but I was just trying to stay locked in the whole time."
Stevens seemed unfazed by the crowd's demands, acknowledging Fall is in a "tough spot." Fall said the pair joked about it after the game. 
 "Tacko is such a gracious guy," Stevens said. "I just hope people continue to appreciate him for what he is as a person and how hard he's working to try and make the NBA. He's a really good kid, and he's really, really working hard. I think he's going to be in the NBA for a long time."
"The greatest thing about it is he's such a good person," added Walker. "He's such a good kid, great fun to be around. He works extremely hard, so he deserves that ovation. I'm super happy for him."