Celtics
Larry Bird listed some of his favorite NBA players
"Obviously, LeBron."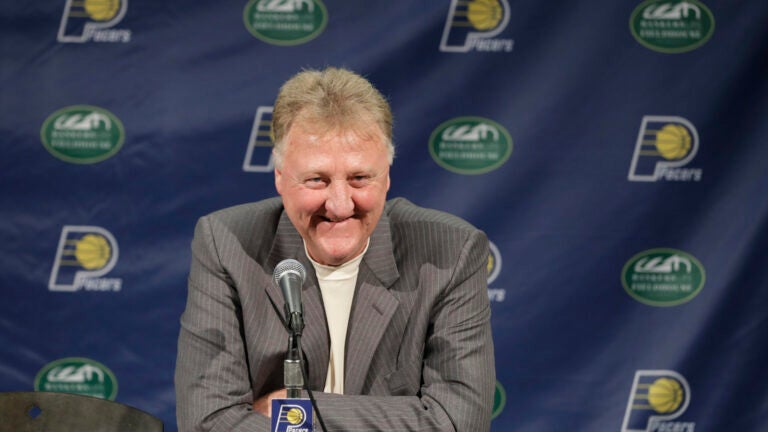 Ask Larry Bird to pick his favorite players in the NBA and he can't choose just one.
"There's just so many of them, you hate to just pick one," the Celtics legend told ESPN's Marc J. Spears in an exclusive Q&A with The Undefeated.
Bird did, however, specify a few of his favorites: LeBron James, Kevin Durant, Kawhi Leonard, and "all the Golden State guys."
"Obviously, LeBron. I can't compare him to anybody because he's so great, just like Michael [Jordan] was," he said. "They're very special, and I don't know how in hell he stays healthy. But, that's probably one of the great qualities of his game, being able to stay healthy playing that many minutes."
James felt similarly about Bird's own game and saluted him on Twitter in September.
Man he was so COLD!!!!! Zero flaws in his game. Larry Legend https://t.co/agYpDoFlqc

— LeBron James (@KingJames) September 27, 2019
"Kevin Durant is special," Bird continued. "Kawhi Leonard's run last year in the playoffs, unbelievable. All the Golden State guys, the way they play the game, the way they respect the game. I am still amazed that Klay Thompson could score 60 points on 11 dribbles [against Indiana]."
Bird then went on the explain what he enjoys about the game today, despite the difference in physicality between the league today and back when he played.
"I love the way the NBA is going. I can remember 20 years ago I was worried about small guards. Now, I'm worried about the centers. The game changes. I like how they cleaned it up. There is more freedom of movement, and guys can sort of let their game go. When we played in Boston in the East Coast, it was a grind-out game. But when we got to the West Coast, it was more open. You could show your talents. Guys weren't holding on to you, grabbing you."
"I think that's what the NBA is today. It's a freer game, it's more open."
How does he think he'd compare if he were playing in the league today? No question the Hall of Famer could compete.
"It's easy for me to say, 'Our era is the best, and I was the best,' and all that. But in my mind, I think we could compete and do really well. But you never know until you're out there…It's freer. I could get more possessions. You can pass the ball easier."