Celtics
Rich Paul explained why he tried to steer the Celtics away from Anthony Davis
"I don't think it stopped Danny Ainge from trying."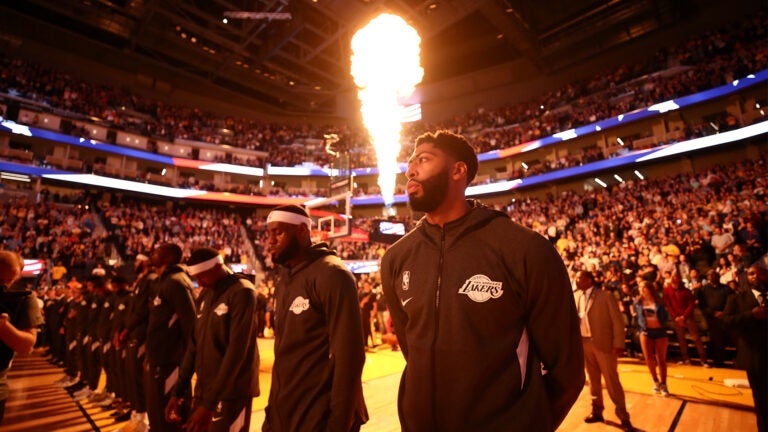 NBA agent Rich Paul says he warned the Boston Celtics about trading for Anthony Davis for their own good.
Paul told ESPN's Dave McMenamin — in a report Tuesday about how the All-NBA big man's blockbuster deal from the New Orleans Pelicans to the Los Angeles Lakers went down — that he tried to persuade other suiters, like the Celtics, against mortgaging their future for Davis.
"The last thing you want to do is put a GM in a situation where he trades away an asset and then the guy walks out the door," he said. "Like, you can't do business that way. So it's not really a hard conversation to have."
Paul — who represents a number of high-profile stars, including Davis and his new Lakers teammate LeBron James — had made it clear at the time that his 26-year-old client would likely leave in free agency next summer if the Celtics acquired him from the Pelicans.
"I don't think it stopped Danny Ainge from trying," he told ESPN.
The Celtics had tried to compete with the Lakers' trade offers last June and some fans urged the team to go all in for Davis, a franchise-caliber talent. Ainge has reportedly coveted the six-time All-Star for years. However, according to Paul, he ultimately "wasn't willing to give up the young players." While the Celtics were reportedly open to trading some combination of Jayson Tatum, Jaylen Brown, or Marcus Smart, they weren't willing to match the package of players and draft picks that the Lakers ultimately sent to the Pelicans for Davis — especially if he might leave Boston after one season.
"I don't blame him," Paul said. "I wouldn't give them up either if the guy is not going to re-sign."
Davis had narrowed his preferred destinations to the Lakers and the New York Knicks — and Paul pushed to make sure other teams knew that. David Griffin, the Pelicans executive vice president of basketball operations, told ESPN that Paul "had done such an effective job of smoking out all of the competition" that the team realized they wouldn't get a better deal than what had been offered by the Lakers.
In May, Paul told Sports Illustrated that the Celtics could trade for Davis, "but it'll be for one year." Shortly after Davis first requested a trade in February, his father also spoke out against the idea of his son playing for the Celtics, "after what they [had] done to Isaiah Thomas," who was traded for Kyrie Irving while recovering from a hip injury he sustained during the 2017 playoffs, which derailed his career.
Paul didn't express opposition to the concept of Davis playing for the Celtics, but said he made the risk clear to the team.
"If the Celtics traded for Anthony Davis, we would go there and we would abide by our contractual [obligations] and we would go into free agency in 2020," he told SI. "I've stated that to them. But in the event that he decides to walk away and you give away assets? Don't blame Rich Paul."