Celtics
Kevin Garnett explains why the Celtics weren't intimidated by LeBron James
"We broke LeBron," Garnett corrects Bill Simmons.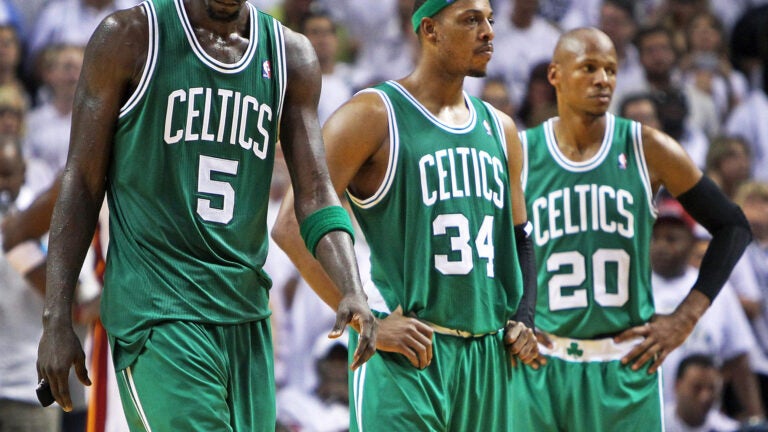 How does Kevin Garnett remember the Celtics' matchup against LeBron James and the Miami Heat during the 2012 NBA Eastern Conference Finals?
"We didn't fear LeBron and we didn't think that he could beat all five of us," the former Celtics star said this week in a podcast with The Ringers' Bill Simmons and "Uncut Gems" co-star Adam Sandler.
Miami, of course, did end up beating Garnett and the Celtics in 2012, finishing off the series with a 101-88 win in Game 7. But years later, Garnett still doesn't want to give James too much credit. Garnett's strongest reaction comes when Simmons asks him about what he perceived was a lot of trash talk coming from the Celtics toward James after their 94-90 win in Game 5.
Simmons: "Celtics win in Miami, and they're talking all kinds of s*** to LeBron that whole game. Correct?"
Garnett: "Uhhh."
Simmons: "You're trying to get in his head. You feel like you can break LeBron at this point."
Garnett: "We broke LeBron. So get your a** out of here with that. You understand how he got to Cleveland, how he got to Miami, Bill? So get outta here with that.
"They was talking s*** to him. The media. And the league knew that they had an agenda in which we wasn't part of the agenda. And that's how they ended up winning that series. Yeah, I said it."
Garnett's quote on breaking LeBron references the 2010 NBA playoffs, when the Celtics beat James and the Cleveland Cavaliers in the 2010 Eastern Conference semifinals. That loss propelled James to leave Cleveland and join the Heat in the first place.
You can watch Simmons's full interview with Garnett and Sandler below.
Bill welcomed Kevin Garnett and Adam Sandler to the pod to discuss their new film @uncutgems, but when the 2012 playoffs came up, KG didn't hold back.

"We broke LeBron." #BSPodcast

Listen to the full pod here: https://t.co/s3ygmnTUJZ pic.twitter.com/n1HH2Y8i4a

— The Ringer (@ringer) December 18, 2019
Correction: A previous version of this story stated Garnett was referring to a different playoff series with his "we broke LeBron quote." Boston.com regrets the error.