Celtics
5 takeaways from Celtics' win over Pacers as Jayson Tatum gets to the hoop and more
"I was just trying to be more aggressive, make the right play, whatever it was."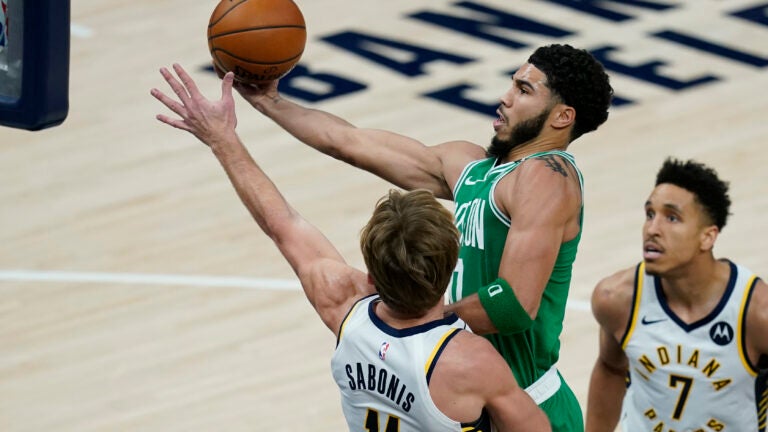 Commentary
The Boston Celtics handed the Indiana Pacers their first loss of the season on Tuesday, rallying from a 17-point second-half deficit to pull out a 116-111 victory.
Five takeaways from a game Brad Stevens called "a good team win."
Jayson Tatum attacked the hoop with great results.
Here's a look at Jayson Tatum's shot chart from Tuesday's game.
Jayson Tatum's shot chart tonight. pic.twitter.com/MxYhAsAmQe

— Tom Westerholm (@Tom_NBA) December 30, 2020
That chart might not be ideal every night. Tatum is a devastating 3-point shooter, and the Celtics need him to get on track behind the arc. But after a tough loss on Sunday and plenty of chatter about his shot selection following his attempted game-winner, Tatum evidently made getting to the rim a more specific goal.
The results were evident. Tatum punished defenders from the elbow and in the post. Smaller defenders couldn't keep him away from the rim. Bigger defenders couldn't keep up. The Pacers took the ball out of his hands in the pick-and-roll by doubling and trapping him, which was wise — he's very tough to guard around screens. But Tatum's counter was to return to the elbow, where he has always been most comfortable.
"I was just trying to be more aggressive, make the right play, whatever it was, just help us make sure that we win," Tatum said. "We didn't do that last game. Trying to make up for it."
Also notable: Tatum was one of three Celtics who earned 10 trips to the free-throw line, along with Marcus Smart and Jaylen Brown. Prior to Tuesday, Tatum had only taken four free throws all season. As he puts everything together — 3-pointers, pick-and-roll, post-ups, and drives — the Celtics can look forward to a lot.
Payton Pritchard is good at probing the defense. 
Pritchard had a break-out game against the Pacers — 10 points on 4-for-8 shooting, which included a big stretch in the third and fourth quarters that helped the Celtics rally back. He showed flashes in transition, and he's good at finding angles to the rim that opposing bigs can't shut down.
One other aspect of his game to keep an eye on: He's good at probing the defense patiently and waiting for something to open up. Pritchard's aggressive drives forced Indiana's defense to collapse, and he found Rob Williams twice as he worked his way into the paint.
Javonte Green played much better defense against Doug McDermott.
Javonte Green didn't play in Sunday's loss, but he chased Doug McDermott around screens effectively — the Pacers' bench wing finished with just two points on 1-for-4 shooting after pouring in 16 points on Sunday. McDermott's dribble hand-off actions were largely stymied by Green (although McDermott's two missed threes were a little lucky for Green — he escaped and had good looks at both).
Green's defense isn't always perfect — he's rarely in a stance, and he's skinnier than many wings. But he's extremely mobile and aggressive, and his athleticism is second to none. Assigning him to stick with McDermott was a smart wrinkle.
Brad Stevens still has a lot of respect for Nate McMillan.
Over the summer, the Pacers made a coaching change — firing Nate McMillan, who oversaw the team for four years, to hire Nate Bjorkgren off Nick Nurse's bench in Toronto.
McMillan was highly regarded in the coaching community, and Brad Stevens was no exception. On Tuesday, asked about Bjorkgren's coaching so far, Stevens used the opportunity to praise McMillan as well.
"I think that everything Nate McMillan put in place here is showing itself true in a lot of ways," Stevens said. "And so, I think we all recognize how good of a coach he was — the physicality, the effort level, the cutting, the screening, the execution — I think that that was in place.
"And then I think with (Bjorkgren) and his staff, they've done a good job of saying, 'Okay, there's a lot of this that really works that's been good — we're going to keep doing that, and then with a few tweaks and a few different things and obviously a little bit more five-out.' But I do think that there's a lot that's similar."
Some double-digit leads are safe. Most are not.
Over and over, the Celtics have found that 15-20 point leads — especially before the fourth quarter — are liable to whittle away quickly.
On Tuesday, they were on the other end of the equation. The Pacers built a big second-half lead seemingly out of nowhere — Jaylen Brown's free throw with 6:09 remaining in the third period cut Indiana's advantage to one. From there, the Pacers went on a 17-1 run over the next four minutes that left the Celtics gasping. Boston trailed 88-71 and appeared headed for its third straight loss.
Instead, the Celtics battled back. Brown knocked down a mid-range jumper, Jeff Teague hit a triple, Brown scored again, and the lead was down to 10. By the time the quarter came to a close, the Celtics had trimmed the advantage to nine, and a quick 9-0 run to start the fourth tied the game up again.
Brad Stevens credited Indiana's physical play.
"They came out knocking us all over the place, and credit them for that," Stevens said. "And it got us off kilter a little, and then we settled down, spaced the floor a little bit better and were able to make plays."
Tatum said the Celtics showed improved composure.
"There was still a lot of game left but we knew what we had to do. We had to pick up the intensity," he said. "We had to get some stops and just play together, and that's what we did. We got a little run going and just kept going."
Whatever the case, the Celtics desperately needed a win and a 17-point deficit was little impediment. Modern basketball, which is played with pace and 3-point shooting, can lead to blowouts —  the Bucks beat the Heat 144-97 on Tuesday, and the Mavericks rolled over the Clippers 124-73 on Sunday.
But if a team can keep itself together and rally, all that pace-and-space offense is conducive to a big comeback as well.
Get Boston.com's browser alerts:
Enable breaking news notifications straight to your internet browser.