Celtics
Celtics' Jayson Tatum says chemistry with Jaylen Brown is 'only going to continue to get better'
"His confidence continues to grow, and he's just gotten better each and every year."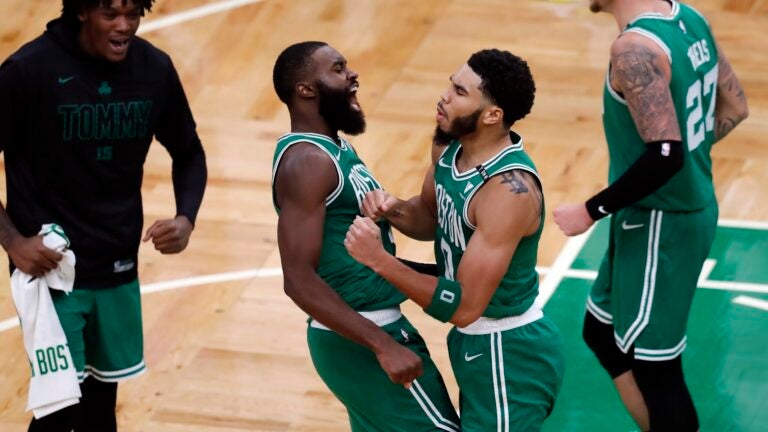 Jayson Tatum's first game as Jaylen Brown's teammate was memorable mostly because of who the Boston Celtics lost during that game.
Tatum made his debut on Oct. 17 against the Cleveland Cavaliers. Early the first quarter, new Celtic Kyrie Irving lobbed a pass to new Celtic Gordon Hayward, and Hayward landed wrong. His ankle twisted in a stomach-turning direction, ending his season minutes after it began. A shell-shocked Celtics team made a spirited push late but narrowly lost to LeBron James and the Cavaliers. Brown led all scorers with 25, while Tatum scored 14.
Hayward's injury was a devastating blow from which that iteration of the Celtics never really recovered. Led by Tatum, Brown and Al Horford, the Celtics made a precocious run to the Eastern Conference finals where they narrowly lost in seven games to James and the Cavaliers. The next season went so poorly, Irving reneged on a preseason promise to re-sign in Boston, and Al Horford bolted for a situation in Philadelphia that was nearly as toxic as his previous one. Hayward returned for the final year of his contract, then he too left this past summer.
But while Oct. 17, 2017 was disastrous in many ways, it was also the start of a partnership between Tatum and Brown that the Celtics hope can carry them into the future. Last season, Tatum gave the organization reason to believe he could be a top-10 — or even top-five — player in the league. On Wednesday, as Brown poured in a career-high 42 points against the Memphis Grizzlies and continued an incredibly hot start, the Celtics got another hopeful look at how their tandem of young wings could continue to improve together.
"He was on fire," Tatum said of Brown after Wednesday's game. "If a guy's hitting like that, it means you've got to keep feeding him."
While the Celtics added Kemba Walker last offseason, the team was clearly handed to Tatum and Brown for the 2019-20 season and beyond.
The results were excellent — with Brown and Tatum on the floor together, the Celtics outscored opponents by 9.9 points per 100 possessions, according to Cleaning the Glass. That number has dipped this season (a five-game sample size isn't representative of much), but the duo has shown flashes. Tatum picks teams apart behind the arc and rumbling downhill to the rim. Meanwhile, as Tatum figures out how to deal with trapping defenses designed to take the ball out of his hands, Brown has shot a staggering 60 percent out of the pick-and-roll — averaging 1.17 points per possession, which is an elite total.
Brown was asked about shouldering new responsibilities after Wednesday's game.
"I'm definitely trying to accept the challenge, and I'm excited about this year in general for our group," Brown said. "I think we still have a great group. We have a lot to learn, I have a lot to learn but I think we are all embracing that challenge. Personally, for me, to be in a new and different role with more responsibility, I love and I want to handle that great responsibility to make sure I get other guys involved, all my teammates and try to be the best leader I can possibly be."
Meanwhile, Tatum believes he and Brown will continue to improve in their minutes on the floor together.
"We've been playing together for four years now, going on four," Tatum said. "Just getting more and more of a feel with each other out there on the court, it's only going to continue to get better."
Get Boston.com's browser alerts:
Enable breaking news notifications straight to your internet browser.