Celtics
5 takeaways from Celtics vs. Grizzlies, Jaylen Brown's career night
The Celtics played their best game of the season against the short-handed Grizzlies.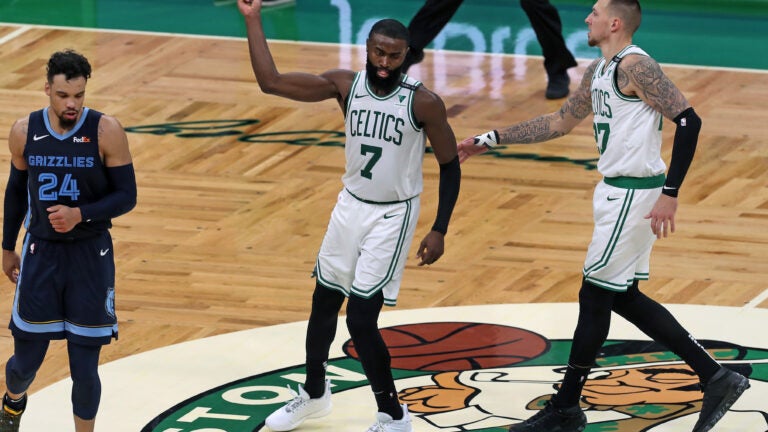 Jaylen Brown poured in a career-high 42 points as the Boston Celtics claimed their second win in a row on Wednesday, smacking the Memphis Grizzlies 126-107.
Five takeaways from the Celtics' most comfortable victory of the season.
Jaylen Brown is showing the danger of draft night "ceilings."
Before Brown was drafted, most observers thought he would be a nice player, but his sub-standard numbers behind the arc and at the free-throw line made most draft experts question his potential as a shooter. For a wing, that was a problem. His best-case scenario was projected to be a 20-point-per-game scorer who struggled shooting threes.
Prior to Wednesday's 42-point outburst, which included 7-for-10 shooting from deep, Brown had hit just 26.7 percent of his triples while averaging 24.5 points per game. In other words, Brown was playing the type of best-case-scenario basketball draft experts thought he could achieve.
But Brown has proven he can shoot as well. He hit 39.5 percent of his 3-pointers in 2017-18 and 38.2 percent last season (his 2018-19 percentage, 34.4, was marred by a hand injury that bothered him for months).
Few players work harder than Brown. Two days after the 2018-19 season ended, he texted Celtics assistant coach Tony Dobbins asking to get back in the gym. Now somewhat famously, he seems to add something to his game every offseason. Brown is an uncommon player, but his story is an example of how wrong draft evaluations can be. His ceiling is much higher.
"I always thought that I could shoot the ball. I never doubted myself," Brown said. "In college, I had a year that I probably didn't shoot the ball as good and all the analytic guys — I only had one year of college and everybody just jumped the gun. But I feel like I've always been able to shoot the ball, and I never let myself lose confidence."
Marcus Smart fired up his first heat check of the season.
Late in the first quarter, Smart briefly caught a heater — he buried two tough 3-pointers curling around screens as the Celtics started to put some distance between themselves and the Grizzlies. Predictably, those two 3-pointers were followed by a deep, off-balance attempt that hit only the backboard. In an empty TD Garden, Smart could audibly be heard yelling "Way off!"
Smart has a penchant for heat checks, but this one was notable because may have been his first real heat check of the year. The Celtics asked Smart to play intelligent basketball as the lead ball-handler with Kemba Walker out, and he has proven up to the task. His field-goal attempts are down by nearly three per game, and his assists are up by nearly two. That's not to say Smart shouldn't shoot — he hit 42.1 percent of his triples before Wednesday's 4-for-9 performance, and as he told reporters before the season, he's good when he takes great shots. As the team's primary ball-handler, however, he has shown a lot of necessary restraint.
Jeff Teague's defense has been better than advertised.
In the preseason, Teague helped the Celtics by spacing the floor to the 3-point line consistently, but his defense left a lot to be desired.
Teague still isn't a lockdown defender, but he's pesky, and his poke-aways are starting to draw attention. Per the NBA's stats, Teague had six deflections on Wednesday to go with a season-high four steals as he joined the starting lineup. Teague is averaging 2.0 steals per game so far this season.
"I thought Teague's aggressiveness defensively in the last two games have really spearhead us," Brad Stevens told reporters after the game. "I thought yesterday at the end of the third, early fourth, he got his hands on a few balls, got some tips from behind, he anticipates so well, he's seeing all the actions and all the plays, he knows what's coming you can see him peel back into plays off of help. So I think that that helped that first group go today."
Robert Williams has given the Celtics a pair of encouraging performances.
On Sunday, Williams pieced together one of his best performances of the season, only to see it all undone by a defensive miscommunication that gave Domantas Sabonis a lane to win the game with a layup. A dejected Williams told reporters after the game that while he feels like he is progressing, "I'm not coming along fast enough slipping up like this."
Whether or not Stevens agrees is a little unclear — he didn't go out of his way to defend Williams between the Celtics' two games against the Pacers, and Williams played significantly less the second night. That said, Williams looks less twitchy defensively — he reaches and swipes less, which is an important improvement. On Wednesday, he blocked four shots and grabbed 10 rebounds, and according to the NBA's hustle box score, he pitched in a team-high six screen assists.
Williams's performance in the first two games was less than encouraging, but he's starting to piece together glimpses of potential that have bubbled beneath the surface for years.
Payton Pritchard continued to shine, while Aaron Nesmith got some minutes.
The nightly rookie rundown: Nesmith played in just his second NBA game and looked like he was playing in just his second NBA game. In nearly 20 minutes, Nesmith went just 2-for-7 from the floor and 1-for-5 from deep. His one make from 3-point range was easily his most difficult attempt — he missed several open ones.
Before the game, Stevens was asked if Nesmith might get some minutes.
"He's doing everything that he needs to do," Stevens said. "He's working really hard. He's a guy that does not have the same level of experience as others but will catch up quickly because of his work ethic, his personality, who he is and everything else. The biggest key for him is just stay upbeat."
Payton Pritchard, meanwhile, has every reason to be upbeat already — he scored double figures for his third game in a row with 10 points on 4-for-6 shooting and three assists. The Celtics started Teague in their small lineup, but — with apologies to Brad Stevens and his aversion to the rookie hype train — Pritchard's continued success might be worth a look at some point.
Finally, the third rookie the Celtics drafted in the first round — Desmond Bane, who they immediately dealt to Memphis — finished with 16 points on 6-for-11 shooting. Bane's rookie season is still very young, but that move has the potential to haunt the Celtics a bit.
Get Boston.com's browser alerts:
Enable breaking news notifications straight to your internet browser.