Celtics
5 takeaways from Celtics vs. Pistons as Jaylen Brown, Jayson Tatum carry Boston to narrow win
"It's exhilarating for us. We love it. Those guys are two of the best in the NBA."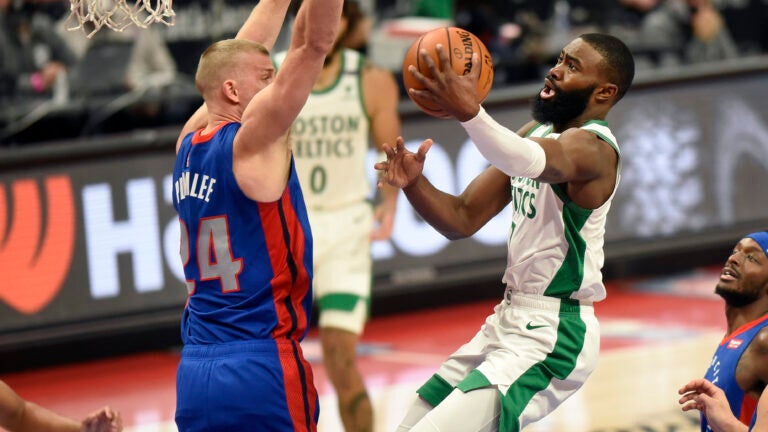 COMMENTARY
The Boston Celtics needed late-game heroics from Jayson Tatum and Jaylen Brown to rally against the Detroit Pistons on Sunday, as Tatum's game-winner lifted Boston to a 122-120 victory.
Five takeaways as the Celtics side-stepped some awkward conversations by splitting two road games with the Pistons.
Jayson Tatum and Jaylen Brown are every bit as good as Celtics fans could hope.
After Sunday's 31-point outing, Brown vaulted himself into the NBA's top-five scorers through seven games at 28.0 points per game, trailing only James Harden, Trae Young, Kevin Durant, and Bradley Beal while tied with C.J. McCollum. Once again, he showed his full scoring arsenal with mid-range jumpers, post-up turnarounds, downhill forays to the rim, and a variety of 3-pointers. Brown, who finished 13-for-16, also buried a spot-up 3-pointer on Boston's penultimate possession that put the Celtics up two and set the stage for Tatum after Mason Plumlee hit a pair of free throws.
Tatum was less efficient (24 points, 10-for-22), but he finished with a career-high 12 assists and fired a pinpoint cross-court pass for Brown's go-ahead 3-pointer (more on this in a minute). Meanwhile, there was little question who would get the ball on the final possession of the game. Tatum beat Blake Griffin badly with a two-dribble downhill drive and knocked down a shot he has taken and made thousands of times.
Dwane Casey said after the game that Brown and Tatum are "probably two of the most dynamic players I've seen in a while, as far as when they have the ball." The Celtics, for now, are as good as Jayson Tatum and Jaylen Brown can make them.
"It's exhilarating for us," Marcus Smart said. "We love it. Those guys are two of the best in the NBA. They know it, we know it and everybody else in the league know it. They've gotta act like it, and they've gotta have that swagger with them, and they've been doing that."
The Celtics' defensive numbers are a major issue.
The Celtics scored early and often on Sunday. The Pistons did the same.
Per the NBA's stats, the Celtics are No. 24 in defensive rating. They are in the bottom half of the league in points allowed per 100 possessions per Cleaning the Glass, even though they are 21st in pace.
The Celtics might make a lot more sense structurally if Kemba Walker returns at full health, but for now, they look like less than the sum of their parts, which is a little strange. Brown and Tatum have been excellent — both no-questions-asked All-Stars, if the selection process took place now. Daniel Theis showed how capable he can be last season. Tristan Thompson can be a nice fit. Robert Williams looks like an NBA player. Payton Pritchard has been a contributor immediately. Jeff Teague is an on/off numbers nerd's dream. Smart has carefully directed the offense.
But until the defense takes a major step forward consistently, the Celtics might need late-game heroics against sub-par opponents more often. Brad Stevens noted (fairly) that Detroit hit a lot of tough shots, and that Boston's defense on Sunday might have been a little better than it looked.
"That's why you have to bring it every night, right?" he said. "Because these guys are NBA players. They're going to make tough shots sometimes."
Tatum and Smart were both excellent as passers.
As previously noted, Smart has been excellent as Boston's floor leader. On Sunday, he finished with 10 assists, and his 3.5 assist-to-turnover ratio (6.7 assists to 1.9 turnovers) would rank highly if it continues.
"We've asked him to step up and play the point guard position and he's matched that," Brown said. "He's got me easy baskets, he's gotten Jayson easy baskets, and he's gotten himself easy baskets as well. I'm proud to see Marcus Smart's growth and the responsibility that he's gotten — he's handled it well in the first seven games."
But Smart was surpassed as a playmaker by Tatum, who finished with 12 assists. A major focus of his offensive attack has been his passing as teams double (and sometimes triple) team him around the perimeter, particularly in the pick-and-roll.
Containing Tatum on PnR sets is growing increasingly difficult as he hones his skills as a finisher, and teams increasingly have placed an emphasis on taking the ball out of his hands. On Sunday, he beat double teams repeatedly by finding open teammates — most notably Daniel Theis in the middle of the court for floaters and mid-range jumpers out of the pick-and-roll. Five of Tatum's assists went to Theis, and Theis himself handed Tatum a hockey assist by throwing a nice high-low pass to Thompson when the defense finally reacted to his pick-and-pop.
The Celtics have some potential for high-low passing in the double-big lineup. The Pistons really wanted the ball out of Tatum's hands in the PnR in the second half, and Theis kept punishing them, so that opened up Thompson here. pic.twitter.com/BvLnCCcjSt

— Tom Westerholm (@Tom_NBA) January 4, 2021
Don't listen to Stevens: The Celtics hunted Blake Griffin on the final possession of the game.
On the final possession, the Pistons matched Jerami Grant up with Jayson Tatum, as the Celtics knew they would. So Boston ran Tatum to the top of the key, where his screen forced Blake Griffin to switch. The result was Tatum's jumper.
Jayson Tatum DELIVERS! 😱 pic.twitter.com/Pa4zuCwN8Q

— NBA TV (@NBATV) January 3, 2021
Stevens said Griffin wasn't the target.
"Blake hadn't been matched up with either of those guys at all the entire game," Stevens said. "So they do a good job of mixing up their match, and we don't necessarily know who they're going to be matched up with coming out of the timeout. Blake obviously guarded those guys up top."
Smart was a little more direct.
"We got exactly what we wanted," he said. "We got Jayson going downhill against Blake. He's not the same Blake as he used to be… and we just took advantage of that. We did exactly what we were supposed to do. Everybody was in their spots, and we got the shot we wanted."
Stevens is known for being soft-spoken, but opposing players will tell you he is ruthless hunting mismatches. Sunday's game, it seems, was no exception, whatever he might have said afterward.
Road games are a strange experience this year.
Under normal circumstances, road trips can run the gamut for teams — rosters that like each other get a chance to bond, while rosters that don't are forced to spend uncomfortable hours together crammed onto planes and the team bus.
Road trips this season are a completely different entity.
"We have to just continue to have team meals when we can," Stevens said prior to Sunday's game. "We have to continue to congregate when we can. We have to continue, when we meet and when we're in the gym, to build that because there are a lot of challenges with the testing and other things to do that. … We're going to do everything we can to build that camaraderie and that togetherness. But it is unique to any travel that I've ever experienced before."
Get Boston.com's browser alerts:
Enable breaking news notifications straight to your internet browser.