Celtics
Celtics rookie Payton Pritchard plays crucial role in Boston's offense next to Jayson Tatum
"I'm gonna find little ways that can be different offensively, whatever it is to help my team that night."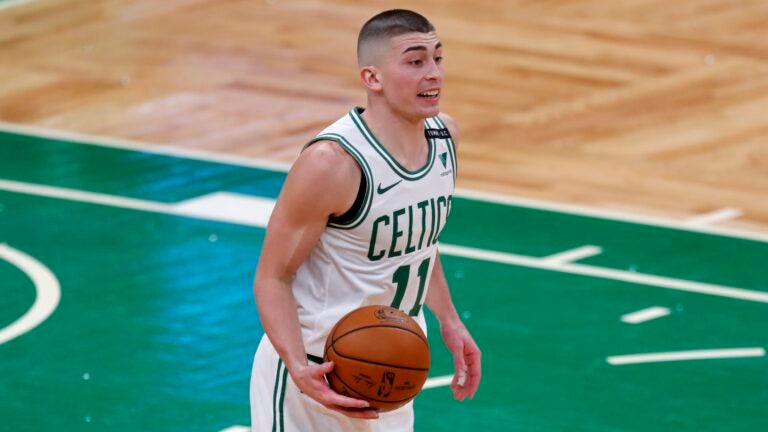 Payton Pritchard's first seven games have been historic for the Boston Celtics' franchise, and his teammates have enjoyed his meteoric start.
More to the point, however, the Celtics have gotten a needed boost from Pritchard off the bench with Kemba Walker sidelined.
"He's had more good nights, for sure, than not," Brad Stevens said after Pritchard's 23-point outburst against the Toronto Raptors. "And we're going to ask him to do a lot right now. Fair or unfair to him, he's going to have to be consistent for us, for us to have a chance to be a good team."
That responsibility might be fairer to Pritchard than other rookies — the Celtics drafted the 22-year-old senior in part because of the immediate impact they thought he could bring.
But that does little to minimize how impressive Pritchard's start has been. In a season with just weeks between the draft and the season, no Summer League, and a truncated training camp, Pritchard has managed to look like an NBA contributor in his first seven games.
More to the point, Pritchard has followed Stevens' preaching: Rookies get into his rotation by making the team's best players better. In recent years, Stevens has tailored his rotations toward maximizing Jayson Tatum and Jaylen Brown, and Pritchard passes that test with flying colors.
Per Cleaning the Glass, lineups with Tatum and Pritchard have outscored opponents by 21.6 points per 100 possessions. The sample size is small generally (231 possessions) but big enough to be interesting in just seven games. Lineups with Pritchard and Brown, meanwhile, have outscored opponents by 14.7 points per 100 possessions. Those numbers are propped up a bit by Tatum's presence (exclude Tatum from those lineups and Pritchard/Brown lineups have been slightly outscored), but that's the point Stevens has tried to make repeatedly — Pritchard's job isn't to be an offense by himself.
Schematically, Pritchard has been a seamless fit. In his first few games, the Celtics used him primarily as a spot-up threat — drilling 3-pointers, some well behind the line, and attacking closeouts for floaters and mid-range pull-ups. That's valuable next to Tatum and Brown, but what he did against Toronto was significantly more impressive — he created his own offense.
At one point in the second quarter, Pritchard attacked Pascal Siakam off the dribble, slowed his pace at the rim, and leaned back just enough to drop in a floater over Siakam. On the next possession, Pritchard dislodged Fred VanVleet with a screen from Tatum, then fired in a strange-looking hook shot from 12 feet out when he stopped his dribble. His first basket of the second half was a step-back 3-pointer that shook VanVleet and caused the Celtics bench to leap up and celebrate.
On a night when the Celtics were missing both Marcus Smart and Jeff Teague, they needed Pritchard to be more than just a spot-up threat, and he delivered.
"I stay ready for any opportunity that comes my way," Pritchard said. "That's when I try to help my team win like we did tonight. And honestly, each and every night is going to be a different night, but I'm going to find little ways that can be different offensively, whatever it is to help my team that night."
His teammates appreciate the help.
"Man, Payton doesn't need anything," Grant Williams said. "He's a vet. I feel like he's old enough, he's a guy that's been playing in college at a high level. And then he also just sees the game really, really well. He plays with an intensity and a certain competitiveness that inspires others, and big-time credit to him because any rookie coming in can be shook at any moment, but for him to come in and lead this team not only in the second unit but also sometimes the first unit, it shows how much true control he has and how special of a player he is."
Get Boston.com's browser alerts:
Enable breaking news notifications straight to your internet browser.