Celtics
3 simple things Jayson Tatum is doing as an improved Celtics playmaker
They're not monumental, but add up over the course of a game and significantly contribute to winning.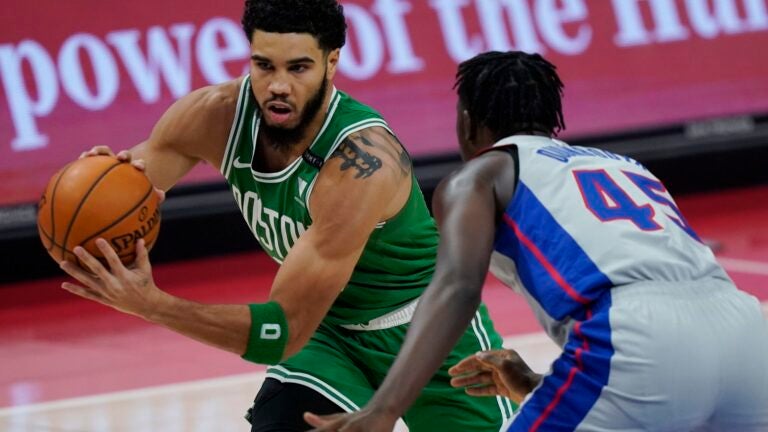 COMMENTARY
Jaylen Brown has been incredible throughout the first two weeks of the NBA's 2020-21 regular season, but Jayson Tatum has unsurprisingly been very good alongside him. The 22-year-old All-Star stole the show Monday night vs. the Toronto Raptors.
Tatum posted 40 points, six rebounds, two assists and two blocks on 11-of-19 shooting over 31 minutes in the Celtics' win. He has scored at least 20 points in all but one game so far this year, but his growth as a playmaker has become an intriguing portion of Tatum's game.
He collected 12 assists in Boston's win vs. the Detroit Pistons on Sunday afternoon and showed off his ever-improving feel for the game. Tatum remains the focal point of the Celtics' offense, and his ability to deal with double-teams, traps and the like has continued to improve. That awareness and court vision have been on display quite a bit of late.
The first sequence that comes to mind is a crunch-time possession against the Pistons where Tatum found Brown for a go-ahead 3-pointer.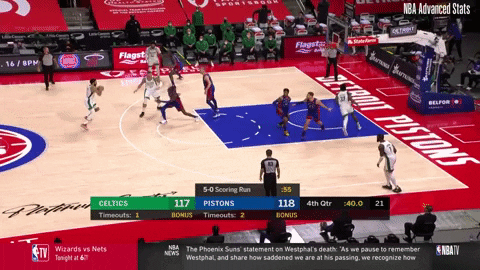 Tatum is coming off of an All-Star season where he averaged 23.4 points – he's going to draw some major attention, especially in late-game situations like this one. Here, Jerami Grant goes over Daniel Theis to stay with Tatum, while Mason Plumlee steps up to meet him at the perimeter. As he moves past both defenders, Saddiq Bey and Blake Griffin hedge over to potentially disrupt Tatum's drive, but he delivers a perfect skip pass to Brown who knocks down the 3-pointer.
Being able to draw that sort of attention, make the right read and find an open teammate, particularly in crucial situations, will pay major dividends for Boston.
He's making the easy play.
Tatum stepping up as a playmaker has been evident in all types of scenarios, but a lot of the simple, smart reads he continues to make likely go overlooked by the casual observer.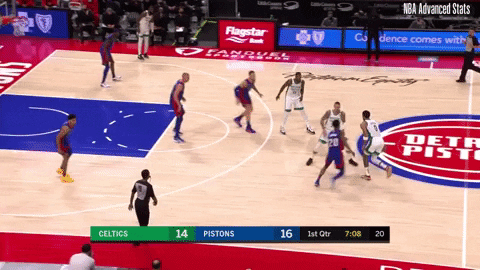 Take this possession, for example. Josh Jackson comes over the Theis screen and stays with Tatum, which results in Griffin meeting the pair along the perimeter for a quick double-team. Tatum then makes a quick read and finds Theis for a wide-open 3.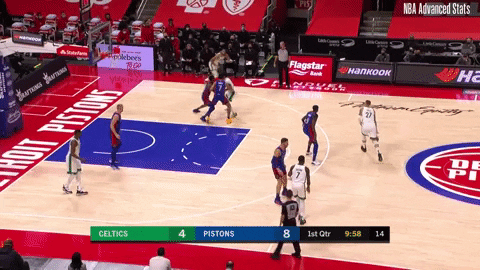 Here, Jackson and Killian Hayes stick to the corner and Tatum immediately tosses a behind-the-back pass to Marcus Smart, who uses the extra space to knock down the 3-pointer. It's another quick read along the perimeter that provides a teammate with some added space to create – something that goes a long way.
He's driving and dishing.
We all know Tatum can get into the teeth of a defense, and lately, he's been using that to his advantage as a facilitator.
On this possession, Bey and Jahlil Okafor stay with Tatum after the Robert Williams slip screen. He's able to work off the dribble and into the paint with Okafor on his hip, eventually leading Sekou Doumbouya to step up, which allows Williams to slip behind him. Once he does that, Tatum makes the quick bounce pass to the big man on the baseline, who finishes with a dunk.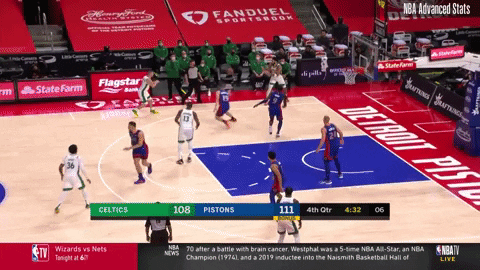 Tatum makes a similar interior bounce pass on this possession, only this time he's working along the baseline himself. He beats Grant off the bounce in the corner, causing Plumlee to step up and meet Tatum. This opens up the paint, allowing Thompson to slip inside and receive the bounce pass from Tatum.
His vision has gotten better.
The 22-year-old made a great skip pass to Jeff Teague last week against the Indiana Pacers, presenting further evidence of the All-Star's improved vision and passing skills.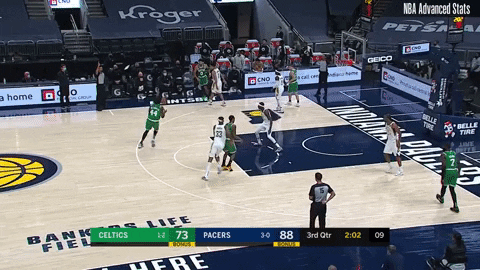 Running the pick-and-roll, Tatum sees Justin Holiday hedge toward the paint as Williams slips inside. That hedge leaves Teague open, and Tatum hits the veteran guard with the perfect skip pass. It's a quick, effective pick-and-roll read that can do wonders for the Celtics offense when they're working with a lineup of Tatum plus the bench.
Again, most of these aren't monumental plays by any means, but they certainly add up over the course of a game and significantly contribute to winning. Tatum is so good off of the dribble, which combines perfectly with his court vision.
Making the right read and right play will open up Boston's offensive game, especially in the early going this year. Tatum will receive even more attention than normal without Kemba Walker, so he'll need to work as a facilitator as he's met with traps, hedges and double-teams. Of course, as we saw on Monday, he's also good for the occasional 40-point outing, which certainly doesn't hurt.
Get Boston.com's browser alerts:
Enable breaking news notifications straight to your internet browser.