Celtics
5 takeaways from Celtics vs. Raptors, as Jayson Tatum and Payton Pritchard help Boston roll
Jayson Tatum led the Celtics with 40 points.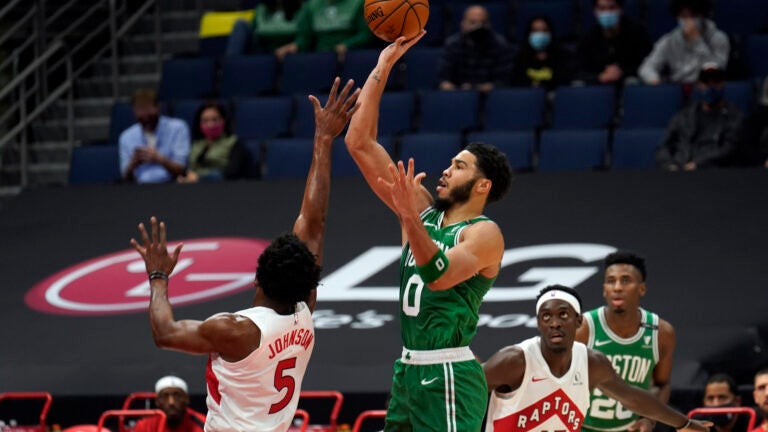 COMMENTARY
The Boston Celtics put together an emphatic win over the Toronto Raptors on Monday, rolling over their Atlantic Division rivals in a 126-114 victory that was only close thanks to a garbage-time meltdown by the Celtics' bench.
Here are five takeaways from Boston's best win so far.
Jayson Tatum is virtually unstoppable with the floor spread.
Jaylen Brown has been the Celtics' star in the early going, but Tatum reminded everyone watching what he can do when he gets on track. Tatum has been dealing with an unprecedented amount of defensive attention — teams saw what he did last year and began blitzing and doubling him out of the pick-and-roll. That worked particularly well with multiple bigs in the game.
On Monday, however, the Celtics quickly went away from their starting double-big lineup which helped dig a 22-10 hole and never looked particularly effective as Toronto bombed away from 3-point range. As soon as Boston did, Tatum took over. He compiled 26 points in the first half, including 21 in the second quarter, en route to a 40-point night — just one point shy of his career-high.
"Disappointed?" Tatum said after the game, when asked if he wanted to beat his career-best. "Nah. I'm going to get there soon enough."
It's difficult to argue. With the floor spaced, Tatum is virtually unstoppable in the pick-and-roll. Toronto in particular had no answers — Fred VanVleet is a gamer, but he was thrown to the wolves guarding Tatum and could do little against a sweet-shooting 6-foot-9 forward.
The numbers suggest Tatum is best served in spread offenses. With Theis and Thompson on the floor alongside Tatum prior to Monday's game, the Celtics have been outscored by 18.1 points per 100 possessions over 163 possessions. Remove either big man, and that number normalizes a bit. Take both bigs off the floor and put Rob Williams in, however, and things get interesting — in 139 possessions, the Celtics have outscored opponents by a staggering 36.7 points per 100. More on Williams shortly.
Semi Ojeleye looks much more confident. 
The Celtics started the second half with Ojeleye on the floor instead of Theis, and they immediately seized control of the game. That's less an indictment of Theis and more yet another gentle suggestion that the double-big lineup just isn't really working no matter what Stevens sees in it.
But Ojeleye appears to be making strides on both ends after a couple of disappointing seasons. On Monday, he buried three triples and finished with 12 points on 5-for-9 shooting. Offensively, he was aggressive getting to the basket. Defensively, he has internalized Boston's rotations (thus justifying his minutes over some of Boston's younger players) and is beginning to really master key NBA defensive concepts like staying vertical.
"I think his jump shot from three is really good, and he's gotten better at it over the years," Brad Stevens said. "A couple of his drives where he gets to the rim and has a chance to finish or go to the rim and/or dump off or kick out, he's gotten a lot better too. … I thought he did a good job again tonight. Two straight really big performances in a row for him."
Robert Williams made history. 
Robert Williams just became the first Celtics player in 54 years to corral at least 15 rebounds while playing less than 20 minutes, per @Stathead. The last player to do it was Wayne Embry on 2/5/67.

— Taylor Snow (@taylorcsnow) January 5, 2021
For several games in a row, Williams has been a real contributor. He always had the potential, with incredible athleticism and length, but now he appears to be piecing together elements of his game that only popped up occasionally. The results are particularly encouraging on the offensive end — he's an excellent passer, and he provides a lob target for teammates.
The numbers are encouraging too — the Celtics have outscored opponents by 16.1 points per 100 possessions with Williams on the floor this season. Williams is averaging 16 minutes per game, but what he has shown so far might call for more.
"He's been playing his butt off and he'll continue it, because that's what he does," Grant Williams said. "There's not a lot of people in this league who can provide it. He protects the rim at a high rate, dunks the ball, gets you rebounds. It's ridiculous the plays that he makes. That's what makes him so special."
The Raptors might be unraveling. 
Raptors coach Nick Nurse has called out players before this season. He continued after Monday's disappointing effort when asked about Raptors guard Malachi Flynn.
"He was okay," Nurse said. "I think my bigger thing is that, if you want to be honest about it, he didn't really do much out there. And if you wanna be honest about it, Norm [Powell] hasn't played very well this year, [Terrence Davis] hasn't played well, Matt [Thomas] hasn't played well."
The Raptors are not trending up at the moment and, in a very competitive Eastern Conference, might be a team to watch when the trade deadline approaches.
Bench units have to hold the lead.
As mentioned above, the Celtics' garbage-time unit let the game get so close, Brad Stevens was forced to put Jaylen Brown and Jayson Tatum back in — replacing Tremont Waters and Aaron Nesmith.
Tatum's reaction with 40 seconds remaining left little room for interpretation.
Jayson Tatum appeared to be pretty frustrated in that last huddle. Don't often see him being this vocal: pic.twitter.com/7tHdefbRie

— Chris Grenham (@chrisgrenham) January 5, 2021
Tatum was asked about that moment.
"I was just talking to my teammates about the game," he answered shortly.
As Waters made what Brian Scalabrine called "a walk of shame" back to the Celtics' bench, Marcus Smart appeared to pull his hand away when Waters reached for a high five.
I think Marcus Smart refused to high-five Tremont Waters coming off the floor after failing to hold the lead lol pic.twitter.com/ViLvwWWzjw

— Tom Westerholm (@Tom_NBA) January 5, 2021
The obvious lesson seems to be to never, ever make your stars take their warm-ups off again.
Get Boston.com's browser alerts:
Enable breaking news notifications straight to your internet browser.