Celtics
Celtics' Jaylen Brown, Jayson Tatum address media together after Capitol riots: 'I don't think anything has changed'
"We want to still push for the change that we're looking for."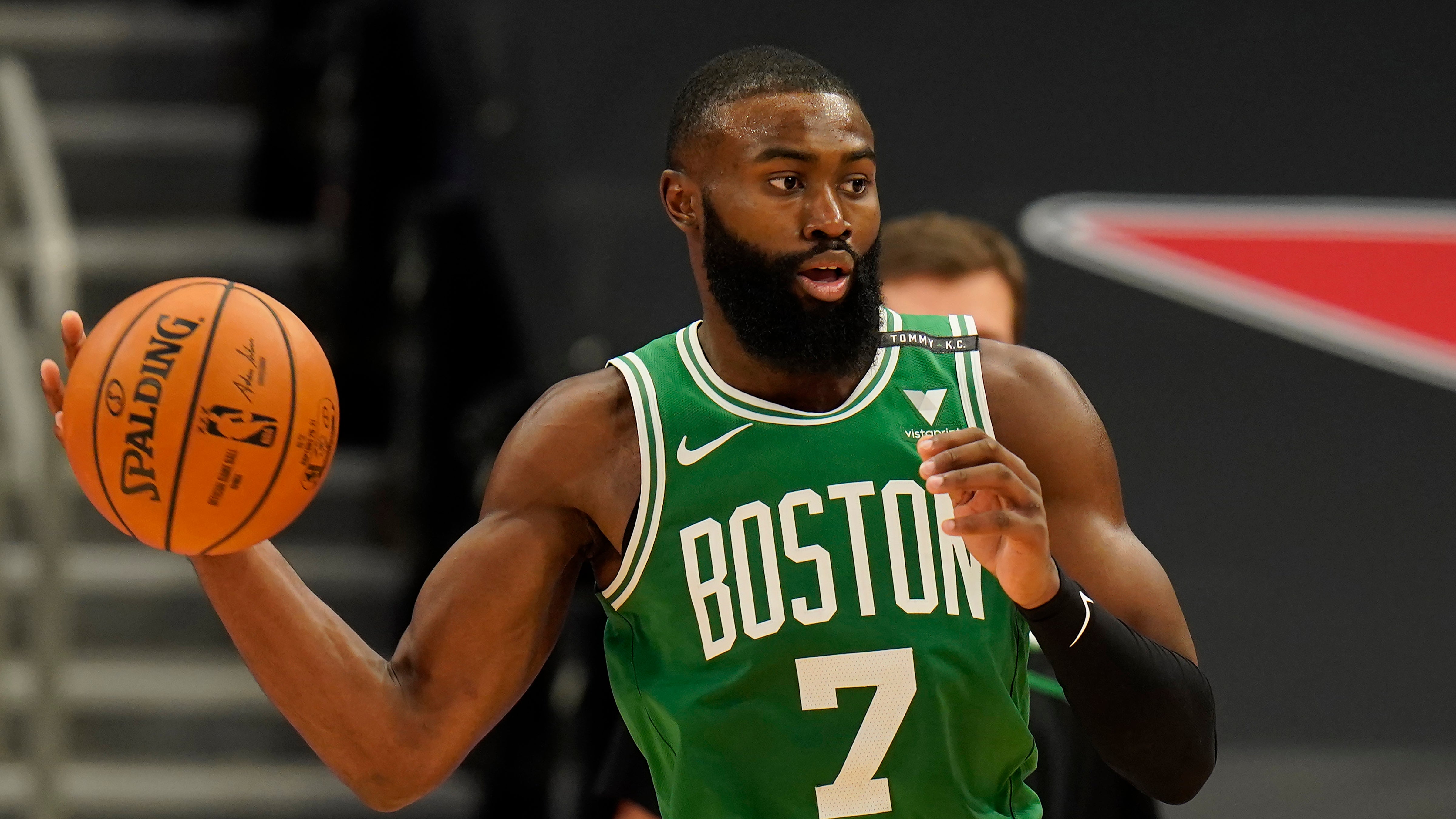 Jaylen Brown and Jayson Tatum never asked to avoid basketball questions following Wednesday's game.
Still, even a wild victory over the Miami Heat — Boston's Eastern Conference finals opponent — felt secondary. When Brown and Tatum stood together in front of a camera, basketball was not top of mind for anyone.
Part of the reason Wednesday's game felt somewhat inconsequential was because it nearly didn't happen. Before tipoff, the Celtics left the floor and reconvened in their locker room for a players-only meeting to talk about the riots in Washington D.C. Brad Stevens told reporters that he called his wife and told her he didn't think the game was going to happen about 30 minutes prior to tip.
"[The coaching staff] left so the team could come to a decision," Stevens said. "Just left it at that. If our guys chose not to play tonight, they had the full support of myself, my staff and our organization."
One rioter in D.C. was fatally shot and "at least" 52 arrests were made according to the Washington Post, but as Brown noted — invoking Dr. Martin Luther King's thoughts about a split America — the response was relatively muted.
"In one America, you get killed by sleeping in your car, selling cigarettes or playing in your backyard," Brown said. "And then in another America, you get to storm the Capitol and no tear gas, no massive arrests, none of that. So I think it's obvious, it's 2021, I don't think anything has changed. We want to still acknowledge that. We want to still push for the change that we're looking for. But as of yet, we have not seen it. We want to continue to keep conversations alive and do our part."
The scene felt familiar — after Jacob Blake was shot in Wisconsin while the NBA was in the Disney World bubble, the Celtics were one of a few teams that discussed refusing to take the floor. Ultimately, the Milwaukee Bucks started a strike that lasted a few days before players got back to work. Earlier this week, the Kenosha County district attorney announced that the officer who shot and paralyzed Blake will not face charges from the August incident.
Tatum said Celtics players discussed their options and decided they could better broadcast their message by playing, rather than sitting out.
"I just feel like the same energy should be kept as when we see our people peacefully protesting for things that we see our people getting murdered on TV and live and videos," Tatum said. "And they're protesting the Capitol, or rioting the Capitol for losing an election. It's two different things. And I want the same energy on TV to be, you know, 'they're thugs' and 'they're criminals,' the same terms that they use when they see our people protesting for losing our lives. I think it's bigger than basketball, it's bigger than the game today."
Brown said he was unsurprised by both the Jacob Blake ruling and by Wednesday's events.
"I think that America is kind of built on a lot of racism," Brown said. "That's the foundation, and we don't even flinch or shift out of any of those idea. I think it was common sense for a lot of people to be upset and things like that, so all of us felt the same way.
"But using this platform that we have is important to us. We are role models, we are members of our community, we do have people looking up to us, and we want the next generation to know where we stand. We want the next generation to know like, hopefully it's better than this one. So we want to continue to keep those conversations alive. We want to compartmentalize, but at the same time, we want to voice our opinions through the media, through our platforms, through our influence to let people know this is not okay."
The duo was asked how they stay inspired to keep working for change even as the same events keep unfolding.
"We're role models," Tatum said. "More than just basketball players, and our platform is huge. It would be wrong if we didn't take advantage of that, the opportunities that we have and just to speak for all the people that don't have voices like we do and share the same emotions and feelings that we're feeling."
Brown added that he believes it is fine to be angry over everything that has happened.
"We don't want to encourage violence or anything of that nature, but we definitely are tired of seeing the same things over and over again," Brown said. "So to feel that pain and that emotion, you can't control how that necessarily is put out. But we want to continue to use our platform, because we obviously want to keep inspiring change, and I want to believe that we're doing the right thing."
Get Boston.com's browser alerts:
Enable breaking news notifications straight to your internet browser.