Celtics
Here's the Boston Celtics' timeline for Jayson Tatum, others to return from COVID-19 protocols
The Celtics have postponed three games already.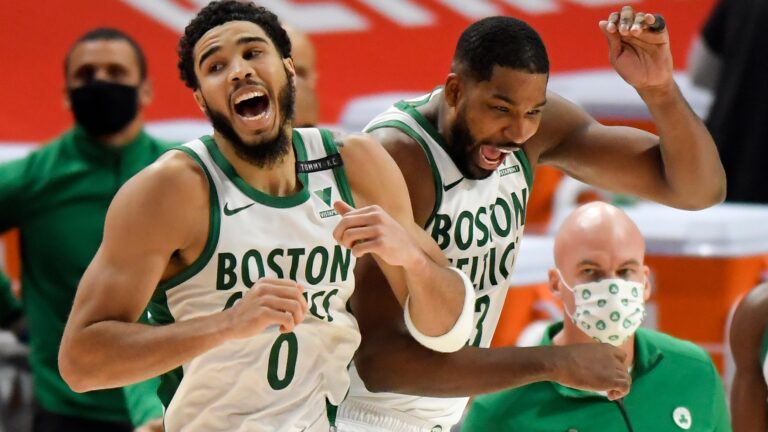 On Tuesday, the NBA announced that a third consecutive game for the Boston Celtics would be postponed due to COVID-19 protocols — Wednesday's contest against the Orlando Magic.
The Celtics have now been forced to push back games against the Magic, Chicago Bulls, and Miami Heat due to positive test results and subsequent contact tracing. Boston is slated to take on Orlando again on Friday.
So will they have enough players? We can't project anyone who might test positive or be forced into quarantine in the future, but we can make some educated guesses about when currently quarantined players could return based on the league's COVID protocols. Here's a look at the landscape.
Jayson Tatum
Tatum tested positive on Friday, according to the Globe's Gary Washburn. Per reports, he is asymptomatic.
Tatum immediately went into isolation and will be required to quarantine for 10 days, according to the league's COVID protocols. Since he tested positive, he will not be allowed to exercise during his quarantine, even in isolation. After he clears quarantine, Tatum will be required to undergo monitored individual workouts for two days before returning to the court as long as he remains asymptomatic. If he has symptoms, or if he is hospitalized, Tatum will be required to undergo three days of monitored exercise before returning.
If Tatum continues to be asymptomatic, he could conceivably begin individual workouts again on Tuesday, but the two additional days would likely still hold him out through the Celtics' game next Wednesday against the Philadelphia 76ers.
UPDATE: Tatum remains out for Friday's game.
Jaylen Brown
Brown was sidelined due to contact with Tatum as part of the league's contact tracing protocol. As of Tuesday evening, it was not clear whether Brown tested positive or not. If he did not, his initial contact should be traced starting Friday.
UPDATE: Brown was ruled "questionable" for Friday's game.
"Each of these tests, you're on pins and needles right now with the way that our society has gone, more than the NBA. The NBA has done a pretty good job," Ainge said. "But it looks like we're moving in the right direction, so that's good."
Semi Ojeleye
Like Brown, Ojeleye's contact tracing began Friday.
UPDATE: Ojeleye is questionable for Friday's game.
Javonte Green
Along with Brown and Ojeleye, Green was ruled out due to contact tracing with Tatum and could be available again Saturday if he returns negative tests. He has now been forced to quarantine due to health and safety protocols twice this season.
UPDATE: Green is questionable for Friday's game.
Robert Williams
Williams tested positive but was reportedly asymptomatic, which means his trajectory should be the same as Tatum's. Williams appeared to test positive on Thursday, which is when the Celtics listed him as "questionable" on the injury report due to health and safety protocols (presumably, the Celtics were waiting on a second positive test, which would explain the "questionable" designation).
Due to the extra two days of monitored exercise required for an asymptomatic player with a positive test, Williams will not be available this weekend. If his positive test was Thursday, his second day of monitored exercise would be Tuesday which could — in theory — clear him prior to Wednesday's game. That, of course, assumes Williams feels good enough to play.
UPDATE: Robert Williams remains out for Friday's game.
Grant Williams
Williams was ruled out due to contact tracing with Robert Williams (per Gary Washburn, both Grant and Robert Williams as well as Tristan Thompson were unmasked in a car with Carsen Edwards, who wore a mask). If Grant Williams does not test positive, and if Robert Williams' positive test was indeed on Thursday, Grant could be available again on Friday when the Celtics are scheduled to take on the Orlando Magic.
UPDATE: Grant Williams was not on the Celtics' injury report, indicating he should be available.
Tristan Thompson
Like both Grant and Robert Williams, Thompson was ruled questionable on Thursday, then out on Friday due to contact tracing. Like Grant Williams, he could be available on Friday, which would help the Celtics field a roster.
UPDATE: Thompson was not on the Celtics' injury report either.
An unnamed player
We don't know who the final player is or whether they are out due to a positive test or contact tracing. Presumably, however, that final player was not part of Tatum's contact tracing, since the Celtics were prepared to play Sunday's game against the Heat with him (whoever it is) in the lineup. By Monday afternoon, the unnamed player was ruled out which forced Tuesday's postponement.
If we assume the player tested positive on Monday and is asymptomatic, his best-case scenario for a return is Jan. 24. If the player was ruled out due to contact tracing and continues to test negative, he will be available sooner.
UPDATE: Carsen Edwards was ruled out for Friday's game due to health and safety protocols.
Get Boston.com's browser alerts:
Enable breaking news notifications straight to your internet browser.