Celtics
James Harden is headed to the Brooklyn Nets. What does this mean for the Celtics?
Harden's trade to the Nets stacks the Atlantic Division.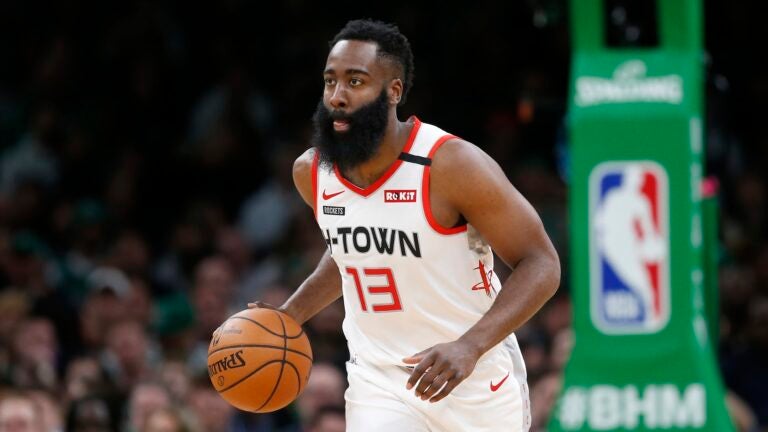 There was a stretch before the season began in late December when trading for James Harden made quite a bit of sense for the Boston Celtics.
When Harden requested a trade, few knew how out of shape he had gotten. All we knew was that one of the greatest scorers in NBA history — whatever one might think of the aesthetics of that scoring — was available, and the Celtics had the pieces necessary to acquire him. More to the point, the Celtics had the motivation to make a deal if only to keep Harden away from one of their Eastern Conference rivals rumored to be in the mix. Sure, Jaylen Brown was a nice player, but James Harden was James Harden.
A month later, things have shifted drastically. Harden is not in shape, and Brown was so good in the Celtics' first 10 games, he made even some of the most staunch Harden apologists reverse course. After all, only so many All-Star caliber two-way wings exist in the league, and the Celtics happen to have two of them. Harden might have opened Boston's championship window a little wider this season, but a future built around Brown and Jayson Tatum was simply too bright to mortgage for a 31-year-old with a well-documented penchant for late-night partying, even if that 31-year-old is a highly durable top-five player.
Still, the Celtics may have grit their teeth looking at the team the Brooklyn Nets have put together after roping in three other teams to complete a blockbuster trade for the former MVP on Wednesday. Here's a closer look at the deal itself, what it means for the league, and what it means for the Celtics specifically.
The Package
Brooklyn acquired: James Harden
Houston acquired: Victor Oladipo, Dante Exum, Rodions Kurucs, three Brooklyn first-rounders (2022, '24, '26), one Milwaukee first-round pick (2022, unprotected), and four Brooklyn first-round swaps (21, 23, 25, 27).
Indiana acquired: Caris LeVert and an undefined second-round pick
Cleveland acquired: Jarrett Allen and Taurean Prince
What this means for the league
First, the teams involved.
Brooklyn, of course, gets James Harden. Aside from the obvious, that's big for two reasons. The first is similar to Boston's rationale mentioned above: Now Harden is not going to the Philadelphia 76ers (or the Celtics). Second, and perhaps more importantly, it gives Brooklyn a superstar guard in case Kyrie Irving's extended and unexplained leave of absence stretches on. If all three are engaged and playing well, the Nets probably have the biggest collection of true star talent in the NBA. That, however, is a big "if."
Indiana gets the rest of this year and two more with Caris LeVert — who has shown star potential in Brooklyn when given the ball — for Oladipo, whose desire to leave has been an open secret.
Cleveland made a smart decision — hovering around the margins of a bigger deal and picking up Jarrett Allen as a result. Allen immediately becomes the best big on the roster, and the Cavaliers' entertaining young core of Collin Sexton and Darius Garland can develop with a big man of the future.
And finally, Houston gets draft capital. Oladipo is a fine piece but unlikely to stay. Exum and Kurucs are placeholders. The real prize for the Rockets will be Brooklyn's entire draft future. In 2025, Durant will be 36, Harden will be 35 and Houston will still hold rights to Brooklyn's next three draft picks. The Nets traded their entire future for the next seven years in an attempt to win right now, and it might work. But Houston acquired a trade package similar to the one the Celtics acquired — also from Brooklyn! — in 2013 for Paul Pierce and Kevin Garnett.
As the Celtics can attest, those packages can be wildly beneficial.
The NBA, meanwhile, might be thrilled by this turn of events. Superstar trades drive interest, and Harden now joins Durant in one of the league's biggest markets. The Eastern Conference playoffs have a ton of potential.
What this means for the Celtics
Brown's improvements this season probably confirmed this, but the Celtics are now locked into the Tatum-Brown duo for the foreseeable future.
That's a terrific place for a franchise to find itself. Both Tatum and Brown are on the books for the next few years. Both seem to like and respect each other, and both are obsessive workers. Both defend multiple positions at a high level, both score, both create, both handle the ball.
Building around two super-talented wings is pretty easy — talented point guards dot the entire league's landscape, and indeed, the Celtics have two of them already in Marcus Smart and Kemba Walker. Daniel Theis is cheap talent for this season, and Robert Williams has shown flashes for the future. Payton Pritchard is a revelation. If, as the Milwaukee Bucks rudely dispatched the Celtics in 2019, a Celtics fan was told that Irving would leave and Anthony Davis would be traded to the Lakers, that fan likely would have despaired. Instead, Danny Ainge pivoted and turned the Celtics into a fun young team that could contend for the foreseeable future.
Will they regret not trading for Harden? Perhaps in the near-term. Harden — for all the negatives — is an incredible talent. At Houston's peak, Harden and the Rockets nearly took down the Golden State Warriors twice at full strength. He is an offense by himself, for all of his defensive issues.
But in the end, Harden's exclamation points couldn't outweigh his question marks for a team like the Celtics, whose future is bright enough without him. Now the Nets employ Durant, Harden and Irving, the Sixers have Joel Embiid, Ben Simmons and an emergent Tyrese Maxey, and the Celtics can trot out Tatum, Brown, Walker and Smart. Oh, and outside of the Atlantic Division, don't forget the defending Eastern Conference champion Miami Heat or the Milwaukee Bucks and defending NBA MVP Giannis Antetokounmpo.
To quote a much-maligned Sports Illustrated cover from 2012: Now this is going to be fun.
Get Boston.com's browser alerts:
Enable breaking news notifications straight to your internet browser.