Celtics
Celtics' Kemba Walker feels great 'in a different way' than he did before the bubble
"Honestly, I'm feeling pretty good right now."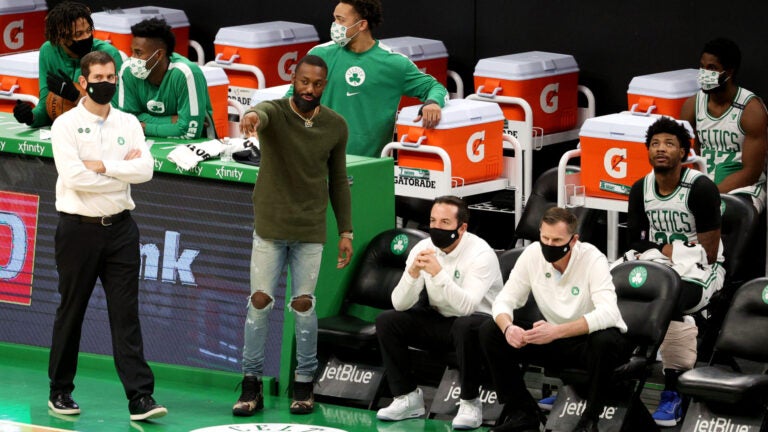 Boston Celtics guard Kemba Walker is feeling significantly better.
Still, he knows why people might find that hard to believe.
After all, before the NBA returned to action from its COVID-19 lockdown, Walker said the same thing. The balky left knee that bothered him all year, he said, was a lot better after four months off. Then Walker struggled through three rounds and never looked like himself, which he later admitted was partly due to his ongoing soreness. This offseason, Walker was given an experimental stem-cell shot in his knee, and he began a strengthening program to try to alleviate the problem.
"Honestly, I'm feeling pretty good right now," Walker told reporters via Zoom on Thursday. "I know I did say I was feeling really good the last time before the bubble, which I was, but the timing in between just wasn't really beneficial to me. But now, I am feeling really good, and the way I'm feeling right now is different from the way I felt before I went into the bubble. I've just been able to take my time, really just attack my rehab from Day 1."
Walker originally eyed Friday's game against the Orlando Magic as a potential return to action, but after a week without practice, the team ruled him out on Thursday. Still, Walker seems to be getting better, and he worked out with the team on Thursday according to Brad Stevens.
"He's been able to continue to do his rehab in 1-on-1 settings," Stevens said. "And his strengthening, his strengthening has gone fantastic. He's put in a ton of work. He went full go today for an hour with us. We did not go live, but we did a lot of up and down, just trying to get our legs back in some ways with guys that haven't done anything for a week, and he looked good. What that means, as far as next steps and playing and when he'll play and all that stuff, that's a decision for Kemba and our training staff."
Stevens praised the training staff's painstaking work to get Walker back to full health.
"I think they put together a hell of a plan, to be honest," Stevens said. "And I felt this way in the bubble but the bubble was constrained more by time, with regard to how quickly the playoffs were at hand. This has been a planned out, day-by-day, well-executed deal by our training staff and by Kemba. When he comes back, it'll be because he's ready and because he feels great and he's ready to be Kemba."
Getting Walker back will be a big boost for the Celtics. Marcus Smart has run the ship very capably and will likely be asked to continue to do so in some capacity, but Walker provides more scoring punch in the starting lineup and collapses the defense in the pick-and-roll.
How Stevens staggers his stars will be interesting. Boston's bench units struggled with Walker and no Brown or Tatum, but lineups with Tatum and Walker (and no Brown) outscored opponents by 15.9 points per 100 possessions, according to Cleaning the Glass. Meanwhile, lineups with Smart and Brown (but no Walker or Tatum) outscored opponents by 10.3 points per 100 possessions. Revisiting those combinations might be worthwhile.
For his part, Walker wants to ensure that when he says he's feeling good, he means it this time.
"I wanted to get healthy," Walker said. "I wanted to stay healthy, try my best to not have any setbacks. So that's the plan. I don't know. Whenever I'm feeling good, and whenever I'm mentally ready and comfortable to get out there, I will."
Get Boston.com's browser alerts:
Enable breaking news notifications straight to your internet browser.