Celtics
Danny Ainge discussed why the Celtics didn't pursue a trade for James Harden
"We had numerous talks, but the price really wasn't changing."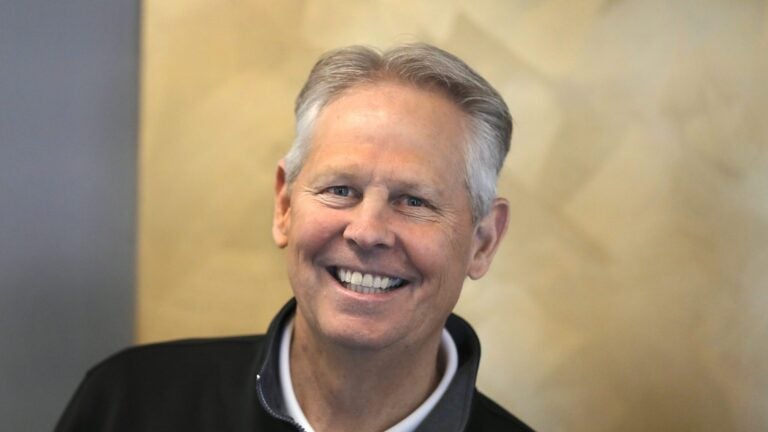 On Wednesday, the Nets were at the heart of a blockbuster trade, with James Harden heading to Brooklyn to potentially form the NBA's latest super team.
The 31-year-old Harden will join Kevin Durant and Kyrie Irving, instantly making the Nets the odds-on favorite to win the Eastern Conference.
For the Celtics, the trade implications are enormous, though indirect.
But according to Celtics president of basketball operations Danny Ainge, there was a scenario where Harden could've ended up in Boston.
Speaking to 98.5 The Sports Hub's "Toucher & Rich," Ainge was asked if the Celtics had been called by Houston after Harden requested a trade.
"Yeah, we had conversations regarding James, not recently but yeah, we did have conversations," said Ainge.
Ultimately, the Rockets' were simply asking for too much.
"We had numerous talks, but the price really wasn't changing," Ainge explained. "The price was really high for us, and it was something we really didn't want to do. I'm not sure there was anybody — even the people within our organization that respected him and wanted him more, but I think unanimously, we decided it wasn't the time for us and it wasn't the price."
Boston, currently 7-3 and in possession of the conference's best winning percentage (.700), have not played since Jan. 8 because of multiple positive COVID-19 tests, as well as additional players being ruled out after contact tracing.
Ainge was asked if there was an update on when players might be able to return (currently, the Celtics are projected to play the Magic on Friday at 7 p.m. if there are no more positive tests.)
"I can't confirm nor deny anybody that's tested [positive]," said Ainge. "That's a strict guideline that I have, but I think that our players are all doing well. We have some that are in contact tracing also, but all of our players are doing well. It looks like we're going to be able to play a game tomorrow.
"But we still have 17 more tests to do between now and then so we'll have to find out what happens," Ainge added. "You know each of these tests, you're just on pins and needles right now the way that our society has gone, more than the NBA. The NBA has done a pretty good job."
Fortunately for the Celtics, a pair of players might be returning on Thursday, with more projected for the game.
"We're expecting to have Tristan [Thompson] and Grant [Williams] back today at practice," said Ainge, "and then for the game tomorrow we're hoping to have more players than that back but I can't say who."
Get Boston.com's browser alerts:
Enable breaking news notifications straight to your internet browser.