Celtics
"We cross our fingers": Jaylen Brown, Boston Celtics are close returning after COVID protocols
"We cross our fingers and we'll see."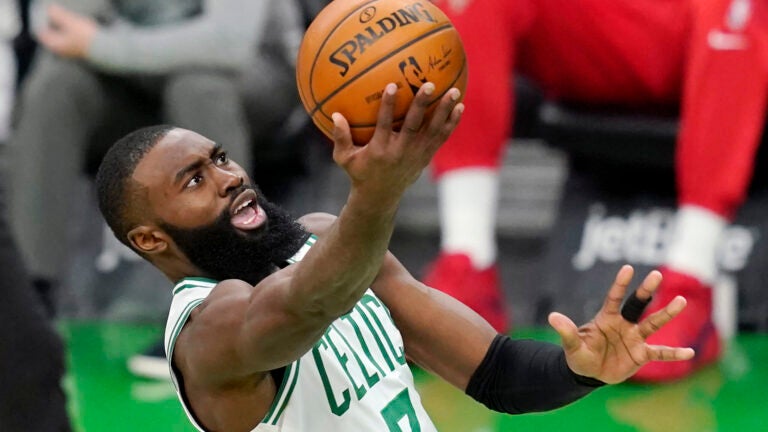 The Boston Celtics have postponed three consecutive games due to a lack of available players.
That streak mercifully appears to be nearing its conclusion. Per the team, three players who were previously ruled out due to health and safety protocols — Jaylen Brown, Semi Ojeleye and Javonte Green — are all "questionable" for Friday's scheduled game against the Orlando Magic.
Two other players who were quarantined — Grant Williams and Tristan Thompson — were not on the report.
In other words, the Celtics should have sufficient players to take on Orlando barring further positive tests. The team practiced with nine players on Thursday including Kemba Walker, who remains out for the time being. The league requires eight players available to go ahead with a game.
"It was important for us to get back today if we hope that we're good to go tomorrow," Brad Stevens said. "We cross our fingers and we'll see."
Stevens said the team has stayed in touch with everyone in quarantine.
"We do daily check-ups on everybody that's obviously either positive case or contact trace and just making sure everybody's good," he said. "We've had a few Zoom calls as a team. We've had the ability with the guys that have not been in the protocol to come in one player, one coach at a time in the facility. An assistant and a player coming in and getting shots up and doing maybe small individual workout with a great deal of emphasis on the space between them.
"I'm not in there and nobody else is really in the building, so this is the first time that I've been back in the building since last Friday's walkthrough."
Stevens added that while the team wants to get back on the floor, basketball is secondary at the moment to simply ensuring health.
Still, the games went well before the shutdown.
"I think this team has navigated the first 10 games of the season, from a record standpoint, better than I thought we would, and I'm not sure we've played that well yet," Stevens said. "So as far as the basketball goes, we still have such a long way but I do think like it would have been good for other guys to get more of an opportunity, that would have been a silver lining just like it is a silver lining, potentially, to have more games fully stocked."
Kemba Walker said the quarantined players are doing well.
"They said they're feeling well," Walker said. "Everyone around them is feeling well. I think this is definitely something we expected. We're no longer in the bubble, obviously. We are out there just in the open world. So you just never know where you can get it from. So yeah, this is definitely expected, but you've got to adjust. You've got to be able to adapt, got to understand the situations. Just got to be ready for whatever at this point. You never know. You just never know what's going to happen. You never know, so you've got to be ready to adjust."
Get Boston.com's browser alerts:
Enable breaking news notifications straight to your internet browser.